California's biggest rock music festival, Aftershock, returns to Sacramento's Discovery Park for its 11th annual weekend of headbanging.
SeeYouSpaceCowboy kicks off the festival Thursday at 12:20 p.m. at the DWPresents stage. Then on Sunday, Guns N' Roses takes the Jack Daniels stage, closing out the festival with hit songs for the roaring crowd.
Pantera dropped out of the festival due to unforeseen circumstances, according to the Aftershock Instagram. Luckily for rockers, The Cult stepped up to take a headlining spot and Stone Temple Pilots were added to the lineup for Thursday.
Guns N' Roses, Korn, Avenged Sevenfold, Limp Bizkit, Godsmack and more bands and artists are ready to play an awesome show for fans between four different stages this weekend beginning Thursday to Sunday.
Among the artists, there are some fresh faces taking the stage to perform for a weekend of jamming out. Below are some bands considered hidden gems for the genre and possibly you, too.
RELATED: Into the Groove: Revisiting 2015, the best year of music in the last decade

Senses Fail
If you listen to: Taking Back Sunday, Underoath and Hawthorne Heights


Formed at the end of 2001 by Garrett Zablocki and James "Buddy" Nielsen, Senses Fail is a clear representative of the post-hardcore genre, but with a unique New Jersey sound. Since Senses Fail's establishment, they have released one EP, a Christmas EP and eight studio albums. 
The band was featured on the video game soundtrack for "Tony Hawk's American Wasteland" in 2005. Although the song "Institutionalized" was a part of their first studio album, "Let It Enfold You (Deluxe Edition)," the band's most successful album is "Still Searching," released in 2006. Off that album, "Can't Be Saved" has over 60 million streams on Spotify.
"Hell is in Your Head" is their most recent album released in 2022 with "I'm Sorry I'm Leaving," "Death by Water" and "Lush Rimbaugh" being the singles. 
On Thursday, Oct. 5, crowds can expect today's members of Senses Fail: Gavin Caswell, Jason Milbank, Steve Carey, Grey Styliades and Nielsen to play their newest single, "Wasted."
Songs to listen to: "Can't Be Saved", "Buried a Lie" and "Institutionalized"
Dragged Under
If you listen to: Kingdom of Giants, LANDMVRKS and Savage Hands
Following the break up of their band "Rest, Repose" in 2019, Anthony Cappocchi and Sean Rosario started to make music with the name "Dragged Under" in Seattle, Washington. The band wasn't always a duo as they have continuously changed members throughout the years. 
Dragged Under released their first album, "The World is in Your Way" in January of 2020. The deluxe version of the album was re-released later in the year after they joined Mascot Records in 2020. "The World Is In Your Way (Deluxe Version)" contains some of their most popular songs like "Chelsea" and "Instability." 
The band's next album "Upright Animals," was released in 2022.  "Mad Punks," released in 2023,  had its live debut at the Louder Than Life festival in Kentucky and will be on the setlist for Dragged Under on Friday, Oct. 6, 2023.
Songs to listen to: "Instability", "Upright Animals" and "Chelsea"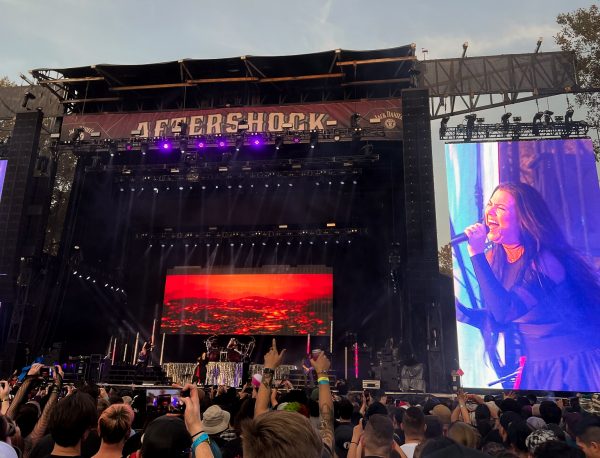 Polaris
If you listen to: Currents, Fit For A King and Wage War


This Australian metalcore band was formed in 2012 by Daniel Furnari and Jake Steinhauser who then recruited Rick Schneider and Jamie Hails. Since 2012, they have released two EP's and three studio albums, "The Mortal Coil," "The Death of Me" and "Fatalism." Unfortunately, the band lost their guitar player and friend, Ryan Siew, in 2023. 
"Fatalism" was released as a tribute to Siew, as these were the last songs they wrote together. The recently released album debuted at number one on the ARIA Album Charts, making it their only album to top the charts.
Fans can expect to rock out to hits like "The Remedy" and "Nightmare" on Friday, Oct. 6 when Polaris hits the stage.
Songs to listen to: "Nightmare", "The Remedy" and "All of This Is Fleeting"
Sleep Token
If you listen to: Spiritbox, Lorna Shore and Bad Omens


Sleep Token, an anonymous collective from London formed in 2016, comprises enigmatic members known by the pseudonyms Vessel, II, III and IV. Their sound has been described by some as progressive metal. Sleep Token has released two EPs and three studio albums "Sundowning," "This Place Will Become Your Tomb" and "Take Me Back To Eden." 
Their most recent album, released in May of 2023, has taken their success to a new level. The song "The Summoning" has garnered over 6.5 million streams on Spotify and "Granite" boasts over 2 million streams on Spotify. 
The band will have an unforgettable performance featuring these two tracks, alongside "Alkaline" and "The Offering," and is guaranteed to captivate the audience at the DWPresents Stage on Saturday, October 7th.
Songs to listen to: "The Summoning", "Alkaline" and "The Offering"
Movements
If you listen to: The Story So Far, Hot Mulligan and Citizen
This four-member band was formed in 2015 in Southern California. Patrick Miranda (Vocals), Ira George (Guitar), Austin Cressey (Bass) and Spencer York (Drums) have released one EP, "Outgrown Things" in 2016 and three studio albums. Their most recent release "Ruckus" was released in August.
Their alternative sound is often described as emo-revival and post-hardcore. Their music captures the tumultuous dynamics of relationships and dives into mental health issues.
The songs "Lead Pipe" and "Killing Time" were the first singles off the album and are without a doubt going to be on the setlist for Sunday, Oct. 8.
Songs to listen to: "Lead Pipe", "Daylily" and "Kept"