Humboldt team sweeps annual Sac State business competition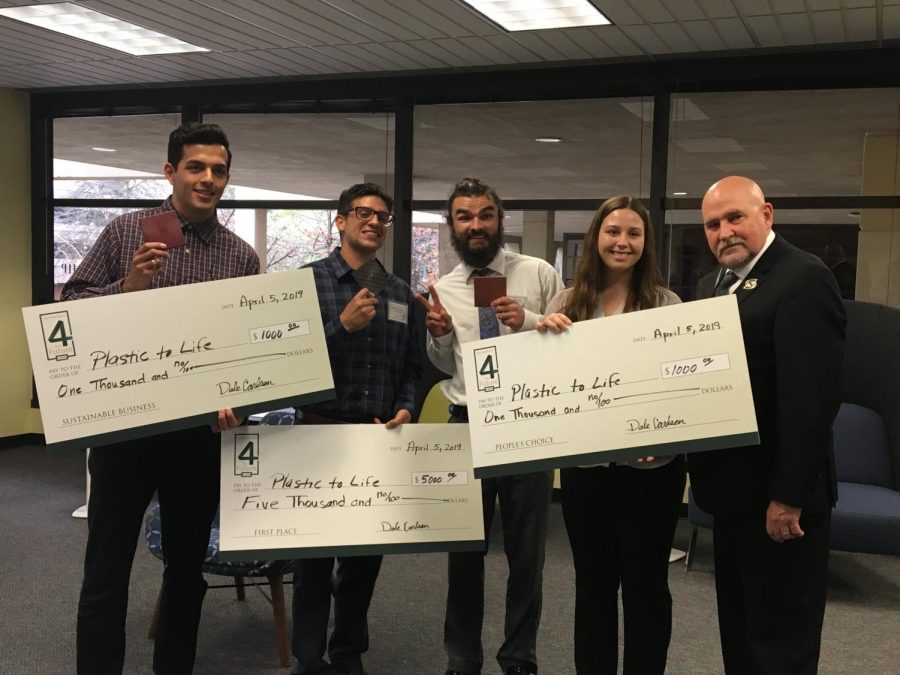 Nine student entrepreneur teams competed in the sixth annual Future Four and More business pitch competition in the Carlsen Center Friday.
Future Four and More is a regional business concept competition for Northern California community college and state university students to pitch their original business ideas to a panel of judges, who are also investors.
Story continues below photo.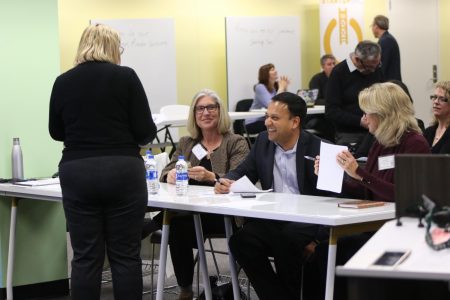 The schools who competed this year were Sac State, Chico State, Humboldt State, Butte College, Sacramento City College and Sierra College, with a maximum of two teams per school.
Humboldt State's "Plastic to Life" student entrepreneur group won first prize along with the Most Sustainable award and the People's Choice award, achieving $7,000 in total.
The group's business idea was to reduce the excessive plastic in the world and turn it into recycled tiles. These special tiles can be used in kitchens, bathrooms, walls or ceilings just like any ceramic tile but are unbreakable and can be molded into whatever texture or color a consumer wants.
The second Humboldt team, "New World Herbals," won second prize, earning $3,000. Their business idea was to distribute Herbal Honey Twigs, a subscription box consisting of all natural ingredients of herbal supplements and extracts to use in teas, coffees and other beverages.
Each team had five minutes to describe their business with a slideshow presentation for visuals. They were to state how their business solves an ongoing problem, present the product or service they'll be providing to aid said problem, explain in detail how much the service will cost and how the company will be making revenue, how they'll beat out similar competitors and discuss their marketing strategies to reach their targeted audience.
Story continues below tweet.
Sierra College student Taylor Gillespie talks about her company called Plant Powered and her experience presenting today @TheStateHornet pic.twitter.com/TxQa7CvoeU

— Milan (@milancabebe) April 6, 2019
After each presentation, judges asked the contestants any questions they had about different aspects of the business idea.
This "warm-up" pitch competition gets young adults ready to pitch their business ideas in front of investors without the pressure of being turned down altogether, like in the television show "Shark Tank."
Story continues below tweet.
The Future Four competition is officially over. Judges have left the room to deliberate and decide on the winners.

Audience members were given one playing card each to drop into the cup of their favorite business pitch for the 'People's Choice' category.@TheStateHornet pic.twitter.com/0f9gw5yT7x

— Milan (@milancabebe) April 6, 2019
Second prize winner and cofounder of Herbal Honey Twigs, Matthew Peters, a 22-year-old psychology major from Humboldt, said he is very thankful that competitions like Future Four are hosted through schools.
"To me, this really gives people the tools to accomplish these major goals because they're so unattainable, they're so far-fetched," Peters said. "What we've learned along the way is that you have to keep taking opportunities like this where you're getting exposure."
Peters said he recommended competitions such as Future Four to students beyond those just interested in business.
"We need infrastructure like this," Peters said. "I would highly recommend it to anyone who has an idea, not even just entrepreneurs. Just anyone who's got an idea should follow it."
Chico's "Home at Heart" team won third prize earning $1,000, with an idea of providing affordable joint housing among college students and elderly residents who experience housing insecurity.
The only student from Sac State to present was Nishay Gordon, who pitched a concept for a teen center focused on art therapy. Gordon said she was concerned with increasing suicide rates among teenagers.
Story continues below tweet.
Sac State's Nishay Gordon pitches her idea on opening a local art center for teens and adults to go to whenever they're feeling stressed. Gordon mentions that suicide rates in teenagers have been going up, so the focus of this center will be providing art therapy. @TheStateHornet pic.twitter.com/2PzOHOIORn

— Milan (@milancabebe) April 5, 2019
Katherine Cota, executive director of the Carlsen Center for Innovation and Entrepreneurship, said she was very pleased with the turnout for Future Four this year.
"We sincerely hope that more students from Sac State will apply for next year's Future Four and More and come to the Carlsen Center and get help starting their businesses, non-profits, or working on their social good," Cota said.