Sac State students bring history to life at California State Railroad Museum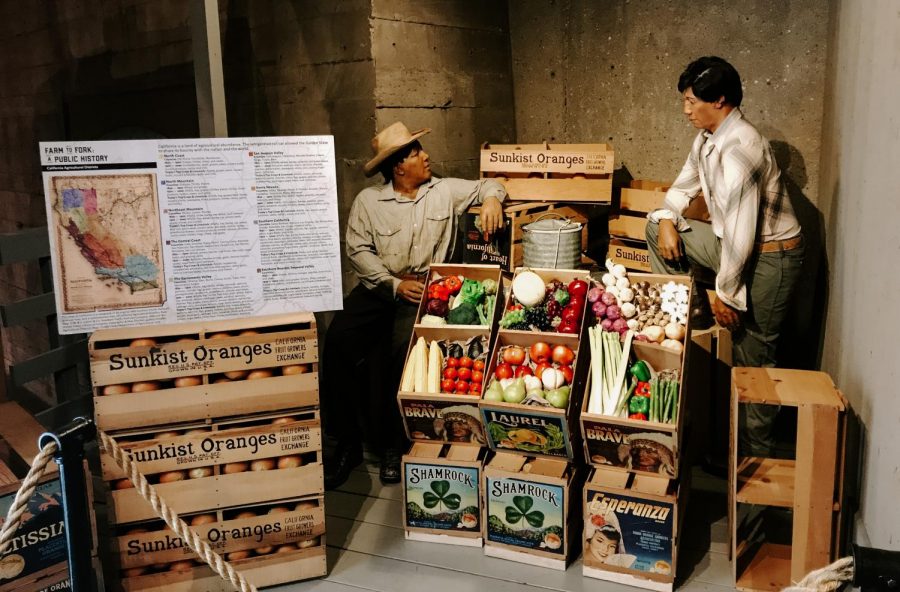 The California State Railroad Museum is now featuring the work of Sacramento State graduate students in an exhibit titled, "Farm-to-Fork: A Public History."
The permanent installment, which encapsulates the significance and history of the railroad and its role in transporting the Central Valley's agriculture to surrounding regions, was created by a group of 16 students from Sac State's Capital Campus Public History Program and was officially unveiled on Jan. 28.
Under the instruction of California State Railroad Museum Director and former Sac State professor Ty O. Smith, as well as Interpretation & Education Manager Kimberly Whitfield,  the students chose the exhibit's theme, conducted research and selected design concepts and images that they believed best fit the exhibit.
Smith put into action the philosophy that the museum's main priority is to be "a laboratory of learning."
"My philosophy extends beyond K-12 and to college," Smith said. "I thought instead of going to a classroom and learning in the abstract, we could open up the museum for experiential learning."
According to Smith, the spring 2018 semester was the first time Sac State offered an exhibit building class within the Campus Public History Program.  
"It's an interesting shift in learning because so often we're in a classroom setting and we're learning in the abstract, or we're drawing from different ideas," Smith said. "It's a totally different thing to say the product of this semester is not going to just live on a shelf or personal files, but it's going to be out there for the world to see."
According to Smith, the goal of the last year's 16-week spring course was to create an exhibit from start to finish. Students were to go into the museum and choose the exhibit's location, pick a topic and research it, then write it and find relevant artifacts and images to craft into an exhibit.
According to Smith, the students were keyed into the fact that Sacramento calls itself the "Farm-to-Fork" Capital of America and that public historians wanted to give the slogan a longer trajectory and deeper meaning.
"They used something that is in our common understanding today and a part of our regional identity, and gave it a deep, public history and brought it to life through that exhibit," Smith said.
Story continues below photo gallery.
Graduate students Jamie Wilson and Nicole Allison, who worked on the exhibit, have been drawn to studying history since middle school and high school.
"I think my interest in history first started when 9/11 happened," Wilson said. "It was just that revolution at that point of wanting to know how something like that could happen, and wanting to know the history behind how something like that occurs and doing research."
According to Wilson, the event sparked her interest in research and diving deeper into historical events.
Both Wilson and Allison received their history undergraduate degrees at Sac State in 2017 and said they were especially enthused to find a class within the graduate program in which they could create a museum exhibit.
"When we found out the class was going to be offered we were really excited because they hadn't really offered anything like that before," Allison said. "There's a museum class but not an exhibit building, conceptual class, so we were super excited."
Despite challenges with time management, digital design and making sure every voice was heard, the students came together and created an exhibit with a strong and insightful message.
"Me and Nicole both work and intern at the museum so we had already been exposed to working with exhibits, but it was nice to see a start to finish project of everything that goes into creating an exhibit," Wilson said.
RELATED: Farm-to-Fork: buying locally can help students eat healthier
Students learned about the many elements of creating an exhibit, which include design, fabrication, content, research and copyright, according to Wilson.
"I think it was very educational and something that we can definitely take away to future careers," Wilson said.
According to Smith, the interactive and student-run environment of the class brought the students to life in a way writing papers and other assignments didn't.
"What started off with an idea to be a temporary exhibit, we've actually turned into a permanent exhibit that will be up in the museum for at least a year or longer," Smith said.
Part of the exhibit includes a yellow refrigerator car, which allows visitors a greater understanding of the present by revisiting the past.
"They get to see where their food came from, where it started from and we also get to bring in people that were forgotten from that story that weren't necessarily local but were here," Allison said.
The exhibit emphasizes the crucial role the refrigerator car played in transforming the state's agricultural economy by transporting California's fruits and vegetables from coast to coast.
As visitors make their way into the refrigerator car, the panels tell the story of the Farm to Fork movement, and the accompaniment of realistic artifacts bring the story to life.
The exhibit is open now for public viewing permanently at the California State Railroad Museum inside the Museum's Roadhouse.