Sac State Sex Week kicks off with Religion and Sexuality Panel
About 30 students and staff were in attendance at event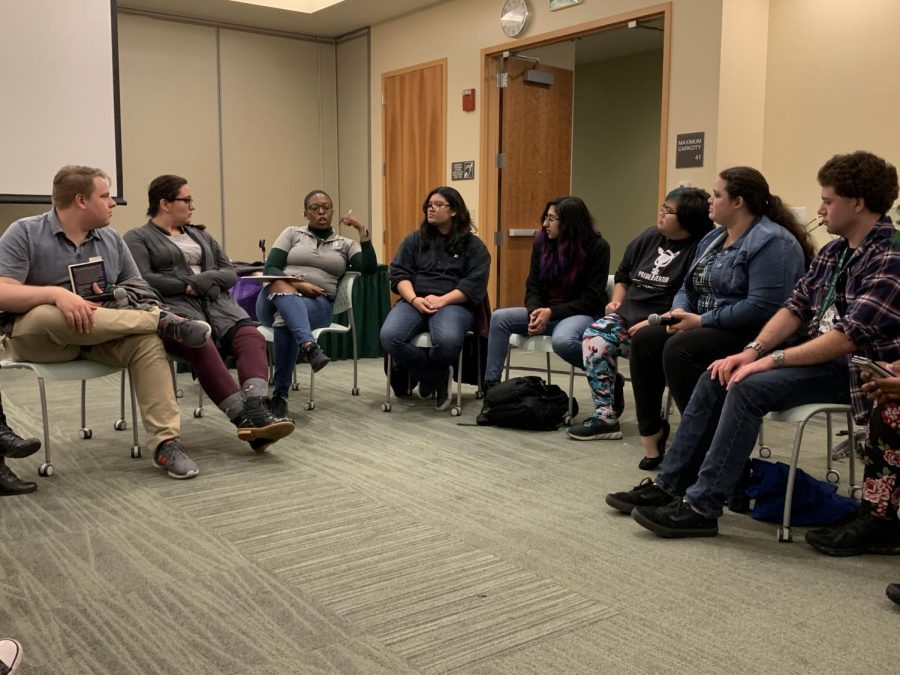 The PRIDE Center hosted the Religion & Sexuality Panel Monday as one of seven events scheduled for Sex Week at Sacramento State.
A group of about 30 students and staff discussed points varying from how one would find their sexuality to how religion is embedded in America.
The PRIDE Center is the campus's LGBTQIA resource center and was founded in 2006. The PRIDE Center works with the Sac State Multi-Cultural Center and Women's Resource Center as part of the Centers for Diversity and Inclusion (CDI).
RELATED: PRIDE Center celebrates 10th anniversary on campus
However, for the next week, it will be partnered with more organizations on campus in order to host Sex Week.
Sex Week is hosted by ASI, the PRIDE Center, the Serna Center, Sacramento State Housing Services, The Lavender Collective and The WELL.
This week is meant to help spread awareness and provide spaces for community members to talk and celebrate their sexuality, as advertised on the PRIDE center's Instagram and flyers.
Although Monday's event was advertised as a panel, it was treated much more like a discussion, the chairs were rearranged from a presentation seating to a circle, where students would be able to comfortably talk about issues that surround religion and sexuality.
Story continues below tweet.
Sac State's Pride center is hosting a panel to discuss the intersectionality between religion & sexuality.

Follow this thread and @TheStateHornet to follow along during the event! pic.twitter.com/aQhxlRduLn

— Ronaldo Gomez (@ronaldogomezss) March 26, 2019
The discussions varied from lighthearted to more rigorous topics. Students were encouraged to share their own views on aspects of religion, spirituality, sexuality, personal stories and ask questions to the staff about their own curiosities.
"What messages did you get from your religious upbringing? Do you find empowerment within your own religion and spirituality? Is Christianity being attacked in America?" students asked the staff.
All points that were discussed further in detail with mediation from the PRIDE Center's Program Coordinator Melissa Mugazo.
Tyler Cernohlavek, PRIDE center employee and English major at Sac State, talked about why these events are important to the Sac State community and how people can benefit from attending Sex Week's events.
"Events like this show how sexual attraction is and that you are allowed to have these things, you don't have to choose," Cernohlavek said.
Sac State student Zach Wilcox also weighed in on the idea.
"These events are important because having discussions like these help people really understand who they are," Wilcox said.