Behind the scenes of the Pop Up Pantry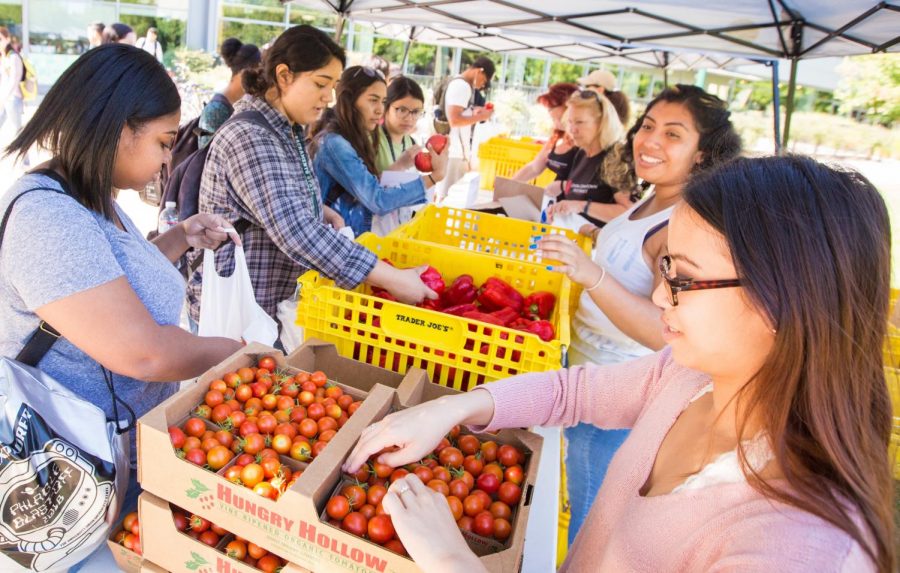 Every Monday morning of distribution, Timothy Baumbach drives to the Sacramento Food Bank and Family Services in his truck and tries to get three different types of fresh produce for the Associated Students, Inc. Pop Up Pantry.
Reuben Greenwald, ASI's student engagement and outreach director at Sacramento State, said ASI is partnered with a non-profit organization called the Central Downtown Food Basket. The Pop Up Pantry imitates what the CDFB accomplishes, by supplying food to those experiencing food insecurity.
Baumbach is the executive director of the CDFB, who has helped supply the Pop Up Pantry since 2015. ASI reached out to him and his non-profit when the idea for the Pop Up Pantry was created, according to Greenwald.
In the past, Baumbach has been able to secure potatoes, apples, broccoli, carrots, pears, oranges, strawberries and much more for the Pop Up Pantry.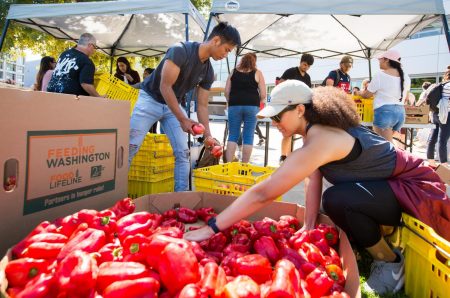 On the days the pop up takes place, Baumbach meets up with Recycling and Sustainability Coordinator Joey Martinez and his staff to help unload the produce he was able to acquire, according to Greenwald.
"Him and his wife Mary, and some of their volunteers from their non-profit, help our student volunteers pass out the produce," Greenwald said. "I don't think it'd be possible without Tim because we don't have enough people to do what he does. We'd need like a whole extra staff just to run the Pop Up Pantry, so it's really an amazing thing that he does for our students."
Greenwald said that the Pop Up Pantry works because it is no cost to students and is all volunteer based.

"The campus gives us space, Joey, who works on campus, helps us on unloading the vehicle, our students volunteer and Tim volunteers his time with his non-profit — so it's really just a real community effort," Greenwald said.
The ASI Food Pantry, through which the Pop Up Pantry is organized, was established four years ago at Sac State and aims to alleviate any students who are dealing with food insecurity and low financial means.
This offering is a place where hungry students are able to grab canned goods, dry noodles and ramen, pasta sauce, dried beans, cereals and other dried goods. With only non-perishable food items available to students, ASI found a solution to supply students with free, fresh produce.
ASI puts together the Pop Up Pantry, where volunteers distribute fresh produce at no cost to Sac State students. This semester, the Pop Up Pantry is now officially set up to distribute in the library quad two to three times a month on Mondays from 10:30 a.m. to 1:30 p.m.
RELATED: ASI holds Pop-Up Pantry for students
The Pop Up Pantry is sometimes supplied with fruits and vegetables grown on campus, Greenwald said. The ASI Garden is located behind Capitol Public Radio Garden and Modoc Hall and has yielded since the spring of 2017.
The garden was created to ensure that all Sac State students, especially those lacking the resources to provide themselves with the nourishment needed to pursue their educational goals,
have "full bellies and fewer worries," according to a 2018 California Higher Education Sustainability Conference report provided by Sustainability Analyst Kristina Cullen.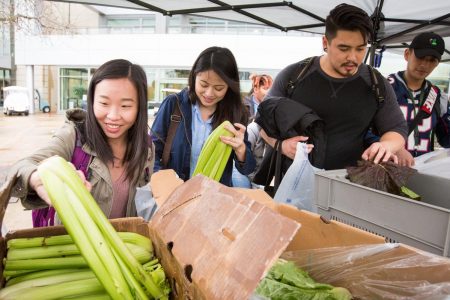 Alongside the ASI Garden, the CapRadio Garden also contributes to the Pop Up Pantry whenever they have excess produce as well.
Judy Hong, a Sac State junior and English major, said she supports the Pop Up Pantry even having only used it once during her freshman year.
"I think the Pop Up Pantry is really resourceful for those who struggle financially or who just need a little fresh produce every once in a while," Hong said.
Hong recalled getting a post notification from Sac State's Instagram page about the Pop Up Pantry. She then headed over to Serna Plaza behind the University Union, the very first Pop Up Pantry distribution site.
"I've visited there once and I got carrots," Hong said. "With the carrots, I made spicy Korean chicken curry which was bomb. I also got pears and they were very juicy and soft."
Kasen Nguyen, a computer science major, said he uses the Pop Up Pantry whenever he sees it on campus.
"I think it's a cool thing that our school is doing," Nguyen said. "Who doesn't want some free food? This one time, I got strawberries and ate them during one of my lectures for a snack."
According to ASI Student Engagement Coordinator Melissa Marquez, all of the ASI offices were once located in the University Union, but since the Union Expansion project started in 2016, they've been separated and housed elsewhere.
The ASI Hotspot, which is in charge of the operational side of the Food Pantry, was moved to the first floor of The WELL. They are set to move back to the Union sometime this semester and are planning on having a refrigerator, so produce can be available more often for students.
Due to its popularity, the Pop Up Pantry will still remain a Sac State offering even with the new ASI location. The next distribution date was planned for Monday but is canceled due to potential rain. The next official date will be on March 11 in the library quad.