Women's soccer team plans to rebound from a 1-6-2 record
Sac State is focusing on staying healthy to improve its record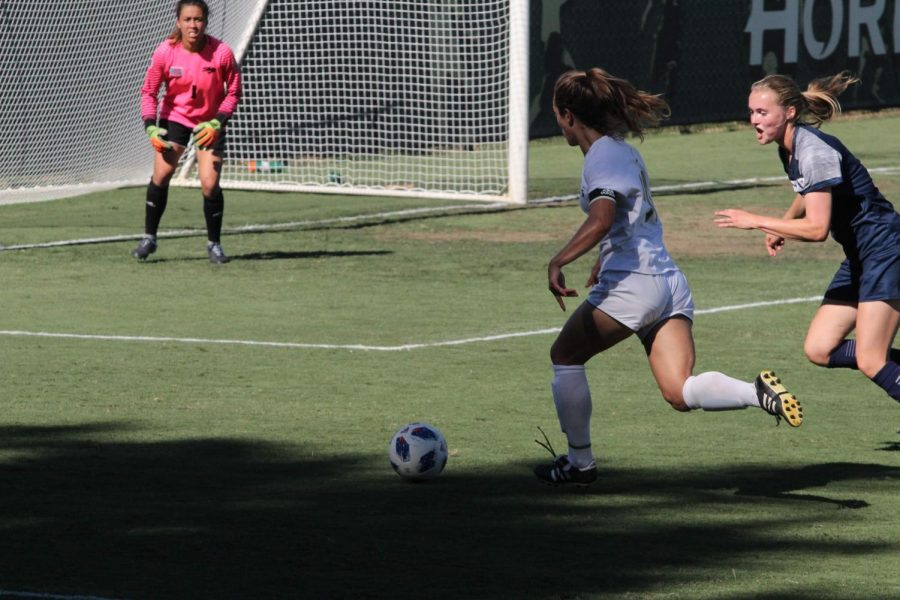 The Sacramento State women's soccer team wants to rebound from starting off the 2018 season with a 1-6-2 record by staying healthy and finding the best formation that fits the team according to Sac State head coach Randy Dedini.
The Hornets lost against UC Santa Barbara, California State University, Northridge, University of Nevada, Las Vegas, UC Davis, and the University of the Pacific, and tied the game against Fresno State during double overtime.  
Dedini said he believes the team has potential to win games, the team just needs to find ways to score more goals.
"You know, I like the talent that we have (and) the heart that this team has (and) the chemistry that we have," Dedini said. "So now, it's figuring out ways to finish off games and (score). We've just been letting in a few more goals then we would like, obviously."
Dedini said during the games, he used different formations like a 4-4-2 or 4-3-3 to find one that best suits the team. Dedini said he has also been trying new players in certain positions due to injuries.   
Dedini said sophomore goalkeeper Aaliyah Fesili and senior attacking midfielder Caitlin Prothe, who make a difference on the team, are two players that the team is trying to keep healthy.
"Aaliyah Fesili, you know, in my opinion (is) one of the best goalkeepers in our conference and (we) haven't used her at all this year," Dedini said.Dedini said Fesili tore her anterior cruciate ligament and hasn't decided if it is worth playing her this year or saving her for a year by redshirting her. However, Prothe, who is recovering from a sprained medial collateral ligament, has been playing about 15 minutes each half.
"So really, right now, we are trying to get healthy so that we when go into conference (play), we are as strong as we can be," Dedini said.
Related: Women's soccer scores three goals in 10 minutes, collects first win
According to sophomore defender Christina Lazar and freshman goalkeeper Ailey Collins, the team has also been working on building plays from the defense to connect with the midfielders and the forwards to score a goal. Lazar said the team is practicing on keeping the ball in order to create plays.
Lazar said she is the leading scorer with two goals this season and she is one of the only returning defenders this year. She said she is finding herself in a leadership role since she is a returning defender.
"So I went from being a freshman in a senior back line to being a returner," Lazar said. "So, probably taking that leadership role and leading out of the back and talking more."
Collins said she has started three of the five games the team has played this season. Collins said she is working on transitioning from playing in high school to college, where the game has a faster pace and working on communicating more with the defenders.
Dedini said he knows the record may not show it, but the team has a lot of talent and he is optimistic about the rest of the season. He said the team is hungry for a win and that he hopes that they will be ready for conference play.
The Hornets first conference match is an away match on Sept. 21 against Eastern Washington University and the Hornets will continue playing conference matches until Oct. 21 with a home match against the University of Montana.