Sac State football players talk swagger
Two top defenders discuss how their street style represents them off the field
No matter what major or social group, a big way students express themselves is through the outfits they wear.
Beneath the green and gold threads, they wear on gameday, student-athletes all have their own sense of style beyond their uniforms and practice garb.
Mister Harriel and Dre Terrell, both defensive backs on the Sacramento State football team, discussed their swagger choices and how their style is a representation of themselves.
Q: How would you describe your style?
Terrell: I would go basic, different and California.
Harriel: I would say simple, a little flashy and California-like as well.
Q: Why those three?
T: Just how I am, I am like a basic person. I'm not too flashy, I'm not really out there like that, so I think that's why [my style] is basic. From California, you just have your own style to how you are. You go anywhere else in the country and they are like 'Oh you're from California,' you just have that persona about you. Different, yeah I mean it's kind of just who I am, just different, not trying to follow what everybody else is doing, just a little different.
H: I feel like when I dress, I dress simple, t-shirt and jeans and call it a day. At the same time, I like to be a little flashy; earrings, watch, chain. I would say being a California boy, I dress just like a normal Californian would, not like any other state.
Q: How does your style represent you as a person?
T: It's just basically how you dress tells who you are. You could tell a lot about a person or what interests them, or whatever the case may be, just by how they present themselves. The three words I used, I think that's pretty much how I am, laid-back and chill, ya know?  If I do get dressed, if it's not like sweats or hoodie type of day, if I throw some jeans on, you know it's going to be basic laid back ya know, not too much.
H: I agree with Dre. The way you dress basically describes who you are and how you are. For me you know, I'm a simple person but at the same time, I like to look good and feel good. So you know, sometimes I will want the latest things that are out or the little flashy things that are out.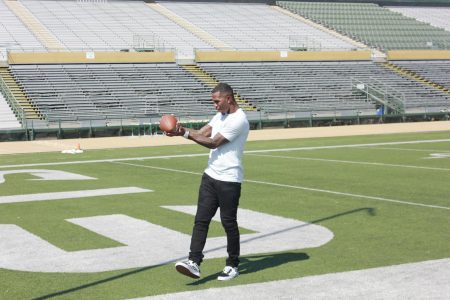 Q: What do you think of each other's style?
T: I think [Mister] is spot on. He is simple but at the same time he's going to make some appearances where you're like 'Dang Mit,' it's flashy ya know. In your face with the watches and the chains, it's a cool look.
H: I feel like Dre is different, very unique with his outfits. Somethings that I never thought I would wear, when I see it on him I'm like 'Dang Dre, that's clean right there.' Especially when I saw him pull off a flannel look I was like 'Oh yeah I like that.' Dre's really unique when it comes to dressing.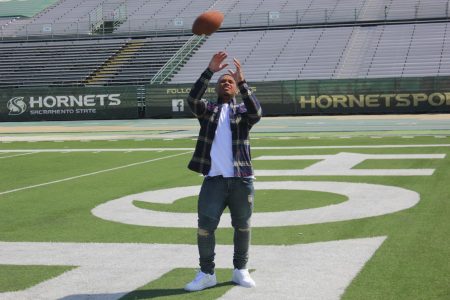 Q: What is your go-to cleat?
T: I would have to say the cleat I use now, the AdiZero, just because it's the cleat I've used the most consistently. Especially being [at Sac State] for so long now, I think that's one of the cleats I've always used so that's what I'm comfortable with.
H: I agree, the AdiZero. Since being [at Sac State] for a long time now, that cleat is so comfortable and I'm so used to it that it fits me.
Q: What is your go-to sneaker?
T: If it's a chilly day and I just got like soccer pants on or some sweats, I'm going to throw on some UltraBoost's. But you can never go wrong with some Air Force 1's. Just throw those on and call it a day, they go with everything.
H: I'm a flip-flop type of dude, I just keep it simple and go to school in flip-flops. Unless it's raining, then I'll throw on a pair of white Vans, that's my go-to right there.
Q: Do you guys have a go-to outfit?
T: When in doubt, if I'm unsure, I always try to go in all black. I wear all black everything. I like the look of it, I think that's pretty much my go to. If I'm unsure about something, I throw anything on all black and it works out.
H: I like white a lot, so like white vans, white T-shirt with some jeans is usually my go-to when in doubt.
Q: What is your favorite piece of Sac State clothing?
T: We get long sleeves, we have a couple (of) nice long sleeves that I like wearing. Those are probably the most comfortable to me. I would say some of the hoodies we get as well, I like those.
H: I would say the hoodies. I'm a sweatshirt type of person, so the hoodies. I know we got one a few years ago which was grey with green on the sleeves which was my favorite one.
Q: If you could buy any article of clothing at any price what would it be?
T: It wouldn't be too expensive but either I would have a lot of Jordan's or a lot of Yeezy's. One of those brands, I mean you can just do so much with those.
H: Mine would probably be Jordan's. I've always wanted to have every pair of J's so since not being able to have them and if I had a lot of money like that I probably would want every pair of J's.
Q: Which one of you has the best style?
H: Oh Dre! Off tops! Like I said Dre is unique, I'm just real simple. I dress simple and throw on some jewelry and call it a day. But Dre, you know he is real creative with all his fashion so I'll give it to Dre. Don't be nonchalant about it!
T: No, I mean that's his opinion. Like I said, he stands out. You go to a party, he's going to stand out. He's got the jewelry on and all that, I'm just there. If Mister walks into a party, you know he's there.