Wide Open Walls art festival to feature signature mural at Sac State
10 artists will complete a mural on the side of Shasta Hall for second annual Wide Open Walls Festival
The Wide Open Walls Festival, a festival that promotes public art, is set to return to Sacramento on Aug. 9 and is kicking things off at Sacramento State.
The festival runs from Aug. 9 to Aug. 19 and aims to "promote diversity through artistic expression," according to their website. The program was created to give a wider audience an opportunity to experience art.
A press conference held Thursday morning unveiled the uncompleted mural spelling out "SACRAMENTO" on the north-facing side of Shasta Hall. Raphael Delgado — Wide Open Wall Festival alumnus — and nine other artists will paint each letter in the word by a different artist.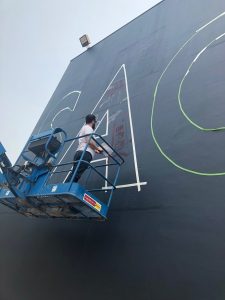 "Sac State is the fourth most diverse university west of the Mississippi," said Sac State President Robert Nelsen during the conference. "This mural is all about that diversity, students should come and feel the pride that's here — the pride in the art and the pride in Sacramento State."
"Give them each a letter in the word Sacramento and let them express themselves and make an iconic, iconic sign for Sacramento," said Founder of Wide Open Walls David Sobon.
This year's list of participants includes internationally renowned artists like Shepard Fairey, Herakut, Shamisa Hassani as well as local artists Lin Fei Fei and Stan Padilla.
"We are painting 30 different locations throughout sacramento from Oak Park all the way to Del Paso Boulevard, Midtown and Downtown," Sobon said. "We've got over 40 artists painting on walls all over Sacramento."
Sacramento's Wide Open Walls Festival is free to the public. A map showing where participating artists will be creating their murals can be found here.