Capital Report: McCain Defense Authorization Act signed and Obama endorses in California
Everything you need to stay informed in California Politics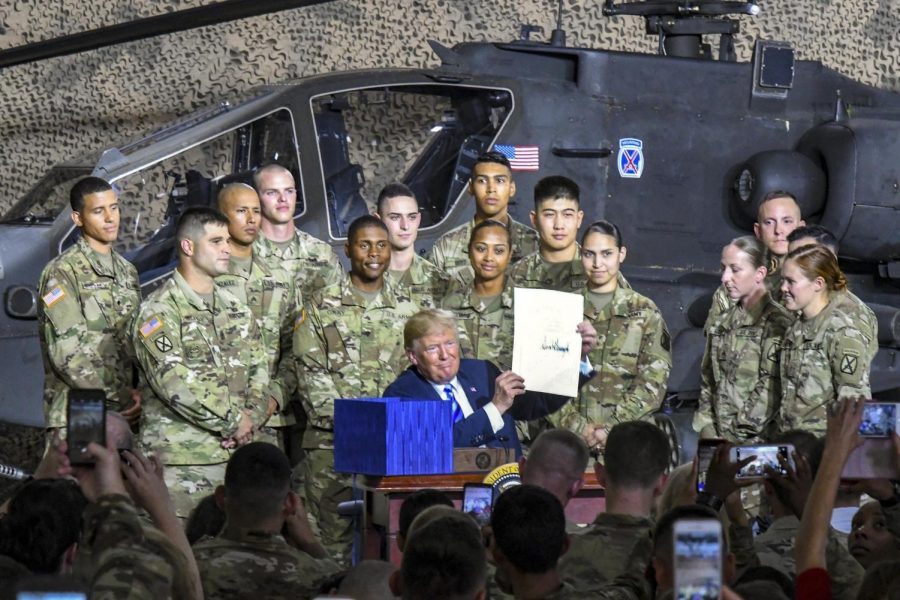 In the world of politics, there is always news to cover and many stories to read. To make it easier for you, here's a rundown of some of what's happened in politics before the upcoming election on Tuesday, Nov. 6.
Trump signs McCain defense authorization bill
President Donald Trump arrived in Fort Drum, New York on Monday morning to sign the John S. McCain National Defense Authorization Act, which sets new policies under which the congressional appropriations committees fund the Department of Defense, which oversees the U.S. military.
It was my great honor to sign our new Defense Bill into law and to pay tribute to the greatest soldiers in the history of the world: THE U.S. ARMY. The National Defense Authorization Act is the most significant investment in our Military and our warfighters in modern history! pic.twitter.com/M6VI1c0Sgx

— Donald J. Trump (@realDonaldTrump) August 13, 2018
"We're now rebuilding our military like we never have before," Trump said before signing the bill, along with comments in support of his proposed space force.
However, according to a breakdown of the act by PBS Newshour, the act provided no policy that would lead to a military buildup but rather shifted the focus of the Defense Department from counter-terrorism to combating threats from Russia, China and North Korea.
The act actually pushes back against Trump for his stance on Russia by increasing funding for troops in Europe and forcing the President's hand in imposing sanctions on Russia. The act's policies on China bans the U.S. government from purchasing products from the Chinese telecommunications company ZTE, which Trump had recently made a deal with to help save the Chinese company, and gives increased support to Taiwan.
The act disallows the complete withdrawal of American troops from South Korea unless the Secretary of State determines that the move is in America's national security interest.
Trump received criticism from media outlets like CNN and MSNBC for his speech that failed to mention the act's namesake, Senator John McCain of Arizona. McCain, who is the chair of the Senate Armed Services Committee but has not been actively serving as Senator due to cancer treatments, has been among the most vocal Republican critics of the president.
Trump has also taken to attacking McCain at campaign events before and since the 2016 elections while even going so far to have questioned McCain's status as a war hero — a title he earned by his decision to remain a prisoner of war — claiming that McCain should not be a war hero for being captured.
McCain has shown no support for Trump, even requesting that the President not be invited to his funeral.
Obama announces first round of endorsements
On Wednesday, Aug. 1, former President Barack Obama announced his first round of endorsements for the 2018 midterm elections on Twitter. Obama's endorsements ranged in races for Congress, state offices and state legislatures.
"I'm confident that, together, they'll strengthen this country we love by restoring opportunity, repairing our alliances and standing in the world, and upholding our fundamental commitment to justice, fairness, responsibility, and the rule of law," Obama wrote. "But first, they need our votes."
Today I'm proud to endorse such a wide and impressive array of Democratic candidates – leaders as diverse, patriotic, and big-hearted as the America they're running to represent: pic.twitter.com/gWzalQhFas

— Barack Obama (@BarackObama) August 1, 2018
In California, Obama endorsed Lt. Governor Gavin Newsom, a Democrat, who is facing Republican John Cox in November. Newsom has been the longtime frontrunner in the race to replace Governor Jerry Brown, who is finishing his second and final two terms as governor, and is expected to easily claim victory come November.
As for the race to replace Newsom as California's Lt. Governor, Obama endorsed his former ambassador to Hungary, Eleni Kounalakis, over fellow Democrat Ed Hernandez, a state senator and optometrist who represents the Los Angeles suburb of West Covina and chairs California's Senate Committee on Health.
As stated on her campaign website, Kounalakis is the daughter of local Sacramento real estate developer Angelo Tsakopoulos and served as president of AKT development, her father's company and one of the largest real-estate developers of California, before being appointed as the ambassador to Hungary in 2010 for the Obama administration.
While Kounalakis has never held elected office before she has served in appointed positions including serving as a delegate to the Democratic National Convention, serving as a member of California's Democratic State Central Committee, which governs the state party, and serving as a Trustee of San Francisco's War Memorial and Performing Arts Center as appointed by Newsom, the then mayor of San Francisco.
For house races Obama endorsed Democrats; Josh Harder (CA-10), TJ Cox (CA-21), Katie Hill (CA-25), Katie Porter (CA-45), Harley Rouda (CA-48), Mike Levin (CA-49) and Ammar Campa-Najjar (CA-50).
All of Obama's endorsements in the house races are for Democrats looking to flip house seats away from the Republican party come November. However, doing so requires Democrats to gain a net total of 24 seats in the general election with Democrats aiming to flip seven seats in California alone.
Obama's endorsements are given to the seven most competitive of the ten seats that Democrats consider battlegrounds in the upcoming election.
Democrats call foul on SCOTUS nomination hearing
A confirmation hearing for Trump's supreme court nominee, Brett Kavanaugh, has been set for Sept. 4, a date that Democrats, such as Kamala Harris, claim does not give enough time to review documents from Kavanaugh's time in the George W. Bush administration.
Republicans are trying to ram through Kavanaugh's nomination, setting his hearings for 9/4—but thousands if not millions of documents from his career are still hidden from the public.

RT to show the GOP that you want to see ALL of Kavanaugh's records before the hearings begin.

— Kamala Harris (@KamalaHarris) August 14, 2018
Democrats also claim that the selection process is not objective due to the Bush administration's former attorney, Bill Burck, selecting which documents from the Bush administration are released.
While Burck does represent the Bush administration in how the National Archives handles documents from that past administration, a role that usually oversees the release of documents of that administration to Congress, there has been concerned raised by some Democrats as Burck worked as Kavanaugh's deputy in the White House.
Republicans are allowing President Bush's PERSONAL attorney to determine which of Brett Kavanaugh's records senators who are not Judiciary Committee members may see.

This means that 79 U.S. senators are being denied information that would inform their position.

— Senator Dianne Feinstein (@SenFeinstein) August 11, 2018
Election Reminder
To finish off, a quick reminder that the midterms election are coming up this year on Tuesday, Nov. 6, with a deadline to register by Monday, Oct. 22. If you miss that deadline, conditional voter registration will be available up to election day, however, any votes cast in this manner will not be counted until the voter's registration is approved.
In Sacramento County, ballots will begin to be mailed out to voters starting Monday, Oct. 8, and can be cast via mail or at the Voter Registration and Elections Office on Oct. 8, at ballot drop boxes throughout Sacramento County Tuesday, Oct. 9, or at vote centers, with some opening Saturday, Oct. 27, and more opening Friday, Nov. 2. These options will be available until 8:00 p.m. Tuesday, Nov. 6, and ballots cast by mail must be postmarked no later than election day.
Capital Report is a weekly series released every Wednesday on StateHornet.com to keep you up to date with California politics.