Capital Report: Guilty pleas and guilty charges strengthen Mueller investigation
Everything you need to stay informed in California Politics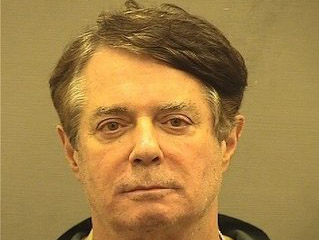 San Diego congressman indicted on corruption charges
On Tuesday evening Rep. Duncan Hunter, the congressman of California's 50th congressional district, and his wife were indicted for using $250,000 of campaign funds on personal experiences. The funds were used to pay for vacations to Italy and Hawaii, school tuition, theater tickets and fast food purchases according to the Associated Press. Hunter is considered one of the most likely Republicans to lose his seat to a Democrat in the state, mostly due to his legal trouble, and is being targeted by Democrats in the November midterms.
Zinke calls on staff to prepare for water war with California
Interior Secretary Ryan Zinke issued a memo on Friday, Aug. 17, calling on members of his staff to develop a plan of action to increase the delivery of water from the Sacramento-San Joaquin River Delta to the central valley and southern California. In the memo Zinke also called for the plan to address California's "unacceptable restrictions that further reduce the Department's ability to deliver water" in reference to the state's environmental policies.
Zinke's memo also requests that his staff prepare, "legislative and litigation measures that may be taken to maximize water supply deliveries to people," suggesting an upcoming court battle between the state and the Department. Zinke gave his staff 15 days to provide a plan to Deputy Secretary David Bernhardt, a former lobbyist who used to represent users of large amounts of water including the central valley's Westlands Water District, and for Bernhardt to then present a final plan 10 days later.
Former Trump campaign chair found guilty on 8 counts of financial fraud
On Tuesday at 4:40 p.m. ET the Associated Press reported that former Trump campaign chair Paul Manafort was found guilty on eight charges related to his political operations in Ukraine. The charges include five counts of tax fraud, two counts of bank fraud and one count of failure to disclose a foreign bank account. The verdict marks the first major prosecution win for special counsel Robert Mueller.
Mueller's team indicted Manafort in Virginia on 18 charges related to his work in Ukraine. While Manafort was found guilty of eight charges on Tuesday, Judge T.S. Ellis ruled the remaining 10 charges as a mistrial after the jury failed to reach a consensus. The guilty verdict carries a maximum sentence of 80 years, likely meaning the 69-year-old Manafort will live the rest of his life in jail even on a reduced sentence.
Manafort also faces a trial in September for additional crimes related to his work in Ukraine. That trial will take place in Washington D.C. where the crimes were committed, according to Mueller's team.
The guilty verdict against Manafort gives a concrete example of the work Mueller's team has been able to accomplish while Trump and his allies have called on Mueller to wrap up his "witch hunt."
Cohen pleads guilty on hush money to "influence election"
Quickly following the verdict in the Manafort trial the Associated Press reported at 4:45 p.m. ET that Trump's former personal lawyer pleaded guilty to campaign finance fraud in paying hush money to women that President Trump allegedly had affairs with in what Cohen claimed was an attempt to influence the election as directed by Trump. Cohen's claim implicates Trump as being guilty of campaign finance fraud, a federal crime and likely grounds for impeachment.
Cohen's plea agreement included bank fraud and tax evasion and for him to accept a sentence that could be anywhere from 46 to 63 months.
Giuliani argues "truth isn't truth"
During an interview on MSNBC's "Meet the Press" on Sunday President Donald Trump's personal lawyer Rudy Giuliani claimed that "truth isn't truth."
While speaking on Special Counsel Robert Muller's investigation of possible collusion between the Trump campaign and the Russian government, Giuliani claimed that rushing into an interview with Mueller could lead to a perjury trap for the president.
"When you tell me that, you know, he should testify because he's going to tell the truth and he shouldn't worry, well that's so silly because it's somebody's version of the truth," Giuliani said. "Not the truth."
When "Meet the Press" host Chuck Todd responded that truth is truth Giuliani uttered his now infamous retort.
"No, it isn't truth," Giuliani said. "Truth isn't truth."
Giuliani's statement faced criticism on Twitter including from former FBI Director James Comey.
Truth exists and truth matters. Truth has always been the touchstone of our country's justice system and political life. People who lie are held accountable. If we are untethered to truth, our justice system cannot function and a society based on the rule of law dissolves.

— James Comey (@Comey) August 19, 2018
DACA's fate left in limbo as Aug. 23 deadline nears
On Thursday former President Barack Obama's Deferred Action for Childhood Arrivals (DACA) program is set to begin accepting new applicants for the first time since the Trump administration ended the program in September 2017. The order to fully reinstate DACA comes from Judge John Bates, who sits on the Washington, D.C. federal circuit court.
Bates found that the administration had little to no basis for ending the program and put little thought into the consequences of ending the program. However, despite of Bates' order, the fate of DACA is still left uncertain. The Trump administration could try to ask Washington's court of appeals to pause the order while the administration tries to appeal it.
Alternatively, a lawsuit from Republican-controlled states led by Texas is currently being argued in front of Judge Andrew Hanen who could rule the DACA program as unconstitutional and leave two conflicting court orders in effect. Hanen has a record of ruling against the DACA program as he ruled against the Obama administration's attempts to expand the program to protect more individuals including the parents of DACA recipients.
Election Reminder
A quick reminder that the midterm elections are coming up this year Tuesday, Nov. 6, with a deadline to register by Monday, Oct. 22. If you miss that deadline, conditional voter registration will be available up to election day, however, any votes cast in this manner will not be counted until the voter's registration is approved.
In Sacramento County, ballots will begin to be mailed out to voters starting Monday, Oct. 8, and can be cast via mail or at the Voter Registration and Elections Office on Oct. 8, at ballot drop boxes throughout Sacramento County Tuesday, Oct. 9, or at vote centers, with some opening Saturday, Oct. 27, and more opening Friday, Nov. 2. These options will be available until 8:00 p.m. Tuesday, Nov. 6, and ballots cast by mail must be postmarked no later than election day.
Those eligible to vote in California can register to do so on the state's secretary of state website.
Capital Report is a weekly series released every Wednesday on StateHornet.com to keep you up to date with politics.