Football team voted for 'Best Win Against Davis' at Sac State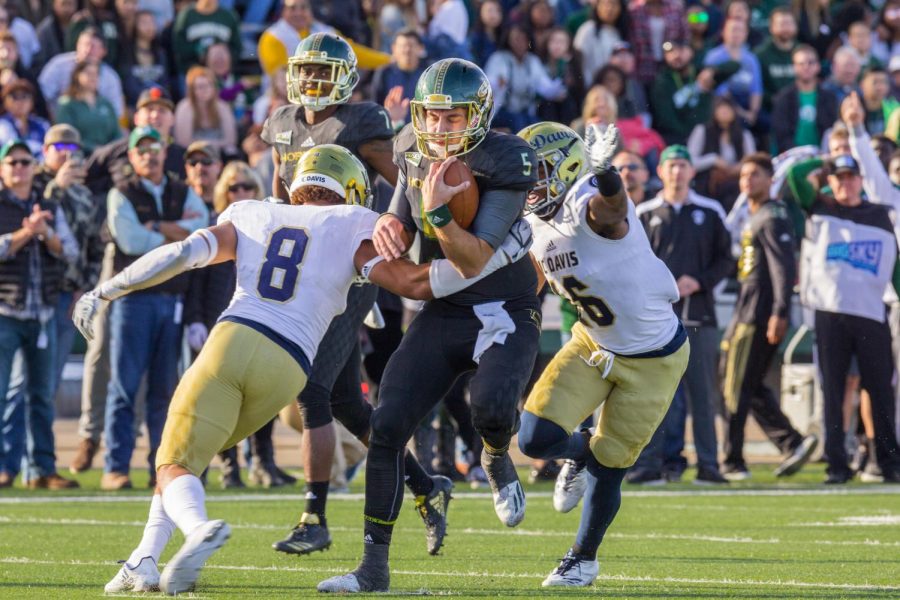 The Sacramento State football team has struggled for years against its Causeway rival — the UC Davis Aggies — until the Hornets got the upper hand last season in a game voted first place for The State Hornet's "Best Win Against Davis" category.
The Hornets dominated the first half and established a lead by as many as 31 points before hanging on to a 54-47 victory in the Causeway Classic battle at Hornet Stadium on Nov. 18.
"Last year, they blew us out of the water so we wanted to show how we bounced back," said junior receiver Andre Lindsey, referring to the 48-30 loss in 2016.
"The way it ended was dramatic. Davis came back but our defense withstood their heat and stopped them on their last drive."
Sac State came into the game with only one win against the Aggies since 2010. That lone victory came in 2014 as the Hornets traveled across the Causeway to Davis and came away with the 41-30 win.
"We hear stories of the games and fights (that the alumni) have been in with them, so personally I don't like Davis that much," said junior cornerback Dre Terrell. "They think they're better than us and I take that personally."
This rivalry has been fairly one sided. Since 2000, Sac State has four total wins against the Aggies including the victory from this past season.
"(The game) is really important to a lot of people including the alumni and fans of Sac State and UC Davis," said junior quarterback Kevin Thomson. "We try to treat every game the same, but I'd be lying if that game didn't mean a little more than the rest of them."
One of the best parts about the Causeway Classic game is the atmosphere, the players said.
"Last year, both stands were filled and packed," junior safety Mister Harriel said. "I could feel the ground shaking on that last drive. The atmosphere was crazy."
The Hornets almost let a large lead slip away against UC Davis last season, but the players said they're remaining confident entering the fall.
"We have 18 out of 22 starters returning," Lindsey said. "I know they'll be ready and want revenge, but I feel like we will hold our ground and weather the storm even if it goes bad."
Sac State will look to start a two-game winning streak against the Aggies on Nov. 17 at UC Davis in the 65th Annual Causeway Classic.
"I'm calling it now, they won't stand a chance against us next year," Lindsey said.