Six-day art festival highlights Sac State student, faculty works
Festival of the Arts will run from April 10-15 featuring art, music, theater, dance
This year's Festival of the Arts is a six-day showcase running from April 10-15 that will highlight the talents of students and faculty at Sacramento State. The festival will include art, music, theater, dance, discussions and presentations.
The festival will include events such as a performance of "A Midsummer Night's Dream," a dance performance, a talk about art history and renowned jazz trumpeter Dave Douglas performing with Sac State's own nationally-recognized Jazz Ensembles.
'A Midsummer Night's Dream'
"A Midsummer Night's Dream" is a Shakespearean play that will be performed from April 11-22 in the University Theatre.
This performance will be directed by theater and dance faculty member Christine Nicholson and will run for a total of seven shows with opening night on April 11 at 6:30 p.m.
Tickets are $18, or $15 for seniors, students, faculty and staff, and $12 for youth ages 3-12 and may be purchased through the Hornet Ticket Office.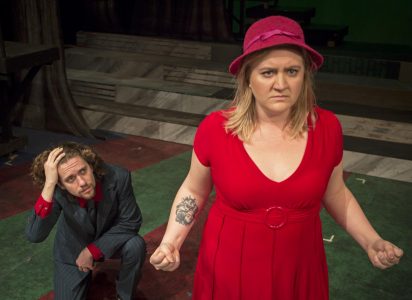 Sacramento Dance Sampler
These performances will feature a diverse group of professional dance companies from around Northern California.
Some of these groups include Dynamic EnerG, Yemaya Salsa, the Linda Bair Co. and Midtown Stomp, with music drawn from the big band and electronic genres.
The performances will be on April 14 and 15 with each day having two performances at 2 p.m. and 7 p.m. in Solano Hall 1010.
Tickets are $12 for this event and may also be purchased through the Hornet Ticket Office.
U-Create!
Coming back to the festival for its fourth year is U-Create!, a celebration to showcase research and creative activities by Sac State faculty and students.
U-Create! will feature live music, dance performances, student readings and other featured showcases.
This event kicks off April 10 at 5:30 p.m. and will take place at the Verge Center for the Arts, Beatnik Studios and Insight Coffee Roasters. The festival will also include a street fair on 7th Street between S Street and Rice Alley.
Jazz Ensembles with guest Dave Douglas
Sac State's award-winning Jazz Ensembles are welcoming a two-time Grammy-nominated trumpeter, Dave Douglas, to perform with them in the Capistrano Concert Hall on Friday, April 13 at 8 p.m.
Tickets are free for Sac State music students. For everyone else, tickets can be purchased online through the Hornet Ticket Office or in person at the Capistrano Box Office.
Sunday Funday
This all-day celebration closes out the festival.
Some events include Japan Day in the Library Quad, "A Spectrum of Sculpture" presented by the art education department in the library breezeway and a Kids Zone in the grassy area east of Capistrano Hall.
Events with scheduled times include a musical petting zoo held by Mu Phi Epsilon starting at noon next to Capistrano Hall, a "Goldilocks and the Three Sharks" puppet show at noon in the Studio Theatre, and Dancespace performances in Solano Hall 1010 at 2 and 7 p.m.
More information on Festival of the Arts can be found here, and a full schedule of events can be found here.
Correction: This post has been updated to reflect that U-Create! and the U-Create! street fair are happening on Thursday, April 12, not on April 10.