Sac State football players showcase talents at Pro Day
Six Sacramento State senior football players performed a variety of drills and tests in front of NFL and CFL scouts in their Pro Day at UC Davis on Wednesday.
The list of soon-to-be Sac State graduates trying to gain recognition from professional football teams consisted of defensive back Ernest Jenkins, wide receiver Isiah Hennie, defensive lineman/outside linebacker Ben Sorensen, offensive lineman Pailake Aiono, running back Joseph Ajeigbe and tight end Stone Sander.
NFL teams in attendance included the Minnesota Vikings, Atlanta Falcons, Oakland Raiders, Washington Redskins, Cleveland Browns, Jacksonville Jaguars, San Francisco 49ers and also the Saskatchewan Roughriders from the Canadian Football League.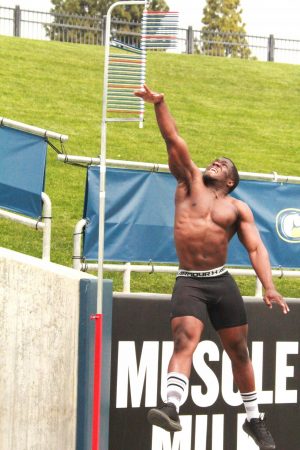 Sorensen — who earned third team Football Championship Subdivision All-American and first team all-Big Sky Conference honors this past season — stood out among his teammates. He measured in at 6-foot-4, weighing 275 pounds and benched the 225-pound barbell 25 times with a vertical of 31 inches.
"I'm satisfied with today," Sorensen said. "I feel like I could have done better in some areas, but overall it's a good feeling to just get out here and compete."
An area where Sorensen said he wants to work on is dropping back into coverage during offensive passing situations.
He said he has little experience playing against the pass and covering receivers because he mainly worked moving past offensive linemen as a defensive end in college.
Sac State coach Jody Sears, who was in attendance for the Pro Day, said the most intriguing prospect of the bunch is Sorensen, who he described as a humble, hard-working player.
"The things that set him apart is he is a really good pass rusher, and he has a really good natural knack for (the ball carrier)," Sears said. "I like what he did today and think a team will believe he is worthy of a shot."
Another player looking for a shot in the pros is Hennie who was named honorable mention all-Big Sky for two straight years as a junior and senior. He said he is willing to make his mark on special teams for a professional team at the next level and described himself as a "game changer."
"(It'll) be third and four, and I'll catch a five-yard out and take it sixty (yards), and that's what I can bring to any team as well as punt return," Hennie said. "Just give me the opportunity to catch the ball clean and get some blocking, I'm almost guaranteed to get into the zone."
Despite being listed at 5-foot-7, Hennie posted a 35-inch vertical jump, bench pressed 225 pounds 14 times and ran close to a 4.45 (official times were not released) in the 40-yard dash.
Aiono, who was named second team all-Big Sky and started 33 consecutive games at center for the Hornets, said he believes his intelligence can help him at the next level.
"I feel like I have a high IQ of the game, so I'm a guy that can fall right in with what (a professional football team is) already doing and have a good understanding of the playbook," said Aiono after hitting 17 reps on the bench press.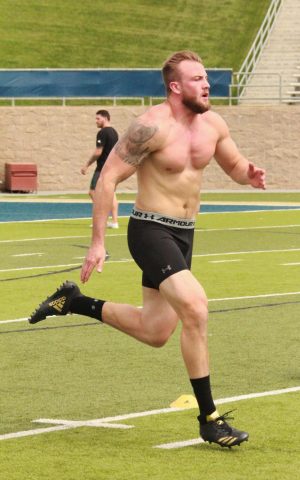 Sander, who earned his degree in communication studies and is currently pursuing his master's degree in criminal justice, posted a 31-inch vertical jump and benched the 225-pound barbell 24 times. However, he struggled to stay healthy throughout his career and he admits that teams may hold that against him.
"My biggest weakness is my injury record; going through college I had a lot of injuries and that's definitely something pro teams will take into account," said Sander after playing in only six games during his senior year. "At that point it's a liability, so I will have to work past that."
Ajeigbe — who led the Hornets with 110 rushing attempts and finished with 452 yards and five touchdowns — benched the 225-pound barbell 23 times, had a broad jump of 9-feet-10-inches and a vertical jump of 33 inches. He said he believes his toughness will help him at the next level.
"My strengths are running in between the tackles; (I'm) somebody who is willing to put his nose down and get the short yardage," Ajeigbe said. "I can bust long runs, I can pass (protect) in the passing game and I'm willing to get in there and protect the quarterback."
The sixth and final Sac State player at the Pro Day was Jenkins who finished his collegiate career with two interceptions and 15 pass break ups. He ended his day with a 29-inch performance in the vertical jump and seven reps on the bench press.