Interactive art installation allows people to experience being catcalled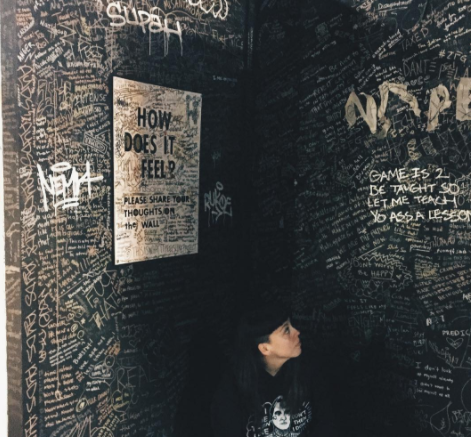 Terra Lopez, a Sacramento State alumna and the lead singer of the electronic duo Rituals of Mine, is bringing her emotionally charged installation "This Is What It Feels Like" to the University Library early next week.
The installation will be open from 11 a.m. to 6 p.m. on Monday, April 23 and Tuesday, April 24.
The exhibit is open to everyone but is intended to be experienced by men, as its goal is to "provide the experience of being on the receiving end of catcalling."
It consists of a small dark room hidden by a curtain. Willing participants find themselves enveloped in darkness and facing a hanging pair of headphones, through which they can step into the shoes of a woman being harassed. A single mirror leaves them completely alone.
Story continues below
The catcalls start with confident greetings like, "Hey, girlie," but they eventually devolve to verbal abuse and dehumanization. "You look like you give good head," one voice says.
The grating voices spill out of the shadows with piercing vitriol. "What, you don't speak?" a man asks. "I wanna f— you," another says.
It's a bold display — and one the Sacramento native has been taking to as many locations as possible since its debut at ArtStreet in February 2017.
"It kind of blew up with the press after the debut show, and because of that we got international interest," Lopez said.
She also said she's been working to bring the exhibit to every city in America. Festival and large-scale event organizers have been reaching out to her ever since her Sacramento debut, and the exhibit even got attention from Mayor Darrell Steinberg.
It's an idea "I've always had," Lopez said.
"I grew up around really severe domestic violence with my mother, and as a kid I felt just really helpless and angry for a really long time."
Though in her adolescence, she said, she didn't have the power to do anything about it.
"One night sitting with a group of friends — all women — we got on on the conversation of catcalling and harassment, and all the women in the circle started sharing their experiences," she said. "And I was really appalled by my friends and what they go through every single day compared to my guy friends.
"After talking to my friends and hearing their experiences, and my partner's experiences, and even (reflecting on) my own and my mother's, all of that made me really angry."
But the anger experienced that evening was just the beginning for her, and she's no stranger to belting emotional tomes into a microphone.
"I'm the type of person where, if there's an issue, I'm going to try to fix it," Lopez said.
The disparity between the social perspective of men and women was glaring for her, and was made even more obvious through the exhibit.
"It's really hilarious," said Lopez. "Grown men are scared to go into the exhibit. The first question a lot of guys ask is, 'I'm not going to be touched, am I? I don't want to be groped.' "
The exhibit does not involve any touching.
Once concerns are assuaged and the men are inside, Lopez said most men are affected by the exhibit.
"A lot of men are crying," she said. "Some are apologetic and ashamed."
The reactions are wide-ranging. The best reactions from men, for Lopez, are when they want to make up for their own actions, call out their friends in the act, and re-evaluate the way they treat women day-to-day.
Reactions from women are quite different. Some are very angry after listening to all or part of the 30-minute audio loop.
"Some women come out completely crying because it hits home," Lopez said. "Most women are very thankful."
The overwhelming response has been unexpected for Lopez. She admits she expected it to only be a one-time event, especially since it was her first-ever exhibit.
"I had this idea in my head and didn't know when I would have the time," she said.
Sacramento's ArtStreet had a call for artists and offered funding to the best submission.
"There was a deadline in fifteen minutes, so I drew out my idea on a napkin, took a picture of it on my phone, and sent it in, and it got chosen," Lopez said.
The installation includes a feedback wall that participants can write on to describe their experiences.
Lopez said on the opening night, people wrote things like "I was catcalled on my way to this exhibit" or "I was followed this morning."
She also commented on the large number of women who have been chased or attacked for not responding positively to these advances.
"It leads to more danger for women," she said. "It raises all these questions as to how women should respond, and the answer is that we shouldn't even have to worry about that."