Men's tennis team struggles under first-year head coach
The Sacramento State men's tennis team hasn't gotten off to the best of starts this season under first-year head coach Kevin Kurtz.
Kurtz, who began as a volunteer assistant in the spring of 2006, replaced 12-year head coach Vyacheslav "Slava" Konikov after he resigned to coach former No. 1-in-the-world ranked Victoria Azarenka, as first reported by The State Hornet.
The Hornets (3-9, 2-1 Big Sky Conference) are halfway through their schedule this season and despite early struggles, Kurtz — who graduated from Sac State in 2003 — has described his first season in charge as fun and exciting.
"I am held a little bit more accountable, but I am not worried so much about our results in the beginning," Kurtz said. "I have always told the guys I am worried about how we finish."
Sophomore Hermont Legaspi, who has the best overall record (7-5) in singles play on the team, said Kurtz has not only helped him, but the entire program this season.
"He gives us more confidence during intense practices to help us in matches," Legaspi said. "Overall, he gives us confidence and knowing when it is the right time to be aggressive."
Senior Kasparas Zemaitelis, who is undefeated in Big Sky singles conference play, said he has been with Kurtz since his freshman year and it has made for a comfortable experience.
"He helps me forget the losses because he is more like a guy that after a lost match, he'll say more positive things," Zemaitelis said. "It helps me go out of my matches knowing I did something positive and keeping that away while I change some negative things."
Despite being 3-0 in conference, Zemaitelis — who went 14-11 (9-2 Big Sky) last season — has a losing record of 5-7 overall in singles play.
"I don't want to say I have excuses, but I have had injuries and been sick, which affects how I can practice and how I can play," Zemaitelis said.
Sac State's No.1 singles player junior Mikus Losbergs — who went a team-best 16-8 overall (8-3 Big Sky) last year — has also struggled with a 2-10 overall record this season.
"It is very hard for me because I feel like I work harder than my freshman year and last year," Losbergs said. "Last year, I was playing the No. 1's and had the best record on the team and this year I have the worst record."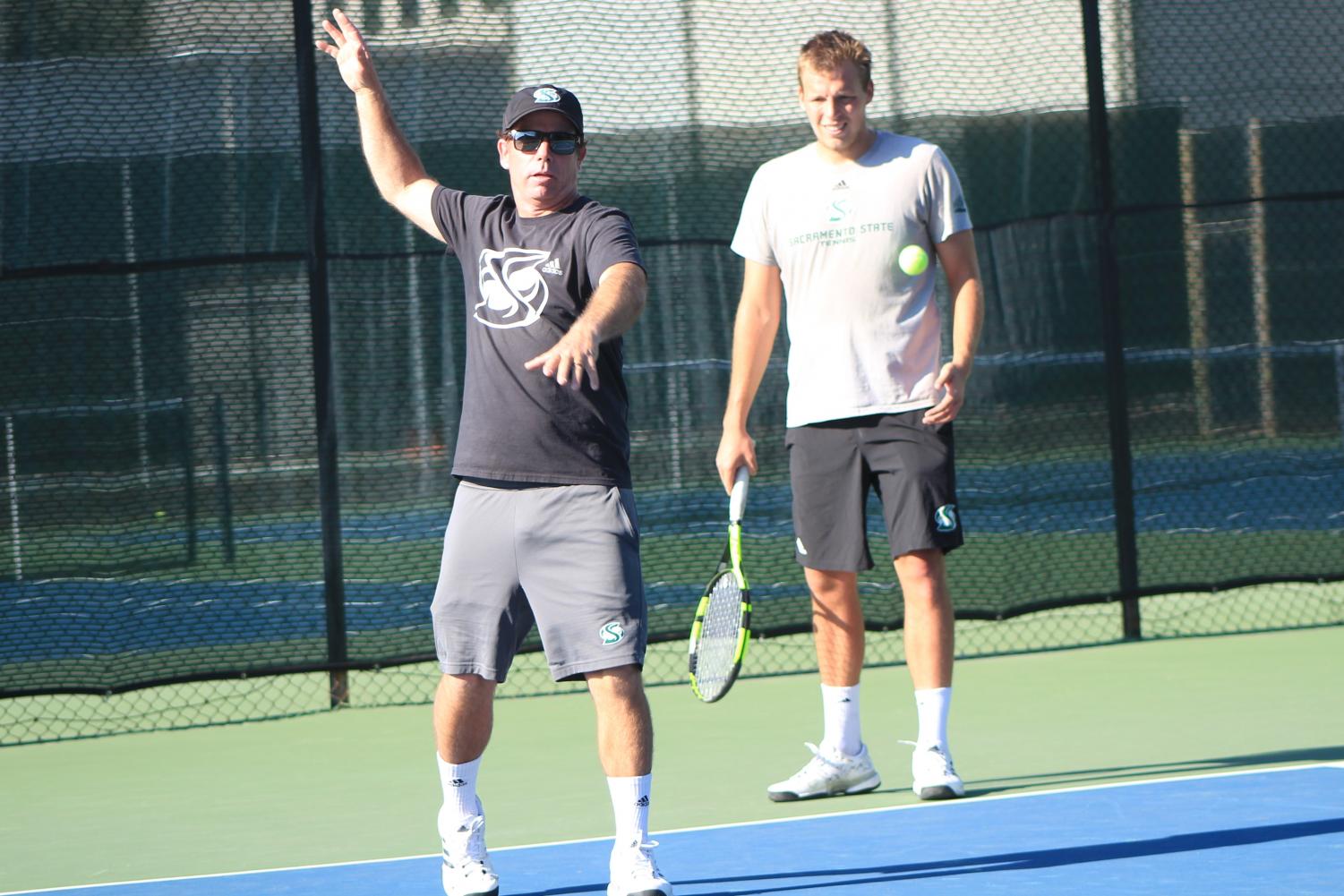 Losbergs said that his struggles on the court reside more on the mental aspect of the game and his loss of confidence.
"I don't want to be arrogant or rude, but I feel like I am the best player on our team," Losbergs said. "I just lost my confidence while playing. I go out there (and) I kind of know I am going to lose.
"I kind of play more safe, which at No. 1, is tough because the other guy will go out and kill you."
However, Losbergs said one thing that has remained consistent is the support he receives from Kurtz.
"We talk a lot about tennis and mentality," Losbergs said. "What I love about him is that we don't just talk about tennis; we talk about other things like school. He is very helpful and supports us like crazy."
The Hornets will look to improve on their 2-1 conference record under Kurtz as they host Idaho at 1 p.m. on Saturday at the Sacramento State Courts.