Schmeiss' 'outstanding' performance isn't enough to lift gymnastics over San Jose State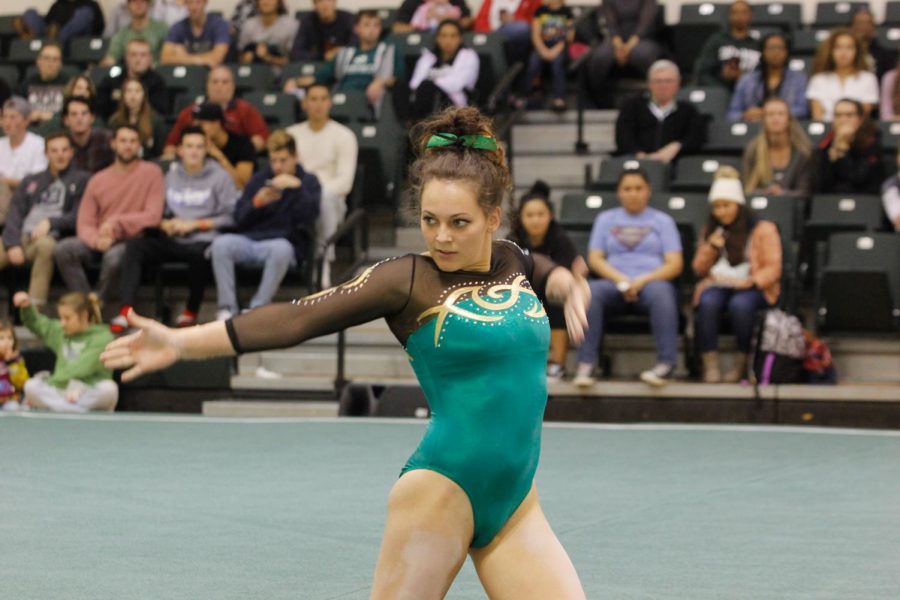 Although the Sacramento State gymnastics team posted its lowest score of the season in a 194.425-191.775 loss to San Jose State on Friday night, the team's performance had some bright spots.
Balance beam was the team's lowest score of the night, but it featured arguably the team's two top performances in the meet with junior Lauren Schmeiss and freshman Kendra Braida.
Schmeiss hadn't competed since tearing three ligaments in her ankle last season at UC Davis on  Feb. 24 and made her return against the Spartans on Friday.
RELATED: Injuries headline Sac State gymnastics season through 3 meets
Pacing during the events prior to hers, Schmeiss worked on her routine as she watched her teammates compete, but when she got up on the beam, her experience showed and it looked like she hadn't missed any time. She nearly hit a career high in the event and finished with a score of 9.725.
"It felt amazing," Schmeiss said. "I hadn't really been sure when I would come back, but it feels really, really good now and hopefully I'm back in for good."
Sac State coach Randy Solorio said that Schmeiss will be in the lineup on the beam from here on out and could make a return to the vault. Last season Schmeiss competed on vault five times with a high score of 9.800, and Solorio said she has been practicing that event along with floor in practice.
Sac State records a season high 48.575 on the vault and are led by Caitlin Soliwoda who recorded a 9.800. Here is her routine @SH_Sports @SacStGymnastics @caitlinn_10 pic.twitter.com/t4KkUGLzfo

— Thomas Frey (@ThomasFreyRP) January 27, 2018
Schmeiss finished second on the team on the beam, and she was only to be outdone by Kendra Braida, who scored a 9.750. The freshman from Elk Grove recorded a 9.575 in her first two meets before leading the team with a 9.800 on the event last week at Utah State and finishing just shy of that mark tonight.
"She has shown a tremendous amount of perseverance," senior Caitlin Soliwoda said. "Last year, she dislocated her shoulder and had surgery, and I didn't know if she would compete. She has really stepped up to the plate."
Soliwoda competed as an all-arounder for the second consecutive meet after injuring her heels in the NorCal Classic on Jan. 8. She led the team in the all-around for the second straight meet with a score of 38.825 and also led the team with a 9.800 on the vault.
"I just figured out the feeling that I needed to feel," Soliwoda said about her vault routine. "Everything went just right. In warmups, I couldn't figure out my run, but in the competition I ran like I normally do and everything just worked."
Sac State hit a season high on the vault by scoring 48.575 as a team but faltered in the remaining events.
"I don't want to pretend; All in all, it was a very disappointing competition," Solorio said. "Caitlin Soliwoda had a very good meet and (Schmeiss) was outstanding. She came back from surgery much faster than I thought she would."