Despite multiple moves, sophomore guard still lives on the basketball court
On a hot summer day as a 14-year-old in New York, Hannah Friend prepared to head to the YMCA for another day of basketball.
Friend, who is currently a sophomore guard for the Sacramento State women's basketball team, described her definition of another day of basketball as different from almost everyone else's.
"My mom would be so mad because she would have to bring me meals there the entire day because I would stay until it closed," Friend said.
For about five years, Friend would spend nearly every free minute she had playing basketball. On school days, she would head to the YMCA right after school and stay for about five hours. On the weekends and during the summer, she estimates that she would spend 8 to 10 hours a day at the gym playing pickup games.
By playing so much, she was able to mostly play games against men who were bigger, faster, stronger and older then she was. By doing so, she became a tough-nosed defender who could drive to the rim with ease when she starting playing in high school against girls her age.
By the time Friend's high school career ended, she had scored 1,968 career points and was named first-team all-state in Connecticut.
Friend moved eight different times growing up and even lived in England. She said that one constant in all of the moves was that she could always find a place to play basketball.
While Friend was a great basketball player, she also excelled as a nationally ranked high school tennis player, a state-champion track and field athlete and as an exceptional student. She received Division I scholarship offers for all three sports that she played but ultimately decided to play collegiate basketball at the University of Delaware.
Despite offers from bigger schools, Friend decided on Delaware because she could play immediately. As a freshman, she averaged about 13 minutes a game and it looked like she would have a much bigger role as a sophomore after her minutes rose each game.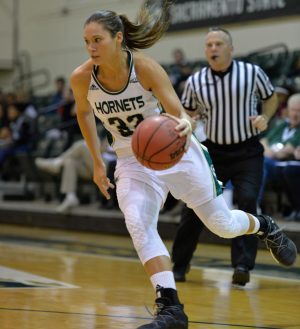 But Friend decided Delaware's system wasn't a good fit for her.
"It just wasn't the style I wanted," Friend said. "They run out the shot clock, and it's one shot every 30 seconds and no fastbreaks."
That season, Delaware was 288th in the nation in scoring per game and took just 4.5 3-point shots per game. In comparison, Sac State was second in scoring and led the nation by taking an average of 12.5 3-pointers per game that year.
Friend wanted to be a part of the fast-paced offensive engine at Sacramento State and reached out to Hornets head coach Bunky Harkleroad.
"She did some research on us; we did some research on her, and we brought her in for a visit," Harkleroad said. "We decided it was a good fit."
Friend said that on her recruiting visit, she played against then senior Fantasia Hilliard — who ranks fourth all-time in scoring at Sac State — in about 15 games of one-on-one and was offered a scholarship based on her performance in those battles.
Instead of playing her sophomore year at Delaware, she had to take a mandatory redshirt year for transferring to Sac State. Friend ran plays and played lockdown defense in practice, but when it came time for games, she couldn't suit up.
"It was one of the most frustrating times of my life," Friend said. "It was really hard to know that you're working hard in practice and then you aren't going to get rewarded in the game."
That changed this season. For the first time as a redshirt sophomore, she suited up for the Hornets.
By playing against men for hours almost everyday as a teenager, the now 6-foot tall guard has been able to pound with bigger women down low and leads the team in rebounds. Her toughness also shows as she drives through the lane without fear and leads the team in free throw attempts per game.
Friend can also shoot, sometimes from about seven-feet beyond the 3-point line. Her shooting depth requires the defense to guard her the entire game. If she has space, she will shoot, and if she is guarded closely, she will drive and either score or pickup the foul — sometimes both.
This season, Friend has led the Hornets in scoring per game and has scored at least 20 points, seven different times. This includes a 34-point performance in a 99-72 win against UC Riverside on Nov. 26 where she knocked down five 3-pointers and took 16 free throws.
"Hannah has some tools that not everyone has," Harkleroad said. "She is capable of scoring near the rim, she is capable of knocking down shots and she can also be a very good defender. I think her best basketball is ahead of her."
All this, and she still has two more seasons of eligibility remaining after this one at Sac State.