Sac State women's basketball falls to Aggies 79-72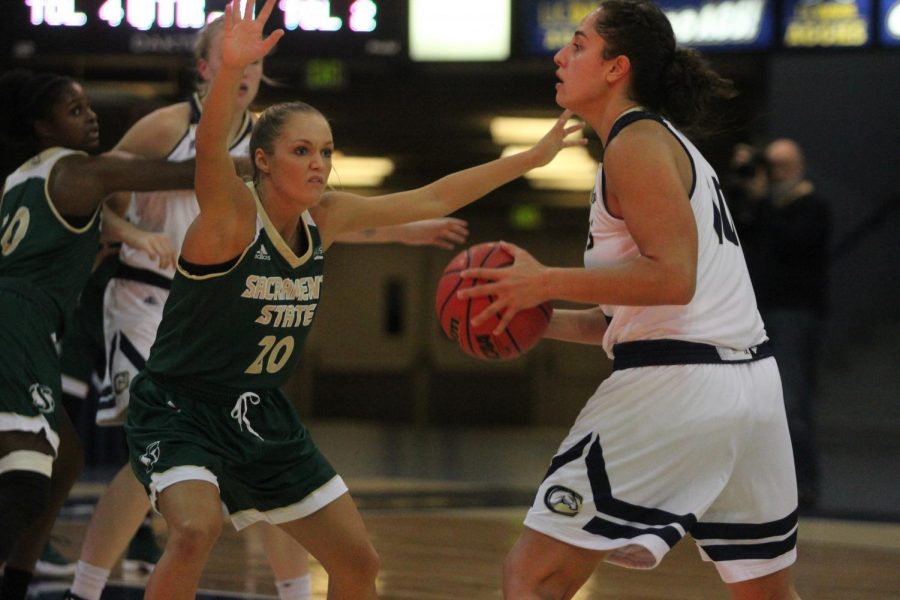 The Sacramento State women's basketball team fell to UC Davis 79-72 Thursday night at The Pavilion in Davis, California.
The Hornets (1-6) trailed 52-37 with 5:15 left in the third quarter against the Aggies who are ranked No. 8 in the Collegeinsider.com mid-major top 25 list.
UC Davis (7-0) went on a 27-10 run to establish its 15-point lead by hitting 3-pointers and passing it inside the paint to 6-foot-4 junior forward Morgan Bertsch, who finished with 29 points.
However, Sac State answered with a 15-2 run that concluded with a 3-pointer by sophomore guard Hannah Friend — who ended the game 29 points — to reduce its deficit to two points at the end of the third quarter.
Trailing by two, Sac State 6-foot-1 senior forward Kyhonta Doughty — who finished with 16 points and 10 rebounds — converted on a pair of free throws to tie the game just 22 seconds into the fourth period.
"I like the way we responded," Sac State coach Bunky Harkleroad said. "We just reminded our players that we have been in this situation before against good opponents."
The Aggies then established a 60-56 advantage before the Hornets strung together two successful defensive stops while Friend and sophomore guard Tiara Scott scored to tie the game back up. Once again, UC Davis didn't give up a lead and scored eight of the next nine points to take a 68-61 advantage with 5:41 left in the fourth quarter.
Sac State failed to get the score within four points for the rest of the game. Down 79-72, the Hornets pulled down two offensive rebounds in the final 19 seconds, and they didn't stop pushing the ball down the court until the final buzzer rang.
"It was definitely difficult," Friend said. "We've worked hard. We are going to use this as motivation to get better because this was by far the toughest game of the season. We shouldn't have lost, but we came out of here knowing how good we could be."
Sac State senior Maranne Johnson finished with 12 points and is now just two 3-pointers away from becoming the all-time leader in 3-point baskets in school history.
"We came out strong, and we were defending pretty well, but it's pretty hard to stop a team that is knocking all of their shots down," Johnson said.
Sac State will next come home to play Antelope Valley at 5:05 p.m. Wednesday at the Nest.