Volleyball team to utilize 'cursed' home-court advantage in Big Sky Tournament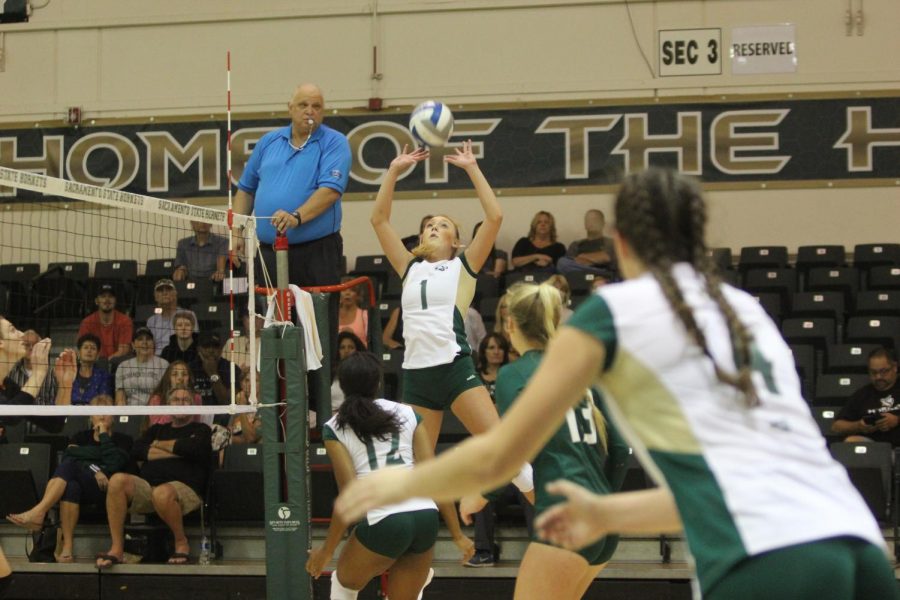 Volleyball players in the Big Sky Conference believe that Colberg Court is cursed, or at least that's what Sacramento State senior setter Kennedy Kurtz has heard about her home court.
Cursed or not, the numbers show that Sac State has won 24 consecutive Big Sky home games dating back to 2014. This will bode well for the Hornets, as they're set to host the conference tournament from Thursday to Saturday as the No. 1 seed.
"We've heard stories that people think our court is cursed or something," Kurtz said. "People hate playing at Sac (State), and we love that. We've played so well at home the past three years against conference opponents."
On the road this season, the Hornets (24-8, 15-1 Big Sky) suffered their only loss in conference play to Northern Arizona (Oct. 26) and were taken to five sets at Eastern Washington (Oct. 21). At Colberg Court, however, Sac State has won six of its eight Big Sky games this year in four sets or less.
"Playing at home is always great," Sac State coach Ruben Volta said. "It's hopefully going to help us a lot. Our conference is strong from top to bottom, (and) it's gonna be a challenge."
The Big Sky Tournament has been tough for the Hornets in the past two seasons after they faltered in the semifinals to Northern Arizona in back-to-back years. Sac State was first swept by the Lumberjacks in 2015 and then again in four sets last year.
"They have always been our rival: home, away, anywhere," Sac State senior outside hitter Shannon Boyle said before the two teams met twice this year. "I guess this year we are preparing for that game already. We don't want to fall in the semifinals."
This season, after losing five of its seven starters, Northern Arizona defeated the Hornets on Oct. 26 (3-2) in Flagstaff, Arizona after first falling (3-1) at Sac State on Oct. 14. Entering the contest, the Lumberjacks (12-13, 8-6 Big Sky) were only 5-5 in conference competition.
If both teams win the first game in the tournament, Sac State would meet Northern Arizona in the semifinals. Regardless of which team the Hornets play, the Big Sky is strong with five teams that have a winning record and four teams with at least 10 wins.
"There is no team in the Big Sky that is below us in any way," Kurtz said. "I think each team competes really hard, and I've seen each team play like a top team in the conference."
Sac State will meet Northern Colorado (14-15, 7-9 Big Sky) in the first round, a team it beat in three sets on Nov. 7 at Colberg Court. If the Hornets are victorious, they'll play the winner of the Portland State (No. 4 seed) vs. Northern Arizona (No. 5 seed) game.
While the Lumberjacks have given the Hornets trouble, so have the Vikings of Portland State. On senior day Nov. 4 at Colberg Court, the Vikings led the match by two sets before the Hornets rumbled back for the five-set victory.
Sac State has stumbled in the semifinals the last two seasons, and a win would send them into its first conference championship game since 2007.
"It is just extra fire for us to focus in on practice (and hopefully in that semifinal game) because we are good enough to win the Big Sky, and we have been the last two years, but we just haven't pulled through," Boyle said.