Senior volleyball player puts back injury behind her
Sacramento State outside hitter Shannon Boyle didn't know what to expect when she stepped on the court last year as a junior against Sam Houston State on Aug. 27.
It was the Sac State volleyball team's second game of the season and the first time Boyle had played more than one set since missing 16 straight games during her sophomore campaign due to back surgery four months prior in April.
Boyle, 22, said she wondered if playing so soon after having surgery to repair a disc bulge and a herniated disk was a good idea.
"It was kind of up in the air if I was going to be playing or be redshirting," Boyle said. "I just didn't really know what to expect. Having had a surgery in April, I was just very amazed by my recovery."
On the first play of the game, then-junior setter Kennedy Kurtz delivered the ball to Boyle who powered it over the net for a kill. The same thing happened again on the next Hornets' point, and by the end of the first set, Boyle had five kills and eight digs before finishing with a then-career high in both categories.
Boyle then further solidified that she made the right decision by having 41 total kills in her next two games.
"She did so much rehab for her back, and she took it really seriously," Kurtz said. "I just watched her really grow junior year into an amazing outside (hitter)."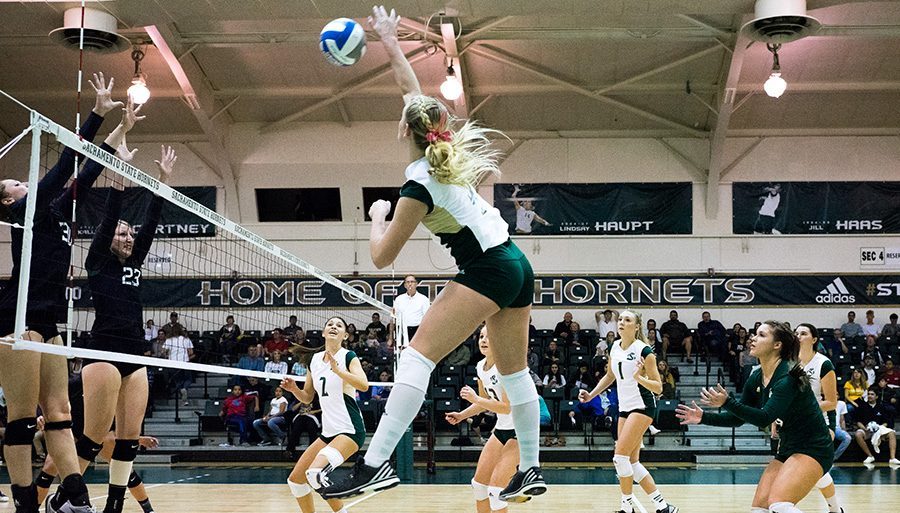 Boyle's growth into a powerful athlete started at the age of 5. As the youngest child of five, Boyle constantly battled her sister and three brothers for rebounds on the basketball court and tactically learned how to strike them out while playing baseball or softball.
These family battles paid off, as her sister played for a National Association of Intercollegiate Athletics volleyball team, one of her brothers joined the Marines and two of her other brothers wrestled at the United States Coast Guard Academy.
Kelly Adams, her club coach at Excel NW Volleyball Club, saw how playing against her older siblings helped Boyle in the long run. She said Boyle was competing against 18-year-olds as a sophomore, which is "pretty rare" in club volleyball.
At Ridgefield High School in Washington, Boyle not only played varsity volleyball for four years but also basketball and softball.
Boyle routinely scored at least 20 points while holding down the paint in basketball, while her softball performances read like folklore. As a sophomore, she threw a no-hitter just moments after throwing a one-hitter in a doubleheader, according to Washington newspaper The Columbian.
Boyle earned 12 varsity letters and was named all-league 11 times in high school.
However, when it came time to pick what sport to play in college, she said she wanted to play volleyball because of the teamwork and enthusiasm that come with it.
"When you want to play a sport at a high level, you have to love every part of it," Boyle said. "Not just playing in the game, but practicing and doing the drills that you may not necessarily love."
Speechless. Shannon Boyle with a kill to give the Hornets the win and the Big Sky Conference. Hornets trailed 2-0 @SH_Sports @TheStateHornet pic.twitter.com/k90cDN9yi5

— Thomas Frey (@ThomasFreyRP) November 4, 2017
This enthusiasm for the game kept Boyle going when she first started to go through injuries at the start of her sophomore year. She first started feeling back pain in summer practices, and it got progressively worse as nonconference games began. Each time she would jump or dive for a ball, she would feel a sharp pain in her right foot and was later diagnosed with sciatica, which caused her to end the season before conference competition began.
"It was to the point that I couldn't feel my right foot," Boyle said. "It was miserable to stand, to sit down and traveling (on the road) for volleyball was terrible."
Boyle was told by her personal doctor that rest would be the best way to heal, and she was given an oral steroid. Later, she was given an epidural.
"Then I saw another doctor, and they said we could do surgery if you want," Boyle said. "I thought I'd love that because nothing else has worked. I tried rest, I tried a steroid, I tried an injection, and none of those worked."
With four months to go before the 2016 season began, Boyle went to rehab and worked on areas that were good for her back and would strengthen her core. The 5-foot-11 outside hitter said she never considered quitting. All she could dream of was getting back on the court.
Boyle accomplished her goal and finished her junior season with 398 kills and 358 digs while being named to the Big Sky Conference second team.
At close to 100-percent health in her senior season, Boyle became just the 12th player in school history to record both 1,000 kills and 1,000 digs in her career despite only having 223 kills and 189 digs entering her junior year.
"I'm very blessed for the opportunity I've had these past two years and every year getting better," Boyle said with a smile. "Not just myself, but as a team, and now we are (regular season champions) in the Big Sky. We all dreamed of that, but it's actually happened."