Sac State volleyball advances to Big Sky Championship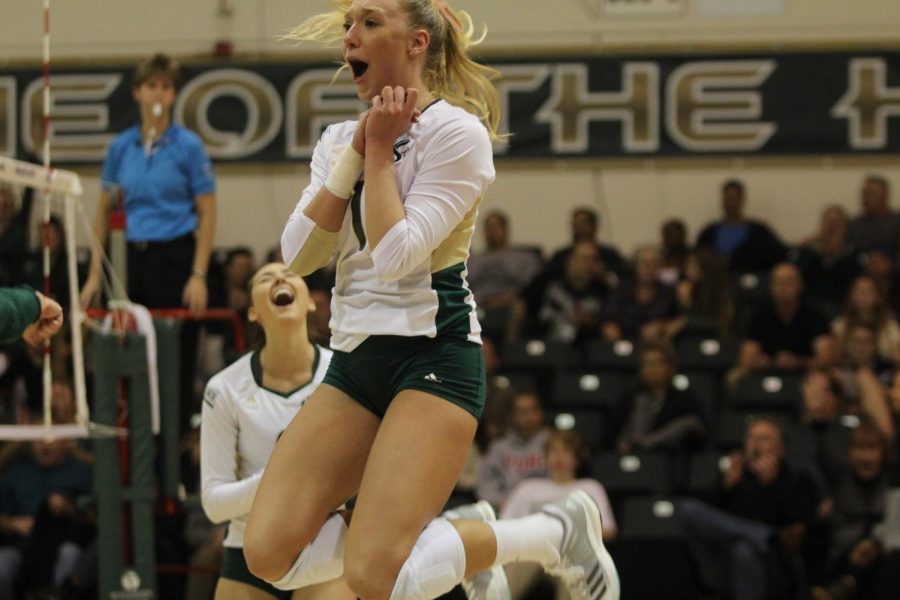 The No. 1-seeded Sacramento State volleyball team defeated No. 4 Portland State 3-1 in the semifinals of the Big Sky Conference Tournament.
With the win, the Hornets (26-8, 15-1) will play North Dakota (29-7, 12-4) on Saturday for the Big Sky Championship and the league's automatic bid to the NCAA Tournament. A win would send Sac State to its first NCAA Tournament since 2007.
"North Dakota plays tough," junior outside hitter Mikaela Nocetti said. "We had a close game at the beginning of the year when we played them, so I think it's gonna be the same thing. We just got to find a way to take them down."
Sac State is headed to the Big Sky Championship game with a 25-18 win. Game against North Dakota tomorrow will be for the conference and for a trip to the NCAA Tournament @SH_Sports @TheStateHornet @SacStateVB pic.twitter.com/DBuK9tnlcK

— Thomas Frey (@ThomasFreyRP) November 18, 2017
Nocetti played a big part in leading the Hornets past Portland State by finishing with 11 kills and 13 digs, including the final kill of set one.
The two teams went back and forth in the first set until the Vikings went on a run late to set themselves up with a 24-20 lead and a chance to win.
The Hornets knew they had to take the rest of the game one point at a time, sophomore outside hitter Sarah Davis said. They scored to make it 24-21, and senior defensive specialist Julia Wright came on to serve.
Wright's serves forced Portland State out of position and into taking contested shots. Senior outside hitter Shannon Boyle and junior middle blocker Lana Brown then blocked the Vikings' shot to cut the lead to two on her first serve.
Portland State called a timeout to try and regain the momentum they had, but it didn't work. Brown got a kill to shave the lead to one, and then Boyle blocked a shot to tie the game up 24-24. With the capacity Colberg Court crowd on its feet, Brown got a kill, and then Nocetti ended the game with another kill to give Sac State the 26-24 win.
"Julia has done a great job just coming in and nailing her serves," Nocetti said. "We've come back several times just in this tournament so far with her."
In set two, the Hornets trailed early at 2-0 but never trailed again, leading 19-10 before closing out the game 25-15.
However, the third set belonged to the Vikings. They went up 16-7 before closing out the game with a 25-18 win.
In the fourth set, Sac State held a 17-16 lead before calling a timeout to jump start its offense. They went on an 8-2 run to close out the game as Davis had three kills, and Nocetti had two kills and an ace in that eight-point span to win the game and the match.
For the third time this season, Davis was battling with Portland State senior libero Tasha Bojanic, who was just named 2017 Big Sky Libero of the Year. Bojanic had 27 digs on the night but had trouble with Davis.
"We just know how to grind through moments that are giving us trouble," Davis said after posting 16 kills in the match, seven of which were in the first set. "My defense was giving me amazing balls to hit. We had all of our options available most of the time, and that gave Portland a lot of trouble on defense."
Sac State will now look to defeat North Dakota for a second time this season for the Big Sky Championship on Saturday at 8:05 p.m. at Colberg Court.