Sac State rallies to defeat Vikings, clinches Big Sky title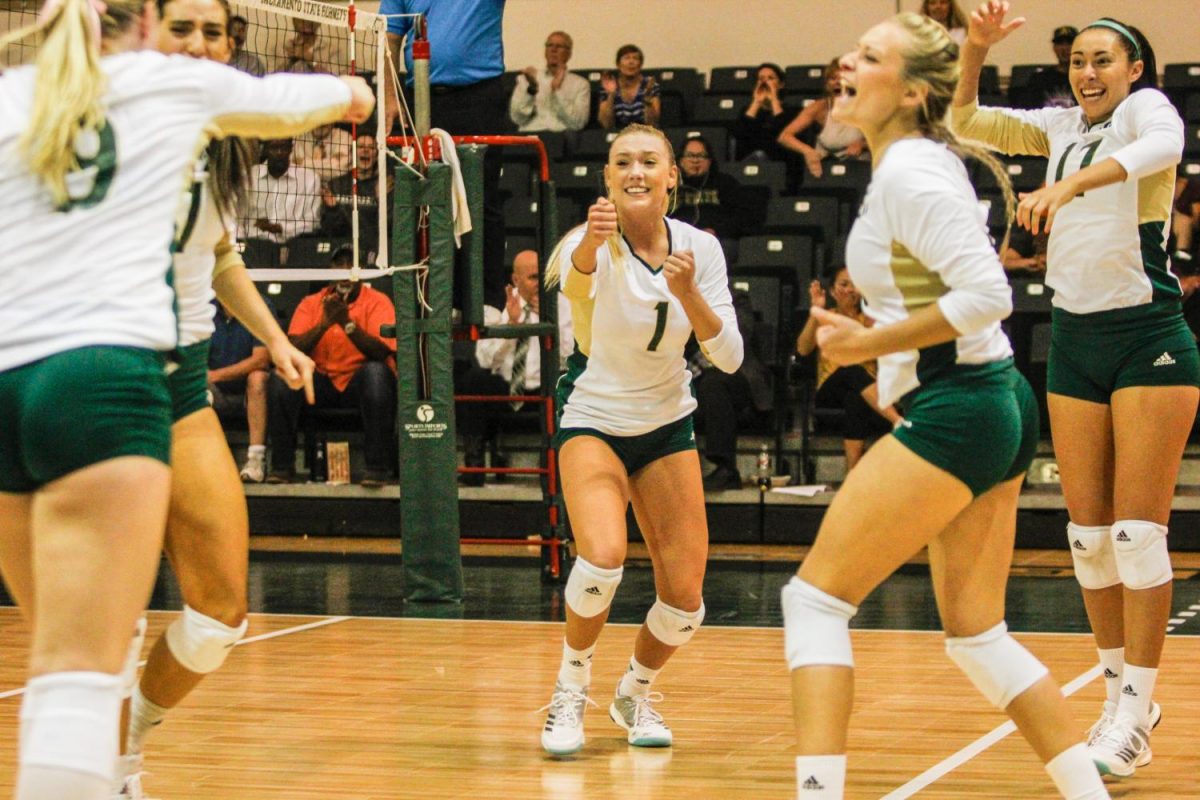 Trailing two sets to none against Portland State in a best-of-five match Saturday never worried Sacramento State volleyball coach Ruben Volta.
The Hornets (22-8, 13-1 in Big Sky Conference) fell behind on senior day before winning the next three sets to not only win the match, but to also win the Big Sky Conference regular season title at Colberg Court.
"I certainly thought it was possible," Volta said, referring to the Hornets winning the regular season title. "Only because this team, all year, has fought. There was never a time we have stopped playing."
After Sac State started the match by scoring the first four points, the Vikings (19-7, 10-4 Big Sky) clawed back and won the first set 28-26 and then easily won the second set 25-18 to send them into the locker room up 2-0 at the break.
"This was kind of the definition to our season," said senior outside hitter Shannon Boyle. "Whether we are down 10 points, or we are down two sets, we come back, and we fight. We knew we were gonna do it again."
Boyle, along with five other seniors, including setter Kennedy Kurtz and libero Brigitte Murdock, were honored before the game for senior day, and they couldn't have planned a better way to go out.
"I can't," Boyle said. "When you beat someone in the fifth set, it is pretty indescribable."
Speechless. Shannon Boyle with a kill to give the Hornets the win and the Big Sky Conference. Hornets trailed 2-0 @SH_Sports @TheStateHornet pic.twitter.com/k90cDN9yi5

— Thomas Frey (@ThomasFreyRP) November 4, 2017
The Hornets started off a must-win third set a little flat and trailed 3-0. But then junior middle blocker Lana Brown stepped up and blocked two shots, which were followed by a Kurtz service ace to tie up the match 3-3.
Sac State then dominated the rest of the set and won 25-16.
In the fourth set, the Hornets led 20-11 before the Vikings scored nine of the next 11 points to trail 22-20. Sac State then regrouped with a timeout and won the match 25-21 on a service ace by Boyle.
In the fifth set, with the score tied 2-2, Brown took over again and recorded three straight blocks to give the Hornets a 5-2 lead.
"If our team gets momentum, then we do really well," Brown said. "It really triggers and puts fire in us. Those big blocks are great to keep us going and keep the momentum running throughout the game."
Junior outside hitter Mikaela Nocetti then had two back-to-back kills to give the Hornets a 10-4 lead before junior middle block Brie Gathright had a pair of back-to-back kills herself, giving Sac State a 12-5 lead.
With the score 14-7, and the match on the line, Boyle got a perfect set from Kurtz, who finished with 52 assists and blasted the ball into the corner for the win.
Boyle finished with 17 kills and 10 digs, while Brown had 13 kills and 11 blocks. Nocetti, who had two key kills in the final frame, finished with 15 kills and 16 digs.
"Portland State was a good team, we knew that," Nocetti said. "We really had to fight hard and start serving tougher, start passing the ball, and we did a better job in the third through fifth set.
"It was really important to have a good last regular season home meet. It was really exciting."
With two games to go in the regular season, the Hornets have already locked up the No. 1 seed in the Big Sky Conference Tournament, which will be held at Colberg Court from Nov. 16-18.