Sac State football crushes Cal Poly 49-14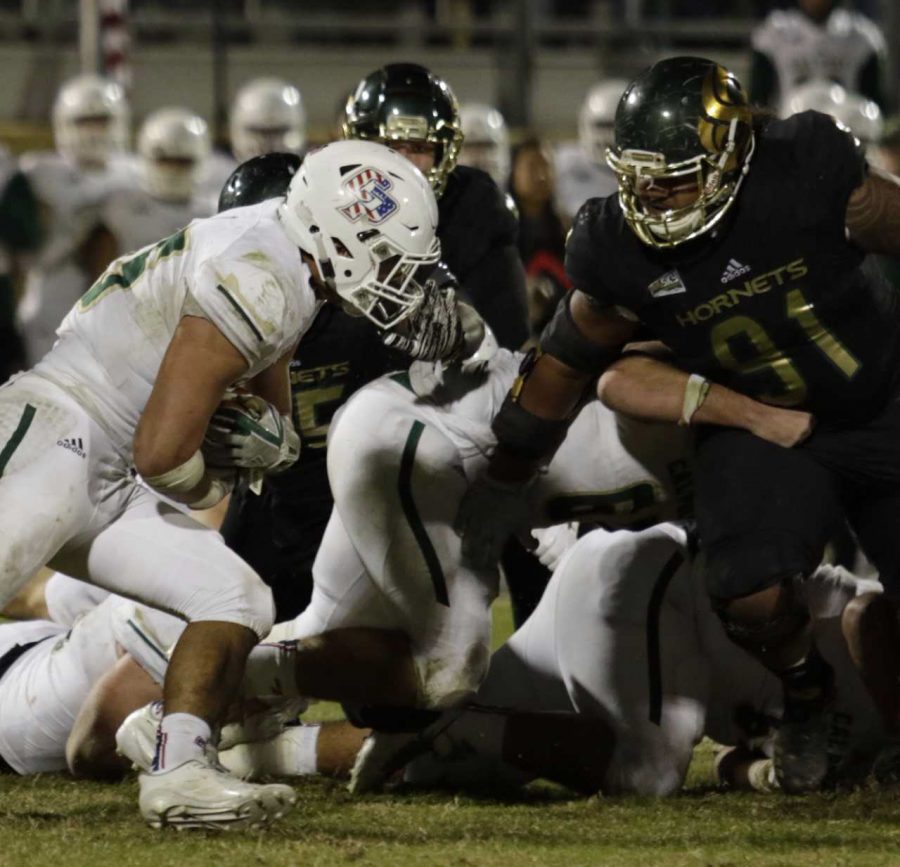 Starting quarterback Kevin Thomson returned after missing three games to help lead the Sacramento State football team to a 49-14 win over Cal Poly Saturday night at Alex G. Spanos Stadium.
Sac State (6-4, 5-2 Big Sky Conference) was able to score early and often to force the Mustangs to pass more and be unable to rely on their strong running game.
On the first Hornets' drive of the game, Thomson hit junior wide receiver Jaelin Ratliff on a long pass down the sideline, which he caught in stride and ran for a 76-yard touchdown with 14:03 on the clock in the first quarter.
With 1:56 left in the first quarter, Cal Poly lined up for a 39-yard field goal attempt. Sac State junior defensive back Marcus Kirkpatrick blocked the kick, and senior defensive back Ernest Jenkins returned it 74 yards for a touchdown to give the Hornets a 14-0 lead.
During the next Mustang possession, freshman defensive lineman Killian Rosko forced a fumble that junior linebacker Marcus Bruce fell on in the end zone for a touchdown to give Sac State a 21-0 lead with 13:12 to play in the first half.
However, the Sac State defense wasn't done. To go along with his fumble return for a touchdown, Jenkins recorded an interception with 8:06 remaining in the half.
The Hornets then capitalized when Thomson hit junior wide receiver Andre Lindsey — who ended the game with four catches for 111 yards — for a 29-yard touchdown with 5:50 to go in the second quarter, and Sac State finished with a 28-0 lead entering the locker room for halftime.
In the third quarter, Thomson recorded his third touchdown pass of the game to senior wide receiver Isiah Hennie who took a bone-rattling hit in last weekend's 50-21 win over Northern Colorado.
Thomson, who was out for three games with an undisclosed injury, didn't show any signs of limitation, as he completed 9-of-16 passes for 247 yards and three scores.
Thomson was aided in the run game as the Hornets averaged 7.3 yards on 30 carries. A pair of freshman running backs, Elijah Dotson and BJ Perkinson, also helped add to Sac State's lead in the third quarter. With 10:13 to play in the third, Dotson rumbled through defenders on his way to a 33-yard trip to paydirt.
Later in the quarter, Perkinson bursted through the line of scrimmage and sprinted for a 77-yard touchdown with 1:18 remaining in the third quarter. Perkinson finished with 164 yards on seven carries.
Cal Poly remained shut out until converting a fourth down early in the final quarter that led to a touchdown by freshman running back Broc Mortensen. But, by that time, it was 49-7 with 11:16 to go, and it was too late for a comeback. The Hornets held on to win 49-14.
Sac State closes out its regular season Nov. 18 by hosting rival UC Davis at 2:05 p.m. in the Causeway Cup at Hornet Stadium.