Men's soccer team ends season with overtime loss at CSUN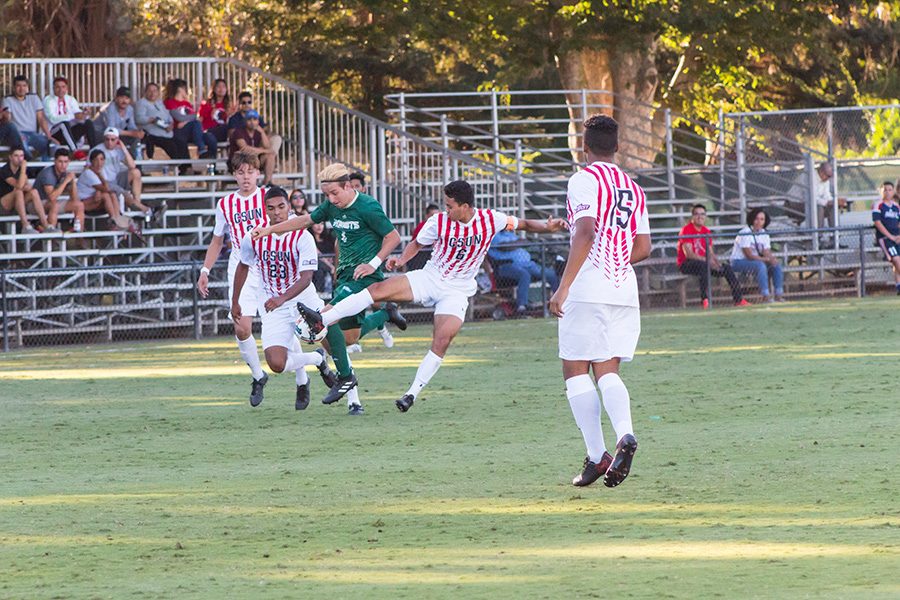 The Sacramento State's men's soccer team ended its season with a 3-2 overtime loss against California State University, Northridge, on Wednesday at the Matador Soccer Field in Los Angeles.
Sac State, which is now eliminated from the Big West Conference Tournament, entered the contest with a 3-0 loss against UC Davis on Oct. 29 still fresh in their minds but had previously defeated CSUN 1-0 on Sept. 28.
CSUN started off the game by cutting through Sac State's defense and scoring two goals in the first six minutes of competition. However, these goals were the last that CSUN scored for the remainder of regulation.
"I think a lot of it was inexperience, a lot of guys hadn't been in this moment yet, so they weren't ready for the level that CSUN brought, and it took us about 15 or 20 minutes to get into the game," Sac State senior goalkeeper James Del Curto said, referring to the Hornets' slow start.
Sac State capitalized on its first goal at the 27-minute mark with a score from sophomore midfielder Matt Carneix after an assist from senior defender Cylus Sandoval. The Hornets then finally found the equalizer with less than seven minutes to play, after junior midfielder Dominic Scotti hit the back of the net on an assist from Carnefix.
Last season, Sac State lost to CSUN in the Big West semifinals in penalty kicks after two overtime periods.
History repeated itself as Sac State went into another postseason overtime bout with CSUN. This year, however, the Hornets lost in the final three minutes of the first overtime after CSUN's Jeremy DeGraffenreidt crossed the ball into the center of the goalkeeper's box where it found teammate Julio Rubio, who punched it high over the defense and into the net for the win.
"I saw the ball go in, and I said, 'This is how it ends,' " Sac State senior midfielder Paul Geyer said.
This loss ends the season for the Hornets while also finishing the collegiate careers of six of its seniors: Geyer, Del Curto, Sandoval, defender Brad Burkhart and forwards Trevor Jackson and Elias Rieland.