Alumnus makes impact in community through basketball, non-profit charity
Former Sacramento State basketball player Haron Hargrave's world crumbled when his mother passed away right before he received his scholarship to play for the Hornets.
Hargrave, also know as "H2O," grew up in the South Jamaica neighborhood of Queens, New York, where his mother obtained two master's degrees and was a teacher for over 25 years. While at Chaffey College in December 2004, Hargrave received word over the phone from his eldest sister, Eishelle, that his mother had died from diabetes, leaving behind five children.
"That was very challenging, my mom was someone I really loved and cared for," Hargrave said. "I was a momma's boy, so it was a heavy hit for me. I just took that energy (to put) my best foot forward.
"Once you lose the biggest thing in your life, you live with no fear. Basketball was something that kept me out of trouble."
Hargrave, who recently created a non-profit charity to spread peace through communities by way of sports, accepted his scholarship offer from Sac State with a heavy heart and played two seasons in Sacramento from 2005-07 before graduating with a degree in communication studies.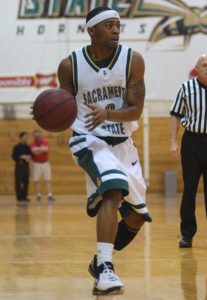 "My time in Sacramento was wonderful," Hargrave said. "My two years there were golden. We changed the culture, winning the most games in (the program's) Division I history my junior year at Sac State."
In Hargrave's senior season, he led the team in scoring with 13.8 points per game. Over his two-year college career, he also averaged 11 points and 2.2 rebounds per contest.
Hargrave made eight 3-pointers against the University of Denver to tie for the then-second most in the program's Division I era, which began in 1991, to place himself in the record books in 2006.
"They gave me an opportunity to play Division I basketball, and I took every moment of it," Hargrave said. "Coming from New York to go to Sacramento is a huge leap, but I took on the culture."
Following his time in Sacramento, Hargrave went on to play professional basketball overseas from 2008-2014. He played in Romania, Hungary, Dominican Republic, Colombia, Mexico and Puerto Rico.
After playing overseas, Hargrave received the nickname "H2O" while playing in a tournament in Bronx, New York. He made 12 3-pointers and scored 57 points to earn him the nickname from announcer "G-Stacks" because his jump shot was said to be pure like water. The nickname caught on, and he made it his own.
"I kept it and made it into my business," Hargrave said. "I created 'H2O Basketball' where I train and coach kids. I branded my nickname to my company."
Hargrave also started an Amateur Athletic Union team bearing his nickname, "H2O," with a group of fourth graders. Along with coaching basketball, Hargrave is a substitute teacher in New York City where he has followed his mother's footsteps into education and teaches K-12.
"It stuck with me to help others and help kids," Hargrave said. "It helps you (to) be well-rounded and stay young. Working with kids, you keep up with the lingo."
Following the deaths of Eric Garner and Michael Brown, Hargrave also created "Ballin' 4 Peace," which is a non-profit charity event.
"I felt like there was a social change that needed to happen, not just in the community, but all over," Hargrave said. "People were having peace marches, but I wanted to do something in a positive light where people could come and have a day of peace.
"My message is peace through sports. There was a lot of senseless violence going on, and I wanted to change the culture."
Hargrave's older sister, Tanisha, watched his relationship with basketball evolve over time.
"He found his passion in basketball, channeling it through other things," Tanisha said. "Even though he's not playing basketball per se, he's still living through basketball and making his dreams come true. He found his passion."
"Ballin' 4 Peace" began with a celebrity charity basketball game and has grown year by year. So much so that they had a bowling event on Nov. 7 to raise money for Puerto Rico's hurricane relief effort and other causes.
"I owe it all to my mother," Hargrave said, referring to his success. "She embedded into me that I can do anything, and that's why I feel like I can do anything. I have 24 hours in a day, and I try to use it all.
"You don't have to make it to the NBA to have an impact on people's lives."