Student's art questions 'strange' American traditions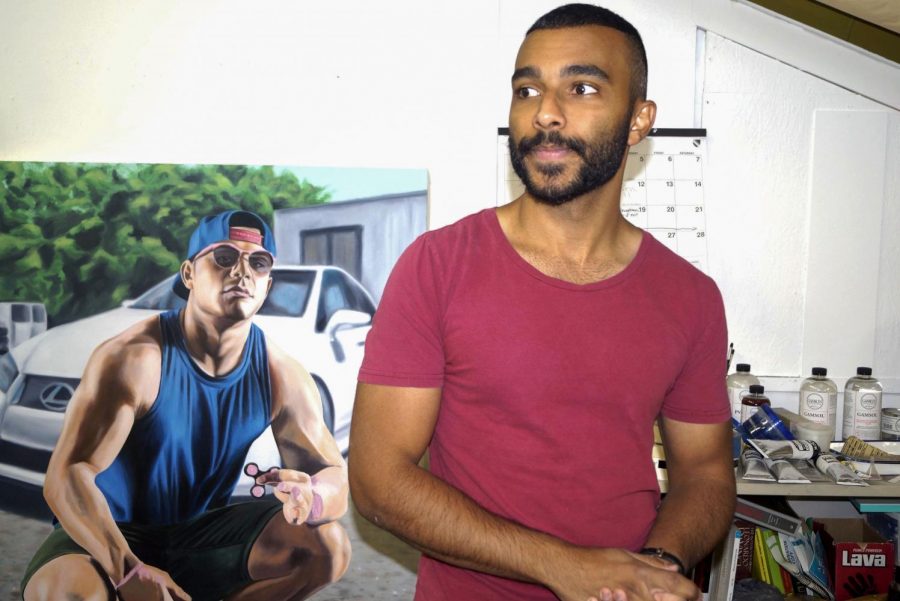 Americans' fixation with camo-print fashion, succulent plants and gender reveal parties are just a few topics that guests should expect to discuss at a new art exhibit in the Robert Else Gallery.
Since emigrating from Egypt at 11 years old, artist and graduate student Mustafa Shaheen said he has adapted to the life in the United States but still wonders why Americans partake in certain rituals and trends. He decided to turn these observations into the theme for his Advancement to Candidacy exhibit, "Greetings from the USA."
The exhibit will feature five paintings that express Shaheen's ideas of what may be problematic in American culture. Shaheen describes himself as an advocate for pursuing of what is right and wrong, and he wants others to do the same by taking a look at themselves and questioning why certain ideologies exist in their culture.
"I just want that subtle conversation to start," Shaheen said. "I am using culture, observation and assimilation as a vehicle to drive those themes that I am exploring."
One painting, "Reveal Cakes," was inspired by Shaheen's attempt to understand why gender reveal parties are so celebrated in America. The piece shows a pink cake and a blue cake, each topped with the words, "It's A…" The sentence looks unfinished due to a quarter piece of the cake being cut out.
In American culture, people associate things like colors, toys and sports with gender. Pink is for girls and blue is for boys. Girls play with dolls, while boys play sports. Shaheen said he wonders why people would assign these gender roles to a child who hasn't even been born yet.
"Let (children) find who they want to be and explore themselves," Shaheen said. "Why would you say, 'Oh she's a girl, she needs to play with dolls'? Why can't she play with action figures? Those are the types of things I want people to question and think about."
Another painting, "Camo Couple," depicts a woman wearing a pink camo-print dress and a man wearing a green camo-print tuxedo as they have their prom picture taken.  
"When you think of camo, you might think of hunting or of someone in the military, but yet it has sort of become a fashion aesthetic," Shaheen said. "I am so interested in how camo has sort of permeated culture here, and a fashion aesthetic versus this functional thing." 
(Slide through for what Shaheen has to say about his new work displayed in the exhibition)
Sarah Flohr, an art professor at Sacramento State, had Shaheen in many of her drawing and painting classes when he was an undergraduate. Flohr said that Shaheen would always let her know what ideas he had and what elements he would use for his art. "Greetings from the USA" is the product of Shaheen's new approach of mixing humor and social issues in his art.
"I am interested in the new direction he's taking," Flohr said. "He brings his own inspiration and ideas (to each piece). I am just happy to see his art develop and grow."
According to Shaheen, a person has to assimilate themselves in a culture to find their place in it. As an immigrant, Shaheen said he will always feel like a foreigner and named his exhibit after his desire to further explore and understand American ideals.
Trevor Pope-Lance, a graduate student and friend of Shaheen, said in an email that he wants people who see Shaheen's art not to be offended by how American culture is being depicted. Rather, he would like them to question why the piece bothers them.
"For someone (like Mustafa) with an immigrant background, someone with more contrasting experiences than most to compare to, it is easy to stand beside some of the truly bizarre activities we as Americans take part in and ask simply, wtf?" Pope-Lance said in the email.
"Greetings from the USA" will be on display at the Robert Else Gallery until Oct. 20. A special reception will take place on Oct. 19 from 6 to 8 p.m.
Photos of Shaheen's paintings by Sharlene Phou