Senior libero's 'crucial digs' lead to Hornets success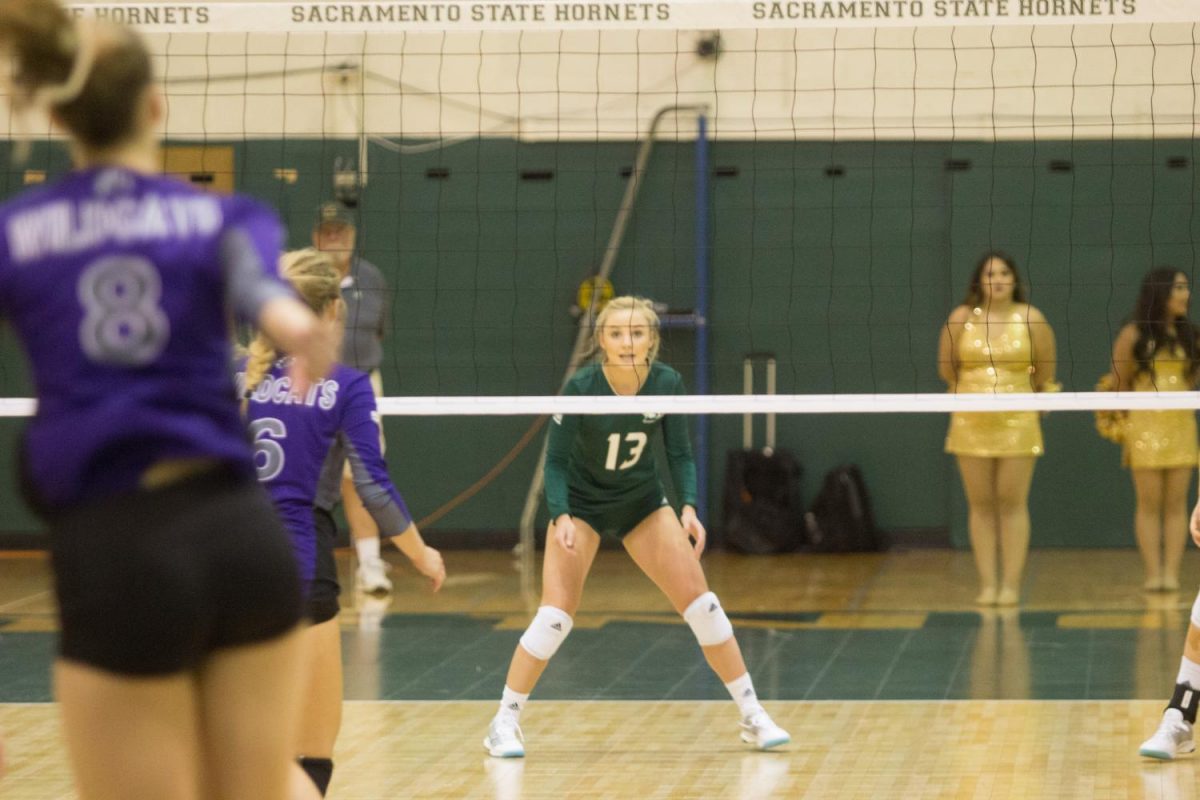 Most Division I athletes have been standout competitors in their respective sports from a young age but not Sacramento State senior Brigitte Murdock — and that is a good thing.
As a libero, Murdock has to play unselfishly just like offensive linemen who pave the way for running backs to score touchdowns. She will never lead the team in scoring, but the team wouldn't score without her. She is the most important defender who jumpstarts the offense.
Murdock — a native of Reno, Nevada — started playing volleyball in seventh grade as an outside hitter and setter. She enjoyed the offensive side of the game, but her Reno High School coaches switched her to libero and defensive specialist due to her 5-foot-6 height. She made varsity as a sophomore and worked her way onto all-league teams during her final two seasons but said she was unsure if she could play at the collegiate level.
"I didn't know if I wanted to go, I didn't think I was good enough," Murdock said.
Murdock prepared herself to remain in Reno and attend college just as a student if she didn't play college volleyball somewhere. But as a high school junior, Sac State offered her a scholarship and she committed to the program in April of her senior year.
After 2016 Big Sky Libero of the Year Lexie Skalbeck graduated, Murdock — who averaged 1.96 digs per set as a freshman defensive specialist — moved from a specialist to a libero. After watching Skalbeck for three years, she rarely leaves the court and her 357 digs (an average of 4.46 digs per set) on the season ranks 11th nationally.
"Brigitte gets those crucial digs and tips and runs down balls and even sets up balls for us — without that we would not be successful," said Shannon Boyle, the Hornets senior outside hitter. "She has been so great stepping up as libero this year and is doing amazing. She earned her spot as libero."
On Sept. 11, Murdock was named Big Sky Defensive Player of the Week honors. The Hornets went 4-0 that week and she recorded at least 15 digs in all four of the games, including a 38-dig performance against Bowling Green.
"Our blockers do a really good job of helping me dig up balls because, if they put a good block up, I can easily read where (the opponent is) going to hit the ball," Murdock said. "And they always do a really good job."
Once Murdock has dug up the ball, her job is to hit it cleanly to senior setter Kennedy Kurtz whose job on offense is to set up the ball for a hitter. If Kurtz can receive a perfectly positioned ball from Murdock, the offense has a much higher chance to hit a more powerful or strategically placed ball.
"She really sets up our hitters for me to be able to set anybody up that I want on the court," Kurtz said. "She is our best defender and she is the reason we get kills in transition and in long rallies. (She) lets our hitters know when there is a line or seam open and she really gets our passers going."
Murdock's defense and passing has also helped Kurtz lead the nation in assists while senior outside hitter Boyle has the 11th most kills in the country. However, Murdock is quick to defer the credit back to her team.
"It's all of us," Murdock said. "One person couldn't do it themselves."
With her final run of Big Sky Conference play underway, Murdock said she thinks ahead to when she will be a manager of her sister Britton Murdock's Biggest Little Fashion Truck company. She said family is everything to her and they've helped her in every step of life.
"My family is the reason I am where I am today," Murdock said. "They have given me every tool to become this successful and have everything that I have. It's all them. It's (been) an experience of a lifetime. Not many people get to do this and I feel honored to be here, especially playing for Sac State."