Sac State men's soccer ends with stalemate against UC Irvine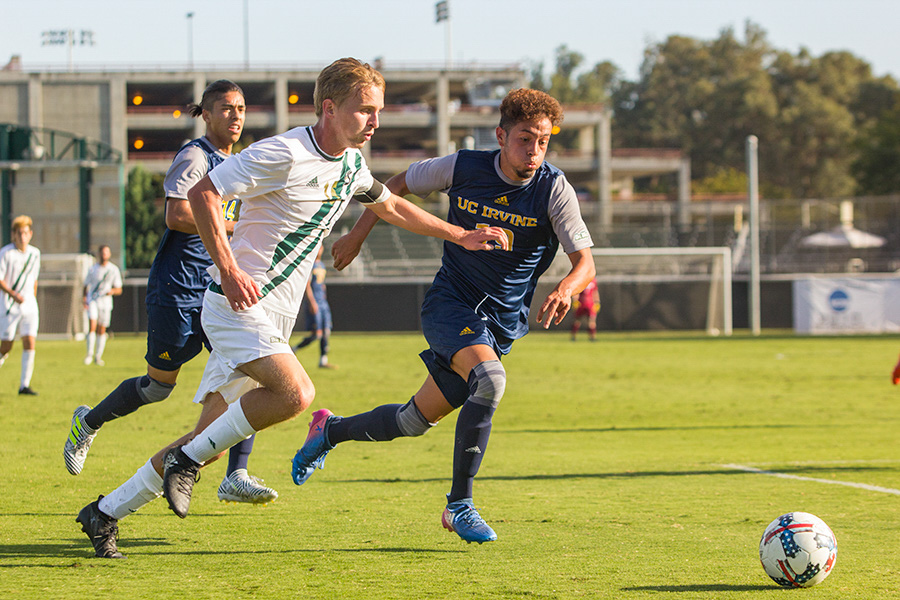 The Sacramento State men's soccer team failed to hold onto a 3-1 lead while giving up two straight goals against UC Irvine to force double overtime and an eventual 3-3 draw Saturday at Hornet Field.
"Giving up a (one-goal lead) with 40 seconds to tie and send it to overtime was heart wrenching, but I'll give these guys a lot of credit that they found a way to find some strength and mental toughness in overtime to grind out a point," said Michael Linenberger, the Hornets head coach.
UC Irvine scores in the final minute of play to make 3-3 pic.twitter.com/hev1W75I9W

— Matthew Nobert (@mnobert2020) October 1, 2017
Sac State's (5-4-1, 1-0-1 Big West) offense began the first half with a goal from senior midfielder Paul Geyer in the first three minutes of action and then a second score followed by sophomore midfielder Christian Webb.
"It's nice, it's always lovely to score a goal especially because my parents were here today so that meant a lot to me, but I don't particularly care about individual stats, I just care if the team wins," Geyer said.
UC Irvine (5-4-2, 0-1-2 Big West) only got close enough to attempt eight shots on goal in the first half but landed none due to senior goalkeeper James Del Curto who had two saves in the first half and six in total.
The Hornets ended the first half with a 2-0 advantage, but UC Irvine kicked off the second half by pushing hard up the right side of the field to get shots on goal. Del Curto held off the Anteaters attack and Sac State regained control of the ball.
However, both teams' momentum was stunted after penalties slowed down the game. Both teams earned two yellow cards each and Geyer drew a red card that ejected him from the game and disqualifies him from competing against UC Riverside on Oct. 5.
UC Irvine senior forward Giovanni Godoy ended the Hornets' shutout to make it a one-score game. However, Webb answered with another goal to take a 3-1 lead.
The Anteaters then charged back with two straight goals including Godoy's second of the game with a header in the final minute of play to force overtime.
The offensive show was stalled after both teams only allowed a combined total of four shots on goal throughout both periods of overtime, which led to a 3-3 draw.
"When points are on the line, everyone has to raise the standard because now it matters, every little detail matters and people usually just raise the standard because it's confidence," Geyer said.
Sac State will be on the road next week against a winless UC Riverside team, which is coming off a 3-1 loss to UC Santa Barbara, on Oct. 5 at the UC Riverside Soccer Stadium.