Hornets sweep Southern Utah volleyball, remain undefeated in conference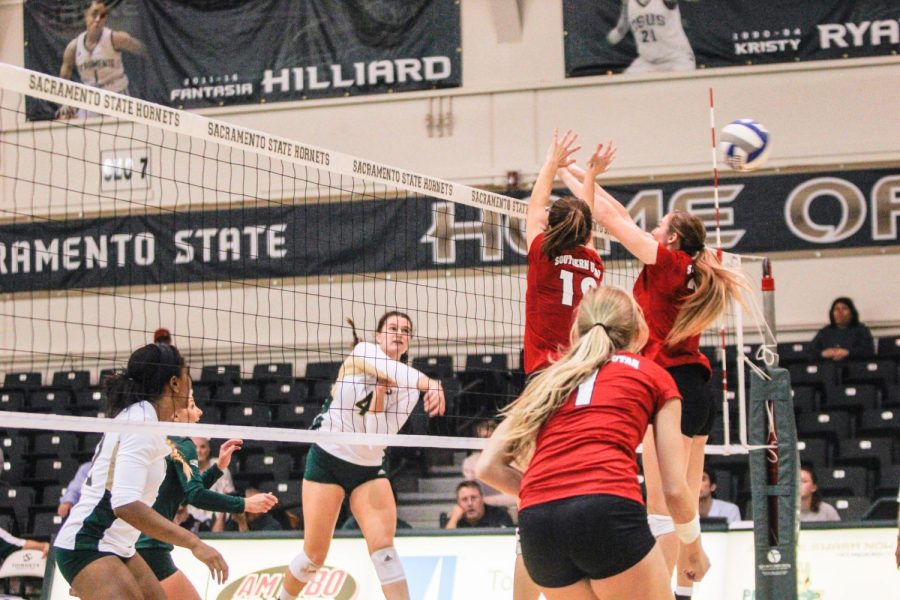 The Sacramento State volleyball team swept Southern Utah 25-17, 25-16 and 25-18 to remain undefeated in the Big Sky Conference Thursday night at Colberg Court.
Despite the sweep, the Hornets (16-7, 7-0 Big Sky) didn't run away with the game, as they experimented with several different lineups against the Thunderbirds (6-13, 1-6 Big Sky).
At the beginning of the third set, Sac State began to take out its starters, which allowed the Hornets to showcase Macey Hayden, a 5-foot-11 freshman outside hitter who contributed in her short time on the court. While appearing in less than one complete set, she accumulated three kills and was fourth on the team with six digs.
Sac State senior setter Kennedy Kurtz and junior outside hitter Mikaela Nocetti scored early and often while dominating against the Thunderbirds the entire night. Nocetti had 20 kills — which was one shy of a career high — against a defense featuring three players on the frontline above 6-foot-2, and Kurtz had 43 assists.
It's a final. @SacStateVB wins 3-0 to improve to 7-0 in Big Sky. Mikaela Nocetti finishes with 20 kills. @SH_Sports @TheStateHornet pic.twitter.com/6XTjRRYTdk

— Thomas Frey (@ThomasFreyRP) October 13, 2017
"I'm pretty happy with the way we played," said Ruben Volta, the Hornets head coach. "I thought Kennedy set a really good match and moved the ball around. We had good offensive performances from several different players. Mikaela looked really good, and Sarah Davis looked great."
Davis hit the ball at a high .357 shooting clip, but her best production came on defense. Davis, a 5-foot-10 sophomore outside hitter, disrupted several Southern Utah shots that helped the Hornets offense get into formation to give them a better chance to score.
In the first set, the Thunderbirds were held to a .054 shooting percentage and finished the game shooting just .162.
"We had a really tough week last week, and we need to treat each team like they are the best," Davis said. "We are doing great this year, our team dynamic is so good."
With the game in hand, Kurtz made sure to get everyone involved on offense. Six players had three kills or more, while Nocetti and junior middle blocker Lana Brown recorded double-digit kills. Kurtz, who leads the nation in assists, is now just eight away from recording at least 1,000 for her fourth consecutive season.
One of the most energizing moments of the match came when the Hornets held a 20-12 lead in the third set. Senior middle blocker Erin Cochran entered the game for the first time and promptly rejected a shot by 6-foot-2 middle blocker Miranda Canez to give Sac State a nine-point lead. While her stats don't show it, Cochran's impact in practice, is unparalleled, Nocetti said.
"She works so hard everyday at practice being aggressive," Nocetti said. "Her coming in and stuffing that ball was great."
The win gives the Hornets their 15th consecutive Big Sky regular season win and 21st consecutive conference home victory to go along with a 7-0 start in conference play for the first time since 2007.
Sac State now holds a one-game conference lead and will play Northern Arizona at 1 p.m. Saturday at Colberg Court.