Hornets receive 'revenge match' against CSUN in Big West Tournament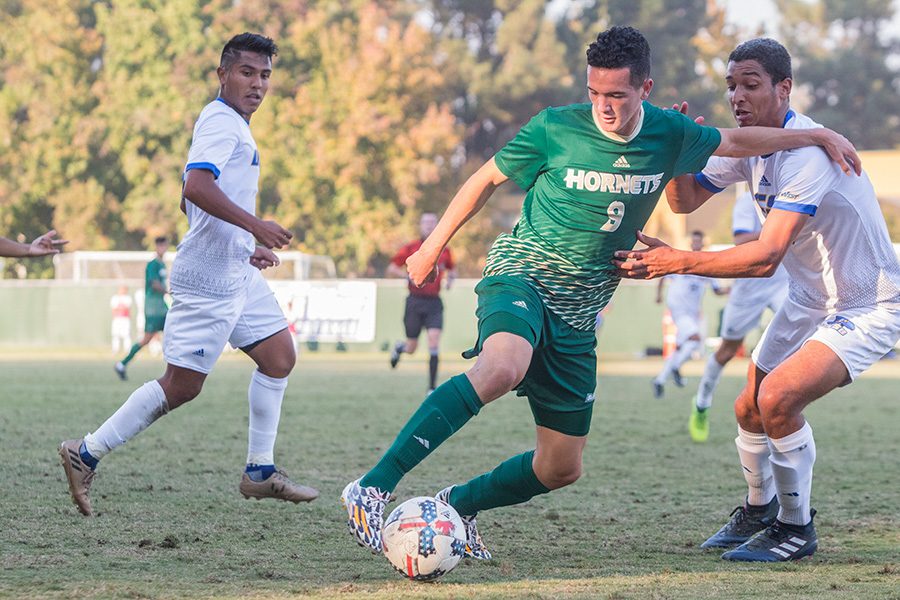 The Sacramento State men's soccer team is headed back to the playoffs for the second straight season and will be meeting a familiar foe.
The Hornets (8-8-2, 4-4-2 Big West Conference) will kick off the Big West Tournament quarterfinals against California State University, Northridge. CSUN knocked Sac State out of the tournament last season in overtime penalty kicks, ending the collegiate careers of 10 seniors.
"It'll forever be a bitter memory of mine knowing that we lost in penalties, this fight will not just be for this year's group but last year's group," said Paul Geyer, the Hornets senior midfielder.
RELATED: Men's soccer falls in Big West semifinals after penalty-kick shootout
After graduating 10 seniors and adding 10 freshmen, a return to the playoffs seemed unlikely to the rest of the conference but still remained an obtainable goal for the Hornets.
"Yeah, I thought we could do it, it wasn't pie-in-the-sky hopeful, but I think we had enough (returners and talent) coming in that we could make a run for the postseason," said Michael Linenberger, the Hornets head coach.
Despite making it into the playoffs, Sac State players — such as senior goalkeeper James Del Curto — still feel disrespected by the conference.  
"I still think we are an underdog because we are so young, and people are still doubting us, but our job is to go into (postseason) and prove everybody wrong," Del Curto said.
To prove its doubters wrong, Sac State will need to fix its goal-scoring inconsistencies in terms of finishing plays and angling the ball into the back of the net. In their last three games, the Hornets saw the height of the team's scoring ability with a 5-1 win over Cal Poly on Oct. 21 and it's lowest with two zero-scoring games against UC Santa Barbara on Oct. 25 and UC Davis on Oct. 29.
Another Aggie goal to make it 3-0 Davis. @TheStateHornet pic.twitter.com/ubIxbi9PoX

— Matthew Nobert (@mnobert2020) October 29, 2017
Another area of concern is Sac State's performance in overtime, which stands at 2-2-2, and if they'll be able to stay composed should penalty kicks be brought back into the mix.
"I think the big thing is, is that we've experienced overtime," said Geyer. "If you've never been in overtime before, it can be kind of a freaky experience, but now we've been in it a couple of times, won and lost, we'll know how to deal with it."
Due to these inconsistencies in scoring goals and in overtime — the question remains if Sac State can make it past CSUN, and if they can, do they have it in them to make a deep run in the Big West Tournament?
"That's the million dollar question," said Geyer. "I hope that we can win everything, (but) all I would say is we need to compete on the day and then let the soccer gods decide."
The Hornets will play CSUN Wednesday at 7 p.m. at the Matador Soccer Field in Los Angeles, California.
"It's a revenge match, for sure, they knocked us out last year in playoffs, so we're hoping to go down there and give them a taste of their own medicine," said Del Curto.