Turnover creates challenges for men's soccer team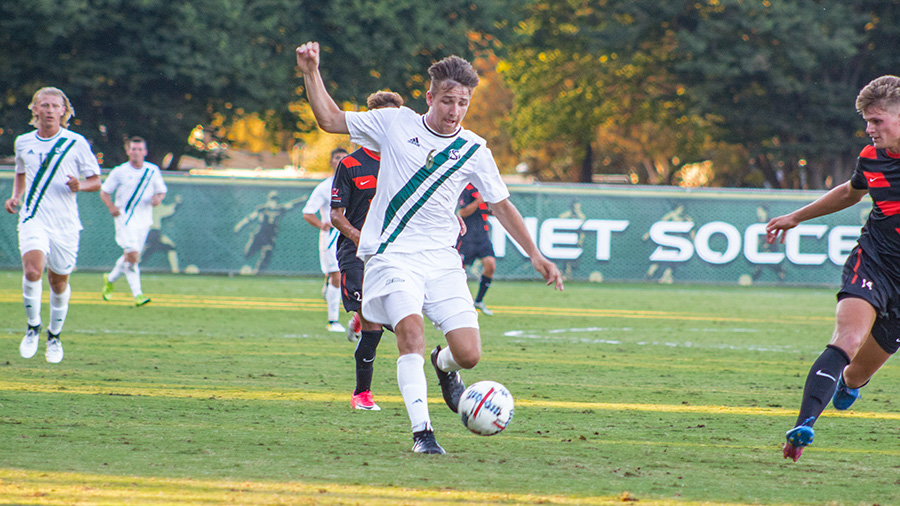 The Sacramento State men's soccer team had a record setting season last year after making it into the Big West Tournament semifinals for the first time and having seven players earn all-conference honors.
However — with the loss of 10 seniors, the addition of 10 freshmen and a junior college transfer — this season could be a harder fight to the top.
Sac State has already experienced a tough start to its season after a 2-0 loss Aug. 25 against the University of the Pacific. The Tigers went 13-4-2 last season and made it into the second round of the NCAA Tournament where they lost to Stanford.
"They didn't lose many players, it's a very veteran team, a very good soccer playing team and that will be one of the best teams we play this year," Sac State coach Michael Linenberger said. "So I think it was good for our younger players to see the level we need to achieve here."
Linenberger and his veteran players said they feel confident that if the team continues to grow and connect, the Hornets will be serious contenders for the conference title come November.
"Only time will tell how truly well we grew as a team chemistry wise," senior midfielder Paul Geyer said. "However, it's still the first game of the season, so a lot could happen. I think it's a responsibility of (mine) as a captain (to) set the example for our chemistry."
The Hornets suffered another loss after falling 1-0 to CSU Bakersfield on Friday. However, they bounced back with a 2-0 victory over San Jose State on Sunday.
Besides chemistry, Linenberger said there are other areas that still need work before the team will be ready to repeat last season's success.
"I think we are pretty good on both sides of the ball, we have pretty good moments in our build up and creating attacking chances," Linenberger said after their game against UOP. "I think our biggest weakness on the attacking side is the final (shot) is not good enough yet."
Linenberger also mentioned that his Hornets are prone to defensive mistakes which lead to quality chances for opposing teams to score on goal. Despite this, he still sees no excuses for not competing for the conference championship and possibly making it to the NCAA Tournament.
"We always feel like an underdog in this conference just because we're not the big names, but that just gives us a chip on our shoulder (to) prove people wrong," captain and senior goalkeeper James Del Curto said. "We talk a lot about respect and 'earning the conference's respect' and that's what we're gonna try to do this year."
Sac State continues its regular season schedule against San Diego Friday at 4:30 p.m. at Hornet Field.