Sac State volleyball team sweeps Idaho State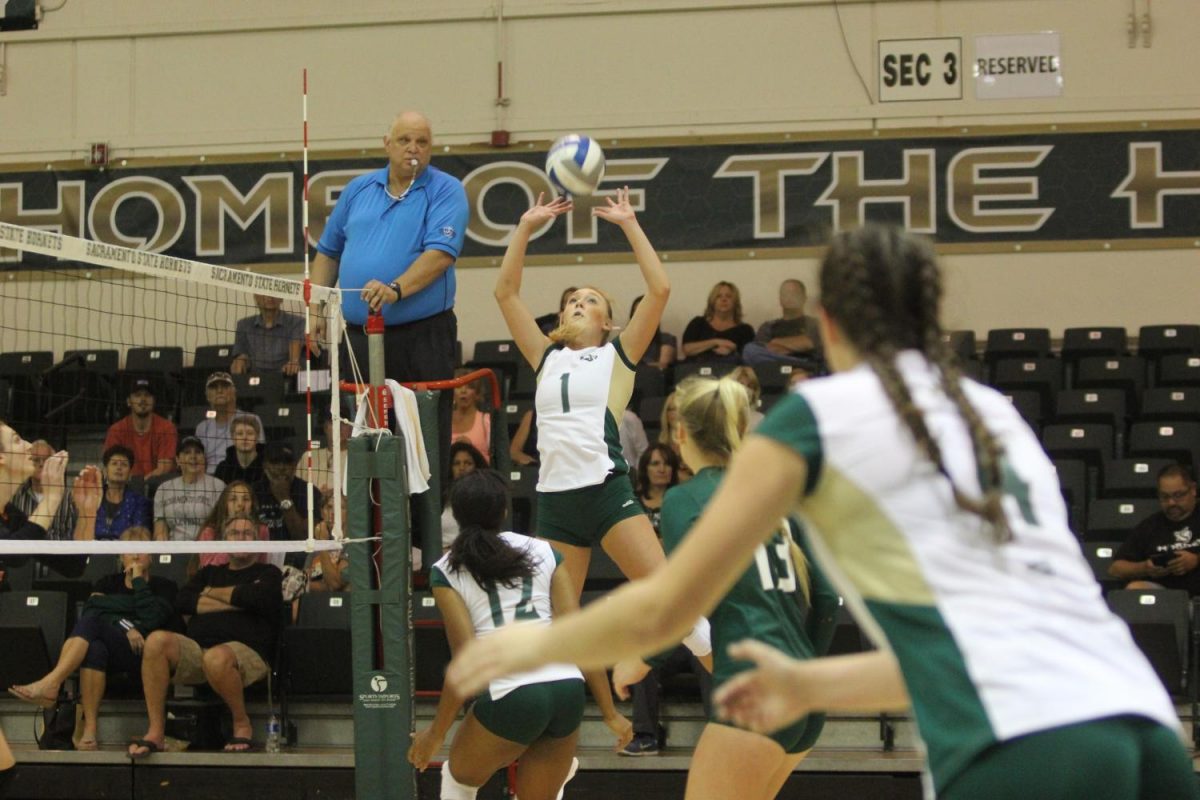 The Sacramento State volleyball team finished strong against the visiting Idaho State Bengals for a three-set sweep to win Saturday night at Colberg Court.
The Hornets didn't trail until the beginning of set-two, but they never trailed by more than two points in the entire match (25-18, 25-18, 25-14) on their way to winning 18 consecutive Big Sky Conference home games dating back to 2015.
In the middle of the second set the Bengals (3-12, 0-2 Big Sky) found themselves up 9-7. Idaho State contained Sac State senior outside Shannon Boyle early and defended successfully against attacks.
The Bengals aggressive play even forced the Hornets (11-7, 2-0 Big Sky) to call a timeout. Sac State coach Ruben Volta used the 75-second timeout to talk to several of his players, including senior libero Brigitte Murdock. Everything changed after that timeout as the Hornets scored three straight points to take a 10-9 lead before going on a long run to push the lead to 19-12.
"We can't get into slumps in passing," Boyle said. "It all comes back to passing and serving. If we do our jobs in that, we are usually pretty successful."
Sac State closed out set-two 25-18 after a kill by junior outside hitter Mikaela Nocetti, who finished with seven kills and 12 digs.
Mikaela Nocetti with a kill to give the Hornets a 25-18 win in Game 2. Boyle leads team with 11 kill, 9 digs @SH_Sports pic.twitter.com/2nkvBlpPBU

— Thomas Frey (@ThomasFreyRP) September 23, 2017
The Bengals held a 14-13 lead in set-three before the Hornets tied it up at 14. Sac State senior setter Kennedy Kurtz then delivered five service aces, including aces on the final two plays of the game, which didn't allow the Bengals to score another point.
"We served really well today," Volta said, "especially Kennedy finishing up the game like that. She was so competitive today."
Not only did the Hornets score the final 12 points of the game, but they struck first in set-one by scoring five straight points to start the match. Boyle led the team with eight kills and six digs on her way to finishing with 14 kills and 12 digs.
However, Idaho State came back and took an 8-6 lead before the Hornets extended their lead to 20-12 and before winning 25-18 on a kill from junior middle blocker Lana Brown.
Idaho State senior outside hitter Chloe Hirst, who was named first-team Big Sky last season, was held to nine kills on 25 attempts. Junior outside hitter Abby Garrity, who led all Big Sky sophomores last year with 3.22 kills per set, was held to 13 kills on 41 attempts.
"Our serving helped us start out strong and that is what kept us going all three games," Murdock said. "Idaho State could not pass today. Serving is what made us so successful. They could not receive that ball to save their lives."
Sac State will take its 2-0 conference record on the road next week against Idaho on Thursday and then Eastern Washington on Saturday.