Sac State soccer programs split doubleheader against UNLV, CSU Bakersfield
After battling in temperatures of 100-plus degrees, Sacramento State came away with a split as the women's soccer team defeated UNLV and the men's program fell to CSU Bakersfield during Friday's doubleheader at Hornet Field.
The Sac State women's program (3-1) faced one of its toughest teams yet this season and came away with a 1-0 win over a previously undefeated UNLV (4-1) team.
Both squads saw several goal scoring opportunities throughout the game, but it wasn't until the last four minutes of play that sophomore forward Allie Zwerling scored the only goal of the match with a header into the net, her first goal of her college career.
"My mom's over there crying and she made me cry — it was just so cute," Zwerling said.
Early on in the game, it seemed like it was going to be in UNLV's favor as the Rebels consistently charged down into Hornet territory. However, the Sac State defense — which returned all of its starting back fielders —  were able to keep UNLV from capitalizing.
In terms of production from the younger Sac State players, freshman forward Kylee Kim-Bustillos, who leads the team in scoring with three goals, had several downfield charges to set up goal scoring opportunities and freshman goalkeeper Aaliyah Fesili has been filling in for injured senior Molly McConnell and recorded her second win and first shutout of the season.
"We knew we had a strong freshman class coming in and we've had to use them quite early on," Sac State coach Randy Dedini said. "They're really playing some mature soccer for being such a young class."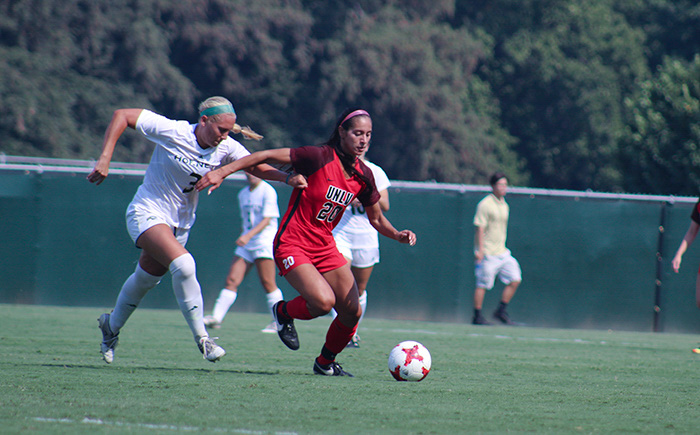 The Sac State men's team has also had to rely on younger players this season, but did see the return of senior midfielder Paul Geyer and a few other seniors who have been out due to injuries. These returnees provided the Hornets with more direction, Geyer said.
"(Senior goalkeeper) James (Del Curto) is such a great communicator and I'm OK at it, but I figure it just helps the team overall that I'm there and it's not just James echoing from 44 or 45 yards away," Geyer said.
Despite the return of some of its roster, the Hornets (0-2) lost their second game of the season to CSU Bakersfield (2-1) in a 1-0 overtime final.
The first minutes of the first half saw both teams bouncing across midfield either because Bakersfield was unable to get through Sac State's defense or the Hornets would get within goal scoring range, but botch the chance or have it punched out by the Roadrunners defense.
"We had moments, but our final action in front of the goal isn't good enough. Our shots don't hit the targets, they are wide or over," Sac State coach Michael Linenberger said. "Our final cross, our final pass, our final cutback hasn't been good enough and it wasn't tonight either."
As the game reached the end of the second half and the Hornets missed several scoring opportunities, the team's energy level seemed low and frustration could be seen between one another. These missed opportunities lead to a 10 minute overtime which featured eight of the 11 underclassmen for Sac State.
"I know a lot of the new guys weren't ready for that or accustomed to that, so it was a good eye opener for all of us the next time we go into an overtime game," senior defender Cylus Sandoval said.
All four teams also had to deal with hot weather conditions that forced them into player substitutions often. However, some players saw the heat as an upper hand against a team that may not have been experienced playing in such conditions.
"It was harder to play for a longer amount of time and we had the water breaks which may have hurt us when we had rhythm," Kim-Bustillos said. "It was probably harder on them than it was us so we had an advantage there."
Sac State's women's team will continue its season against the Texas Longhorns Sunday (5 p.m.) at Hornet Field, while the men will travel to play San Jose State Sunday (3 p.m.) at CEFCU Stadium.