Sac State battles to begin women's soccer season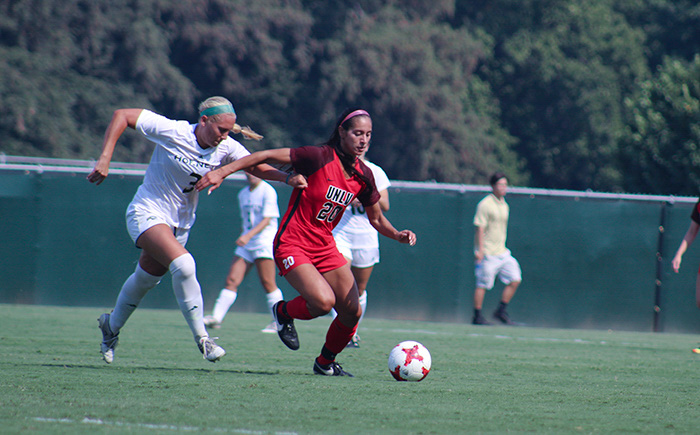 It's only been a few weeks of action, but the Sacramento State women's soccer team is battle tested.
The Hornets have begun the year with a 3-2 record and every contest has been decided within one goal.
Sac State started its season on the road against Saint Mary's where the team made a second half comeback by scoring two goals to win 2-1. The team then traveled to Reno where they sought to repeat last year's 2-0 victory over Nevada.
The contest entered overtime and then double overtime as the score was deadlocked at 2-2 between Sac State and Nevada. The Wolf Pack eventually punched in the game winning goal to hand the Hornets their first loss of the season.
"It's definitely good to get those (overtime games) in just so you're prepared for conference and knowing that you can't let down," sophomore midfielder Mikayla Reed said. "You can't get mentally weak and you just gotta push through and can't let that ball through, even when you're tired."
Sac State entered its four game homestand with a 1-1 record and opponents such as Fresno State, UNLV, and Power 5 Conference schools Cal and Texas.
The Hornets second victory of the season came against the Fresno State Bulldogs where both teams entered overtime with a score of 1-1. A corner kick from senior forward Kayla Collins found its way into the scrum and deflected off a Bulldog defender into the goal to earn Sac State a 2-1 home opening win.
Next came UNLV which boasted an undefeated 4-0 record at the time of the contest.
Sac State and UNLV closed out the first half tied at 0-0, and towards the end of the second half it seemed as if the Hornets would play in their third straight overtime match. However, a corner kick from senior forward Kylee Smith was headbutted in by sophomore forward Allie Zwerling to make it a 1-0 ballgame and a 3-1 start to the season.
"I was just trying to figure out where I was going and I was looking at Collins and she told me to 'run,' so I ran back to post and it came right to me and I just went up and headed it," Zwerling said after scoring her first career goal. "My mom's there crying and she made me cry — it was just so cute."
Sac State then hosted the undefeated Texas Longhorns on Sunday. The Hornets started the first half overwhelmed by the Longhorns and gave up an early goal that they would not be able to overcome despite coming out more aggressive in the second half.
"I thought we gave them too much respect in the first half and (were) kind of reactionary instead of anticipating what was going to happen next and I felt like we made some good adjustments and we came out and were pressing them, had them on their heels for (the) second half," Sac State coach Randy Dedini said.
The Hornets will play their final match of this homestand — before a five game road trip — against Cal of the Pac-12 Conference. The Cal Golden Bears defeated Sac State rival UC Davis 2-0 on Aug. 27 and missed a fellow Power 5 Conference matchup with Texas due to weather on Friday.
"I think it's a good opportunity to see how we're going to do in the Big Sky, if we can hold our own against Cal," senior goalkeeper Molly McConnell. "If we can hold our own against Cal then the Big Sky will be a piece of cake for us."
Nerves would understandably be high going into a game against a Pac-12 opponent, but Dedini said he doesn't see Cal as the reason for any pregame jitters.
"We played against Cal in the spring and we brought a 0-0 tie on them so we know we can play against these teams," Dedini said. "I think there's more nerves for our players wanting to play well and play to our standards then it is going against a big opponent."
Sac State will play the Golden Bears at 2 p.m. Friday at Hornet Field.