Nancy Pelosi, Doris Matsui, local public officials call for Dream Act passage at Sac State conference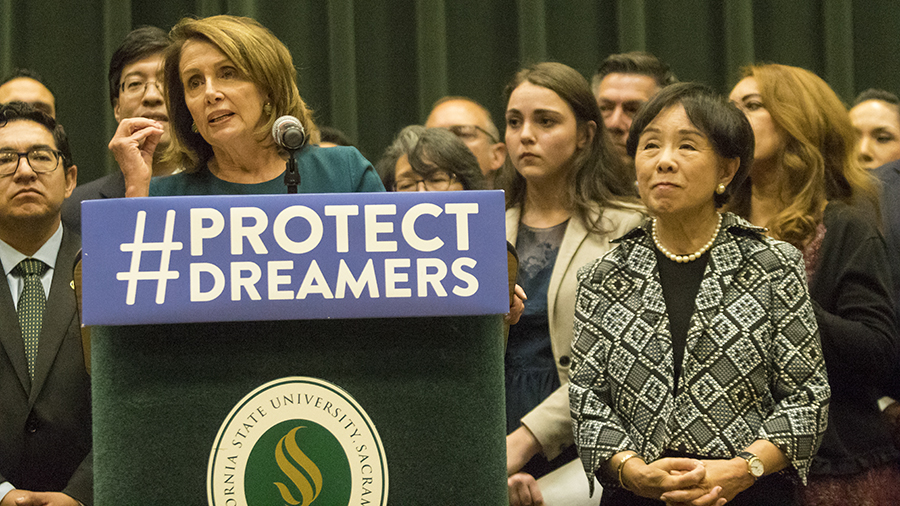 House Democratic Leader Nancy Pelosi and Congresswoman Doris Matsui joined a group of local legislators and Sacramento State leaders for a news conference Monday urging Congress to pass the Dream Act.
Pelosi and Matsui both delivered speeches at the event — hosted by Associated Students, Inc. — iterating the importance of the Dream Act, which would grant legal status, and eventually permanent residency, to recipients of Deferred Action for Childhood Arrivals (DACA), according to Congress's website.
Matsui said in her speech that the legislation is the first step toward a comprehensive immigration reform that would streamline the process of becoming a U.S. citizen for those who came to the country without documents.
(Follow Twitter profiles of Vu Chau and Will Moon for more tweets from the event)
Sacramento State ASI President Mia Kagianas introduced Matsui and called on students to support DACA students and the DREAM Act. pic.twitter.com/QEXRM0vL4B

— Will Moon (@MoonMan0305) September 18, 2017
@NancyPelosi received a long applause from the crowd at the conference pic.twitter.com/mf4njFMCq6

— Vu Chau (@vchau2020) September 18, 2017
"Dreamers are counting on us to do the right thing and stand by our values," Matsui said.
Pelosi began her speech echoing the attitude of Dream Act supporters: a clean pass.
"A clean bipartisan Dream Act pass (is) really important to our dreamers, but it's also important to our country," Pelosi said. "Who are we as a country that we would not recognize how important it is for us to be enhanced, exhilarated, invigorated by our dreamers to our country?"
Standing alongside Pelosi and Matsui at the conference were Associated Students, Inc. President Mia Kagianas, Sac State President Robert Nelsen, Sacramento Mayor Darrell Steinberg, Congressman Ami Bera, Assemblyman Kevin McCarty and other local legislators.
A few Dreamers were also given center stage to tell their stories. One of whom was Oswaldo Hernandez, a DACA recipient and Sac State alumnus.
Hernandez described his experience of suffering from a chronic illness and said that if he is deported, he may not be able to afford his medication and treatments.  
"They call us Dreamers, but our ability to dream was taken away from us," Hernandez said. "We have to stay awake and we have to make plans for tomorrow. The passage of the Dream Act would allow me to dream for once." (Story continues below photo)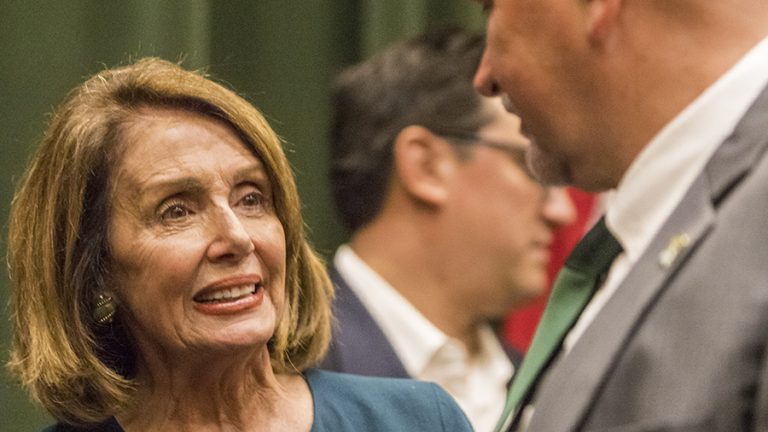 Pelosi made her first stop Monday in San Francisco and was faced with a group of more than 60 young people who chanted pro-immigrant slogans like "all of us or none of us" and "we are not a bargaining chip" at a separate news conference.
After the event at Sac State, Pelosi said to the press that these protesters acted out of fear of not knowing what their future will hold.
"We're in this fight to win for the Dreamers," Pelosi said. "We (lawmakers) are disrupters ourselves, so we recognize (why they protested) and respect it in others."
Pelosi then said that showcasing Dreamers will not only benefit themselves, but also their parents, as she wants to reflect the teaching values these young individuals received through "how beautifully they were raised."
"We will not rest until we have competence in immigration reform," Pelosi said. "But we must protect the parents as much as we protect the children."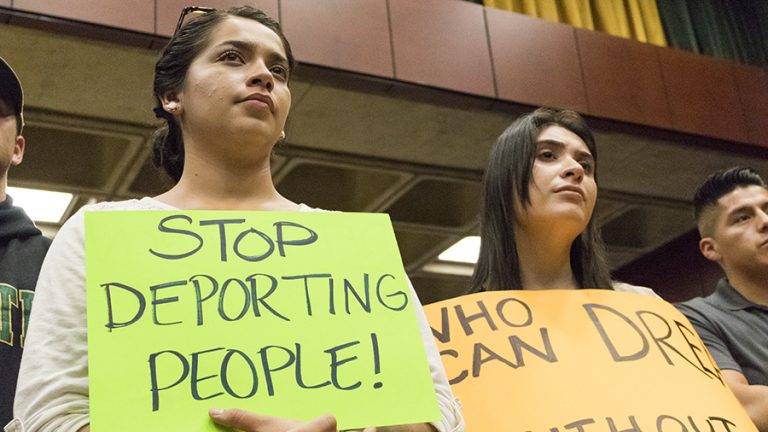 For senior sociology major Rossmeri Ramirez, this sentiment hits close to home. As a former DACA recipient, Ramirez said she still has many family members and friends impacted by the Dream Act. She said attending events like the news conference was, for her, a way to put a spotlight on an almost-perpetual problem in American society.
"I'm here to support," Ramirez said. "I'd just like to see how our representatives and elected officials react to this problem the country is facing."
Like Ramirez, sophomore liberal studies major Ashley Arias said family is also a strong motivation for her passion to see the Dream Act passed and hopes that the event will help her understand the problem at an even deeper level.
"(I'm here) to become more knowledgeable about what's going on in our society, and I want to back up (my arguments) and inform others who don't know much about the situation" Arias said.
As a student representative, Kagianas said that she hopes a strong showing of public leaders will allow her peers to learn about the significance of the Dream Act.
"This is an extremely important event to our community and to ensure the safety of all of our students at Sac State, including our undocumented students and students from mixed-status families," Kagianas said. "I took a vow to support all our students, and this is where I'm meant to be."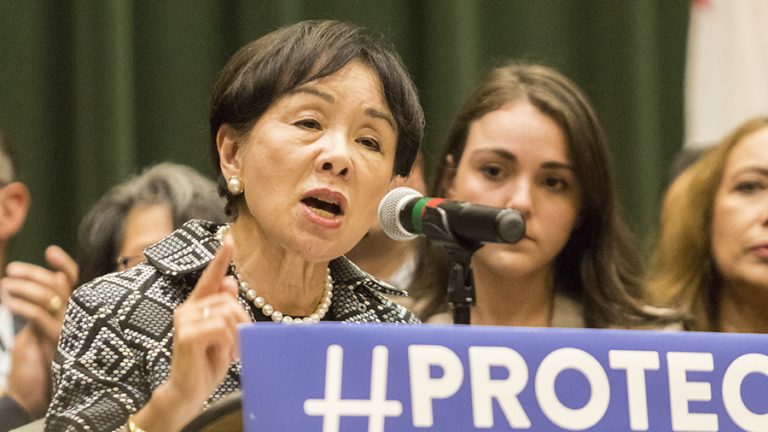 The message of unity continued post-conference as Matsui said to The State Hornet, Democratic lawmakers — local, state and federal — are "very much in support of" Dreamers.
"I think we're all lucky that we're living in a community where people feel very much like 'We want people to be here to feel like they belong,' " Matsui said. "If you look at the city of Sacramento and you look at the people who are here, you can see that they're all in. They're neighbors."
Additional reporting by Will Moon