Sac State debater first ever to advance in national tournament
After falling short of the elimination rounds last year, Sacramento State debater Banafshae 'Shae' Khan became the first debater in school's history to advance to the elimination rounds and finished 20th overall in the National Forensics Association national championship.
Five Sac State debaters participated in the NFA championship, which was held in Eau Claire, Wisconsin.
Khan, a senior in majoring in government, was able to win four of her six preliminary debates advancing her to the elimination rounds.
"When I found out I was going to nationals I felt ready, like I was there in my debate career," Khan said. "Last year I was nervous at nationals — this year when I advanced to elimination rounds, I was more relieved than excited because I knew I could do it."
After preliminary rounds, the 32 best debaters based on their record in the preliminaries advance to the elimination rounds where it then become single elimination.
According to debate team head coach Jared Anderson, making the elimination rounds is comparable to making the first round of the March Madness tournament in college basketball.
Khan was given the 20th seed in the elimination rounds, but lost in the first round to a debater from Western Kentucky and her senior run came to an end.
"She should have nothing to hang her head about," Anderson said. "She had the best finish ever by a Sac State debater in our history with the NFA."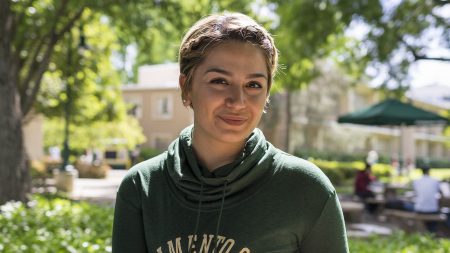 Khan's run also helped Sac State finish tied for 10th place overall in the team sweepstakes at the NFA national championship.
Before debating at Sac State, Khan attended San Joaquin Delta junior college in Stockton, California.
Coming out of high school, Khan never had an opportunity to debate and during her final year at the junior college, she decided to give it a try.
"I liked it so much because it offered so many great opportunities," Khan said. "I actually stayed an extra year at Delta to debate."
When thinking about what universities she wanted to transfer to, she originally had Stanislaus State in mind. But after debating for one year and enjoying it so much, Khan decided to transfer to Sac State because of the debate team's reputation.
Part of Khan's decision to transfer to Sac State was influenced by coach Anderson as Khan was one of his first recruits he was able to land at Sac State.
"When I was coaching at the (community college) level, I pushed hard to get my debaters to four year universities," Anderson said. "Now being on that opposite end of that, I know there is a lot of talented debaters at that level."
In their time together, Anderson and Khan have worked countless of hours together, especially after last year when Khan reached nationals, but did not advance to the elimination rounds.
"She qualified for nationals last year but it didn't go the way she wanted it to," Anderson said. "Right after that tournament, we made changes and went right back to work and were building towards nationals this year."
Khan reiterated how grateful she was for Anderson's commitment and energy during her growth as a newer debater.
"He spent plenty of hours explaining dense theoretical arguments that I didn't really grasp coming out of the junior college," Khan said. "All those things are super basic to him, so for him to sit down and have the patience to teach me things he knew like the back of his hand was more than I could ask for."
Khan is graduating at this end of the spring semester and her coaching staff knows what kind of void will be left in her absence next year.
Adam Austin, an assistant coach and grad student major in communications, joined the staff the same time Khan joined the team and acknowledges she will be missed next year.
"At no point have I ever seen her get frustrated at someone else or herself for not understanding something," Austin said. "Her patience and her work ethic give her a unique set of skills that makes her a proficient team leader."
After graduation, Khan is taking an internship in the department of general services with the state but plans on going to grad school after a taking a year off.
"I would love to come back and coach debate especially if I attend Sac State again," Khan said. "I hope I can help make debate as fun for other debaters as fun as it was for me."