Women's basketball team falls in first round of Big Sky Tournament
The only thing that separated the ninth-seeded Sacramento State women's basketball team from a matchup with No. 1 seed Montana State was 2.9 seconds Monday in Reno, Nevada.
In only a couple of seconds, Weber State's Deeshyra Thomas made a running jumper to defeat Sac State 98-97 in overtime to lead the eighth-seeded Wildcats (13-17) to the second round of the Big Sky Tournament.
Sac State coach Bunky Harkleroad, who failed to make the second round of the Big Sky Tournament for the first time in his four seasons at the helm, attributed the result to a season-long theme of not being able to close out games. The Hornets (10-20) lost despite leading in the game for 36 and a half minutes.
"Our team played hard, but we just couldn't finish," Harkleroad said. "Weber State's go-to players stepped up and made shots when it mattered. The one thing we've been fighting all year — we've had a hard time helping ourselves consistently."
The first quarter started off with a Sac State free throw from senior Gretchen Harrigan and two quick 3-pointers from junior guard Maranne Johnson and senior Emily Easom for a 7-0 lead within the first minute of the game. By the end of the first quarter, Sac State held a 26-14 advantage over Weber State.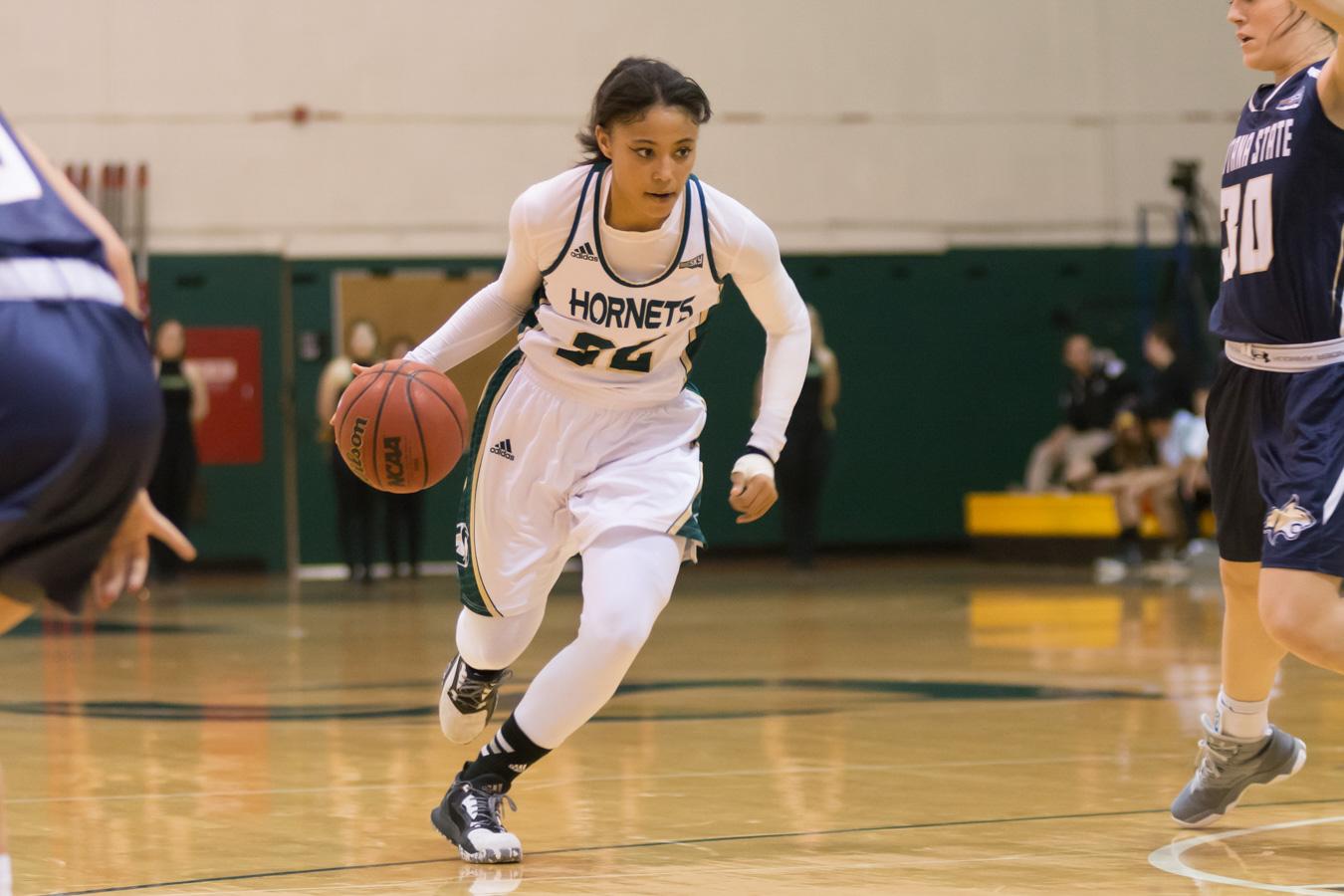 The Wildcats pounced in the second quarter after Kailie Quinn made three 3-pointers in the quarter, and Weber State outscored the Hornets 26-14 in the quarter, even taking the lead for a brief moment before Sac State recovered to finish the first half 42-40.
Within the first minute of the third quarter, Easom and Johnson made a pair of 3-pointers to put Sac State back up by eight. Weber State, however, traded basket for basket against the Hornets and entered the fourth quarter trailing 69-62.
A Harrigan layup gave Sac State the first basket of the fourth quarter, but Weber State went on an 8-0 run to tie the game at 70. After a free throw by Easom gave the Hornets a 89-85 lead with 18 seconds left, Tyschal Blake and Emily Drake made a pair of layups to take the game to overtime.
After winning the jump ball to start overtime, Weber State raced to a quick 92-89 lead with free throws coming from Thomas and Jaiamoni Welch-Coleman. A basket from senior guard Ashlyn Crenshaw and a 3-pointer from Harrigan put Sac State up 94-92. Weber State came back to take a 96-94 lead with layups from Blake and Thomas.
With under a minute left in the game, Harrigan made one of two free throws to give Sac State a 97-96 lead. Weber State milked the clock and gave the ball to Thomas for the game-winning jumper in overtime.
Crenshaw notched her first double-double (12 points, career-high 10 rebounds) in her final collegiate game, while Harrigan led Sac State with 19 points. Johnson, who was named to the all-Big Sky third team Sunday, finished the game with 16 points on 6-of-12 shooting.
Weber State — while being outrebounded 59-35 had five players score in double figures — including 25 points from Thomas. The Wildcats will face No. 1 seed Montana State Wednesday.
The Buzz:
Johnson finished the 2016-17 season among the best in the nation at her position. On top of finishing in the NCAA top-25 in five different categories, Johnson also led the Big Sky Conference in 3-pointers (93), broke the single-season record for 3-pointers attempted (282) and finished within two 3-pointers of tying the conference record. Johnson ended her junior season with a Big-Sky high of 87 steals.
Johnson, who has 245 steals and 216 3-pointers in her career, is only 64 steals and 21 3-pointers away from becoming the all-time leader in both categories for Sac State.