Two-day protest culminates with chants and confessions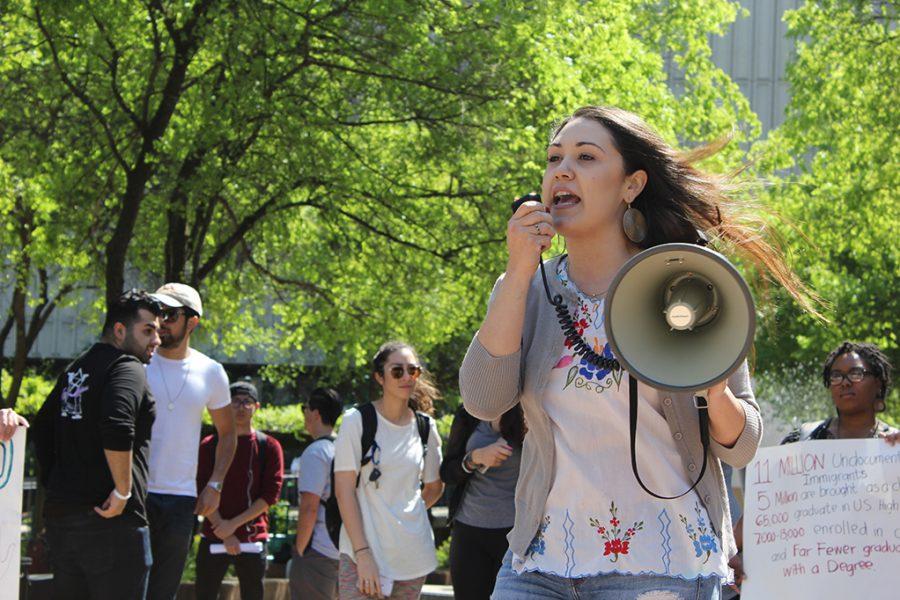 By Kameron Schmid and John Ferrannini
A group of Sacramento State student organizations and clubs organized a two-day protest that ended Thursday, aimed at spreading awareness of the marginalization of groups in society such as women of color, undocumented immigrants and LGBT individuals.
The protest began Wednesday at noon, as participants were silent for a full 24 hours to signify "the loss of voice from marginalized individuals across our campus and communities."
Thursday at noon, 24 hours later, protesters broke their silence, chanting and speaking over a megaphone in the library quad about their individual experiences.
"The purpose behind this whole thing is that we wanted to create a new culture based on hope and love for all, a culture where everyone is welcome in spite of their gender, their color, their religion, their status, undocumented immigration status," said Evey Chavez, an undocumented student at Sac State.
Several undocumented students spoke about the fear of being deported any day.
"It's hard to see a border patrol agent on campus," said Rosa Barrientos, who is also an undocumented student. "Many of us who are undocumented — hearing that knock at the door we had to hide to make sure it's not ICE (Immigration and Customs Enforcement)."
Another undocumented student, Martha Ancajas, said she spoke out in spite of the fear that telling her story would lead to deportation, mainly to spread awareness of the issues undocumented students face.
"It was really scary to talk in front of people," Ancajas said. "I need to judge myself, 'If I talk, are they going to tell ICE?' Coming out is such a risky move. I don't know what's going to happen if I come out.
"Then again, I want my community to understand that there are students that are marginalized and are hurt. I'm just one person, but there are a lot of students here on campus that are undocumented that are afraid to speak out. I want to let them know, I want to share my story, because that's a way to stand in solidarity."
English lecturer Marcelo Hernandez Castillo, an alum of Sac State who was undocumented at the time of his attendance, spoke to the group about what it could do to affect change inside the classroom.
"I didn't see myself represented in the syllabuses, especially in the English department, that I came across," Castillo said. "I feel like this small group has the power to impact their professor by insisting and holding them accountable to have diverse syllabuses and to teach people who would not normally be taught, especially in the humanities. There are scholars who are ignored that people can benefit from."
The protest was organized by a litany of groups. In all, the Muslim Student Association, Movimiento Estudiantil Chicano de Aztlan (or M.E.Ch.A.), Lead, Students for Quality Education, the Black Student Union, the National Pan Hellenic Council, Queer Union and African Student Association took part in the protest.