Sac State softball team continues 'working out the kinks'
With more losses than wins halfway through the season, the Sacramento State softball team looks to turn things around just as it did a season ago.
The Hornets (11-14-1) find themselves in a similar spot as the 2016 season when they were 9-14 before the start of Big Sky Conference play. Sac State finished the season 28-22 (15-6 Big Sky), and looks to duplicate that success in 2017.
"Things are starting to come together for us," Sac State coach Lori Perez said. "We are taking care of the controllables which are energy and effort everyday and it will help us become more consistent in our execution."
Sac State kicked off its season in Hawaii, participating in the Paradise Classic, where the team finished with a 2-2 record.
The Hornets won only two games in the next eight matchups — with five losses and one tie. During this stretch, Sac State failed to score more than three runs in any of the eight games.
"We've had a bumpy road this preseason," sophomore shortstop Sydney Rasmussen said. "But we've had some bright moments offensively here and there; we just need to learn to continue that success."
As a team, the Hornets' batting average is .251 and they have an on-base percentage of .322. Two of Sac State's best hitters from a year ago, Rasmussen (.326 in 2016) and first baseman Jessica Ravetti (.324 in 2016) are hitting .258 and .280 this season, respectively.
Only two of the Hornets' everyday starters, freshman outfielder Suzy Brookshire (.380) and junior second baseman Zamari Hinton (.364) are hitting above .280 on the year.
In the pitching circle, Sac State has a combined 3.13 earned-run average and opposing batters are hitting .253 against the staff. Last season, this same group combined for eight shutouts, but only have three shutouts at the halfway point this year.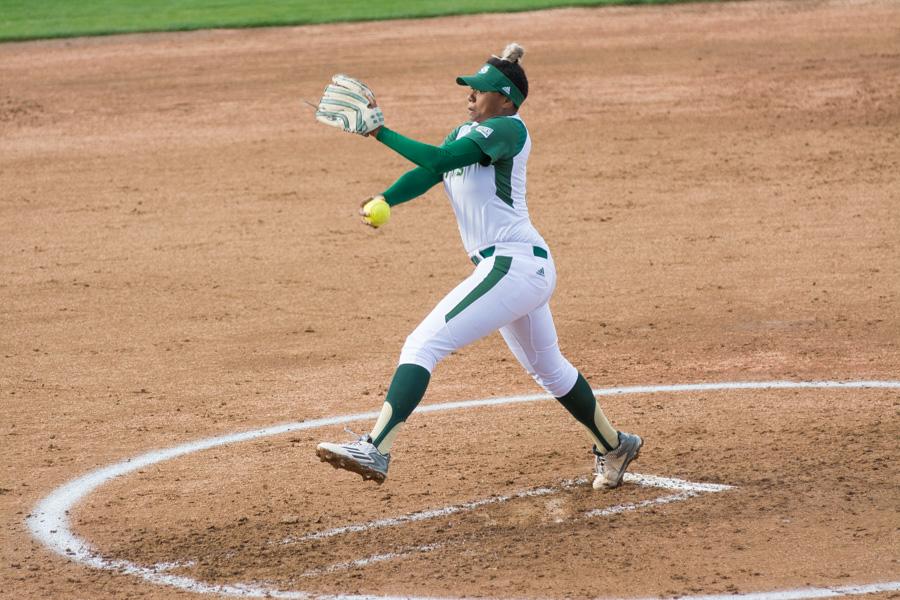 This dip in production has even carried over to Western Athletic Conference Pitcher of the Year (2016) Celina Matthias — who is 4-5 with a 3.61 ERA after finishing last season with a 13-6 record and a 2.94 ERA.
"At times I start overthinking and I'll start nitpicking at little things," Matthias said. "I have to adjust my plan to where I think nothing at all when I'm in the circle."
After losing five of eight games, the Hornets swept a doubleheader against Nevada, but then dropped five straight games at the Fresno State tournament from March 10-12.
"We knew it was going to be a grind but we're where we need to be," Perez said. "It really comes down to being focused and checking in at the right moments for us."
However, the Hornets turned things around in their final preseason tournament at Loyola Marymount — winning four out of five games — while scoring seven or more runs in those four wins and outscoring opponents 37-13.
"We had a really tough preseason, but then competing against LMU, Cal Poly and other big teams, we feel better," Ravetti said. "We're excited to play in conference, because we just feel ready."
Sac State opened conference competition by splitting (1-1) a Saturday doubleheader against Weber State, and will compete against UC Santa Barbara at 4 p.m. Tuesday at Shea Stadium.
Though they've struggled in certain areas, the Hornets have already hit more home runs (22) than they did all of last season. At last year's halfway point, the pitching staff had given up more hits than they have halfway through this year (161) and the offense has a better slugging percentage (.387) than it did at last year's halfway point as well.
"Preseason is about working out the kinks," Matthias said. "We are working on fixing the little things at practice. Come (Big Sky) season, we'll be ready to fire on all cylinders."