New living complex for students set for fall of 2018
A 225-unit housing community, The Crossings, which will include an innovation center, began construction with a groundbreaking ceremony featuring Sacramento Mayor Darrell Steinberg and City Councilmember Eric Guerra on March 2.
This community will provide more students an opportunity to live closer to campus, while having an option to explore the industrial world. The community will include a swimming pool and each unit will have a kitchen and several bedrooms.
"Making sure that we follow through on this innovation center — which can be the hub of our research development — I can't think of a more significant thing to celebrate," Steinberg said.  "This is one of those situations that is a win-win. We are really doing all we can to enhance our partnership with Sac State."
The new building, which will be located at 2920 Ramona Ave., is slated for completion in August 2018.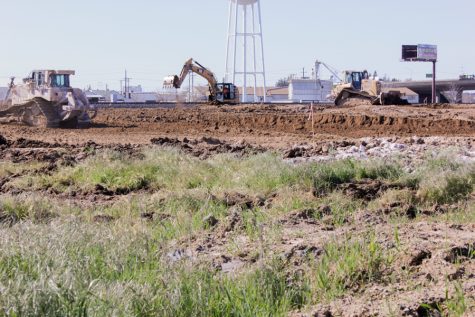 Along with the new building, a $4.7 million Ramona Avenue improvement project will provide residents a walkway underneath U.S. Highway 50 that leads directly to campus. The improvement project will be finished before the building opens.
While bringing in new housing is important to Guerra, the Sac State alumnus and District 6 councilmember said he is most excited about the 11,000 square foot innovation center.
"Students can do creative research and studying," Guerra said. "It is next to the industrial area. The goal is to have this area be a live/work type of area for students. All of this here lends itself to the industrial area nearby. We need housing that is close to campus and this will be a 10- minute walk to campus."
His goal is to keep Sac State students in Sacramento once they graduate and have them work at places around the area. Guerra said he also wants students to learn about technology and to develop some of them into engineers and business leaders.
This won't be the first innovation center that has been built near California universities. According to Percy Vaz — CEO of AMCAL Equities and the developer of this project — the company has built one at Cal State University Monterey Bay and is working to build more at Chico State, UC Merced, San Jose State and Cal Poly.
"This will have all the bells and whistles, even from a national perspective," Vaz said. "It is really conducive for a lot of meetings and activities between students, faculty, business and technology to generate new ideas with the campus and hopefully spark some future big companies."
The building is designed for students, but being a student is not a mandate to live there. However, students have priority over non-students. The leasing will begin this summer for the Fall 2018 semester.