Beach volleyball team serves losses to San Francisco, San Jose State
The Sacramento State beach volleyball team defeated the San Francisco Dons (5-0) and San Jose State Spartans (3-2) Saturday at Livermore Community Park in Folsom.
The No. 1 team of Madeline Cannon and Morgan Stanley, Shannon Boyle and Lexie Skalbeck (No. 2), and Paige Swinney and Lana Brown (No. 5) won their matches against San Francisco within the first two sets. The duos of Sarah Davis and Kennedy Kurtz (No. 3) and Brie Gathright and Skyler Takeda (No. 4) claimed victory in the third sets.
"Exhausting, but it's definitely rewarding," Boyle said. "Every point — you just got to play your hardest for that point because every point counts and once you get that, it's worth it."
Cannon and Stanley defeated the Dons in the first set by the score of 21-9, and 21-13 in the second set. Defensive blocks by Brown kept the No. 5 San Francisco tandem at bay en route to a 5-0 team sweep.
"It was really a team effort for today," Sac State co-head coach Ed Jackson said. "I think that's kind of the general theme."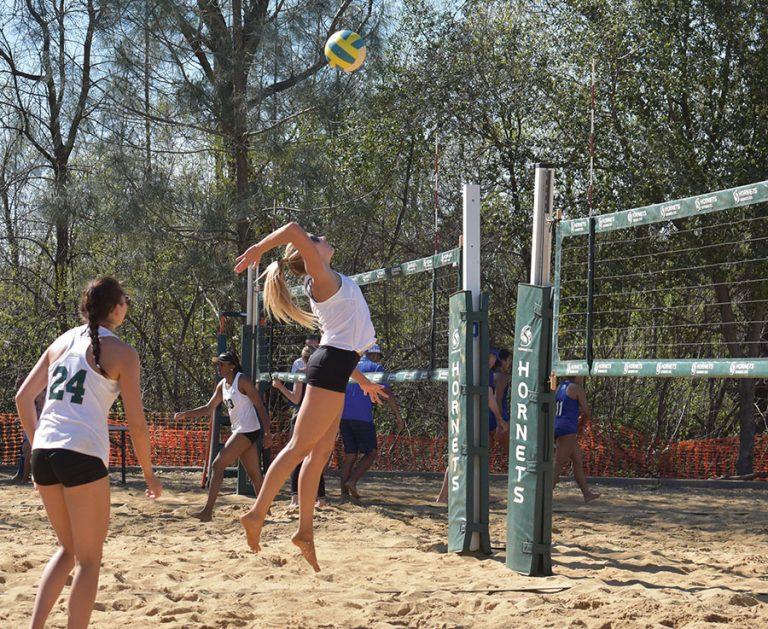 The Hornets saw more competition against San Jose State after falling behind 2-1. Teams No. 3 (Davis and Kurtz) and No. 5 (Swinney and Brown) lost, while the No. 4 duo of Gathright and Takeda gave Sac State its first match win over the Spartans.
The No. 1 matchup of Cannon and Stanley featured multiple rallies which pushed set two into overtime for a 22-20 Sac State victory to tie the overall team score at 2-2.
All eyes were on the final tiebreaker which featured Boyle and Skalbeck taking the first set of No. 2 play with a 21-13 win. In the second set, the Spartans forced overtime against Sac State after a 20-20 ballgame.
Support issued from both fan bases, but the Hornets were able to edge San Jose State 23-21 for a 3-2 team win.
Sacramento State women's beach volleyball clutches it out against San Jose State, taking the second set of the final game 23-21 @SH_Sports pic.twitter.com/a44QF5foE0

— Carlo G. Marzan (@SultanKoY) March 12, 2017
"It was really cool to have everyone ride on the sidelines — especially even their team," Skalbeck said. "It was fuel for us winning."
The victories over San Francisco and San Jose State earned Sac State a 3-0 undefeated record on the season, which will be tested at 1 p.m. Sunday against Boise State at the Livermore Community Park.