Women's basketball team's shooting struggles lead to 72-65 loss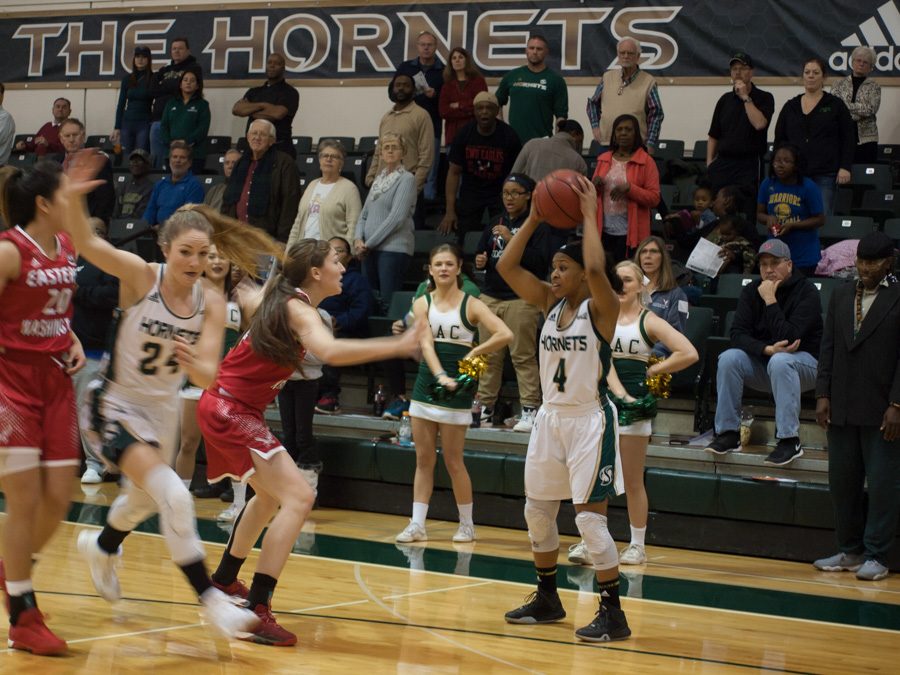 After shooting a season-low 20 percent from the field in the first half of Thursday's game, the Sacramento State women's basketball team was never able to catch up, falling to Eastern Washington 72-65.
Sac State now falls to 8-12 overall and 4-5 in the Big Sky and is now tied with Portland State for seventh place in the Big Sky Conference standings. Eastern Washington is now fourth in the Big Sky and improves to 12-9 overall and 7-3 in the conference.
Going into Thursday's matchup, Sac State had won three of its last four games, while averaging 93.5 points per game and only giving up 71.4 points per game. However, the Hornets struggled putting the ball in the basket in the first and second quarter, shooting 22 percent and 17.6 percent, respectively.
As poorly as Sac State shot in the first half, the team only trailed Eastern Washington by seven points at the half by a score of 29-22.
Senior guard Maranne Johnson said that Eastern Washington's defense made Sac State feel sporadic in the first half.
"We weren't settled down," Johnson said. " We were open and finding good looks but we came into the game rattled in the first half."
Sac State came out at the start of the third quarter with a little more intensity as they went on a 9-0 run. Senior guard Brianna Burgos got things started with two 3-pointers, followed by senior guard Ashlyn Crenshaw, who chimed in and nailed a 3-pointer to give Sac State a 31-29 lead with 7:56 left in the third quarter. Eastern Washington would then respond by going on an 8-0 run, regaining the lead and never giving it back the rest of the game.
The Hornets did not seem to have an answer for Eagles' senior forward Ashli Payne or junior Delaney Hodgins as they scored 21 and 22 points, respectively. Hodgins, who leads the conference in scoring with 17.7 points per game, also had nine rebounds, five assists and zero turnovers.
"They play well together," Sac State coach Bunky Harkleroad said in regards to Payne and Hodgins. "You have to give them credit — they're good players that made some good shots. With those two you have to try to limit the damage because they are both solid."
Harkleroad gave Eastern Washington a lot of credit for how they played Thursday, but he also admits that the Hornets didn't help themselves out tonight either.
"We had too many unforced errors in terms of turnovers and fouls," he said. "Our players were trying to make plays and trying to win the game but I think we had too many people trying to take it upon themselves."
Though unable to find an answer for Payne or Hodgins, Sac State's team defense forced Eastern Washington to commit 19 turnovers, 13 of which came in the first half. But the Hornets struggled to translate those turnovers to points on the offensive end.
"I don't think our focus was there tonight," Sac State senior forward Margaret Huntington said. "When we get those turnovers and steals, we have to go get those points. So, I think we need to help ourselves and focus up."
Huntington had six points along with a game-high 15 rebounds. This is her fourth game this season with 15 or more rebounds.
Also, coming into tonight's game, everyone was anticipating whether Johnson — who came into the game ranked second in the nation with 3.63 made threes per game — would reach 1,000 points in her career. Johnson needed a total of 16 points in order to be just the fifth player in program history to do so in only three years; she finished two (14) shy of 1,000.
"It's very exciting for me," Johnson said in regards to how she felt about almost reaching 1,000 career points. " I have to give credit to my team — without them there wouldn't be any success on my part. But it's big, knowing that it will be accomplished in only three years."
Johnson will most likely reach 1,000 points on Saturday afternoon, where the Hornets will look for redemption after Thursday's loss. 
Sac State will look to even up its conference record on Saturday, facing Idaho at the Nest. The game is set to tip off at 2:05 p.m.