Religious groups fight online after speaker mix-up
A disagreement between Sacramento State's Ratio Christi President Logan James Zeppieri and Muslim Student Association clubs played out in a public series of Facebook posts on the former's "Women in Christianity and Islam" event page.
The purpose of the event, which was held on Feb. 15 in the University Union's Hinde Auditorium, was to examine whether "the rights and abuses of women in Christianity and Islam" are "based on religious principles or cultural practices."
But the credentials of the speakers were brought into question by Facebook user Ameerah Ameraah, who neither attended the event nor is a Sac State student, because both Cynthia Pettross and David Wood, who comprised the two-person panel, are Christians.
Ratio Christi replied that it had originally scheduled two Muslim speakers — Reem Al Olaby, who had spoken at another Ratio Christi event last fall, and current vice-chairperson of the Sacramento League of Associated Muslims (SALAM) Anne Kjemtrup — but had been informed a few weeks ago that both had to cancel, which Ratio Christi said was due to not being able to "strike a balance between the informality of a discussion with the scholarly virtues required of a university."
Planning for the panel discussion began about five months ago, said Ratio Christi on its Facebook event page, adding that members had contacted MSA and other various groups on campus during that time, including other Muslim organizations along with women's rights and political party organizations.
"The MSA not only declined to participate in this event, but also failed to recommend any Muslim scholars, at our request, to contact for this event," said Ratio Christi in one Facebook post.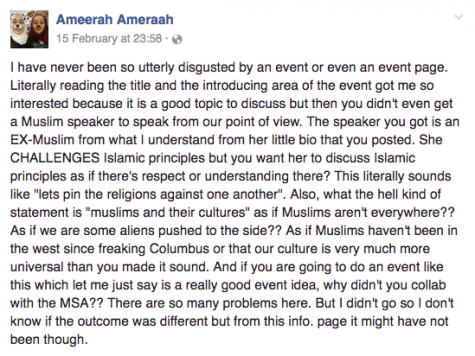 But in a later response, Ratio Christi walked back this statement, saying MSA had previously backed out of an event last fall, which they originally agreed to participate in, called "Christianity, Islam and Christ."
In two posts that have since been deleted, Muslim Student Association President Noor Sulaiman accused Ratio Christi of being dishonest because MSA had replied to its invitation via email more than two months ago but said it had received no answer, which Sulaiman attributed to Ratio Christi wanting "to present a biased perspective that is only based on lies."
Ratio Christi denied it received any such response, even after screenshots of the alleged email, which was dated Dec. 4, were posted in the event-page discussion by Ameraah, who, according to Sulaiman, had been forwarded the information by a former Sac State MSA president.
The depicted email "grossly misrepresented us," said Ratio Christi, who claimed that the organization had searched its inbox and that of Zeppieri, only to come up empty.
The Christian club claimed either the email failed to send due to a mechanical issue or that it had been fabricated, and, "given the brazen and wide-sweeping accusations against the integrity of this Christian organization, its members, and our guests, and in support and continuance of civil dialogue between CSUS organizations," Ratio Christi requested a formal apology.
Sulaiman replied in turn that Ratio Christi should be apologizing, not MSA.
In an email interview, Sulaiman said that the issues began with Ratio Christi's event last fall, which MSA had opted out of because the speakers chosen to speak about their beliefs had made "incorrect and damaging" statements about Islam.
"Thus, MSA did not want to participate in such an event because it might cause problems between different religions," said Sulaiman, who added that, after viewing what members deemed as a misrepresentation of Islam, her organization agreed to collaborate with Ratio Christi this semester.
After a brief email exchange with Zeppieri in the beginning of December, Sulaiman said she never heard back from Ratio Christi following her request that MSA be able to select its own Islamic speakers for the joint discussion, and then the Christian speakers claimed MSA had "backed out."
But Sac State Ratio Christi Chapter Director Wally Keller, who is not affiliated with the university, has reached out to her and MSA, said Sulaiman.
Keller explained in an email he has taken full responsibility if MSA or Sulaiman believe they were not appropriately responded to and personally apologized for the misunderstanding regarding the email that was sent.
He also acknowledged and characterised Wood's personal comments in his YouTube video about the Muslim speakers backing out of the event as his own and clarified that they did not reflect the view of Ratio Christi or the private communications the organization had with the original Islamic speakers.
"I am pleased that Ms. Sulaiman and I will have an opportunity to meet and work through what could have gone better thus far, and to make an effort to work cooperatively in the future," Keller said. "While our clubs are obviously coming from a different theological view, we have some common ground on which to foster cooperation on mutually beneficial goals."
Keller said the mission of the national Ratio Christi organization is not to challenge or compete with other religions, but instead is for giving its members additional support to stay strong in their faith and beliefs while attending college.
Additionally, he wanted to emphasize the fact the Sac State chapter of Ratio Christi is newly-formed and going through some "growing pains," but will be guided back on track the organization's main focus.
Sulaiman said this whole discussion may have actually been a good thing for the clubs.
"Though the recent online exchange was started by a student who does not attend Sac State nor our MSA, we are happy it ultimately opened a conversation with chapter leadership about future possible collaborations," said Sulaiman. "After finding out that Ratio Christi was just started on our campus, we would like to formally welcome them to the tolerant and accepting campus community."
CORRECTION: March 8 at 2:04 p.m. — The original version of this story did not include the first name of Muslim Student Association President Noor Sulaiman.