Men's basketball team tops Bengals 75-63 for second-straight win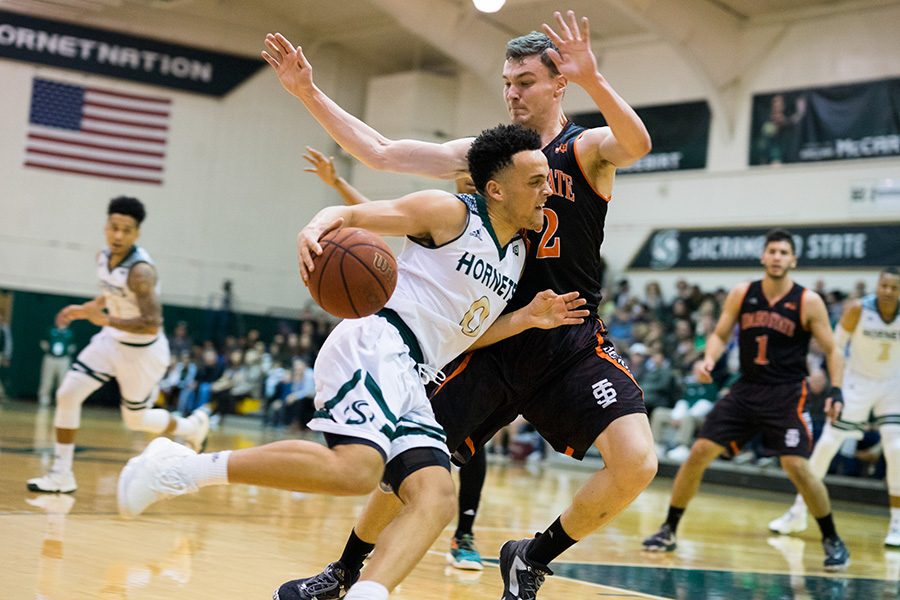 The Sacramento State men's basketball team earned its second-straight victory in a 75-63 win over Idaho State Saturday night at the Nest.
Sac State coach Brian Katz was most pleased about the fact that his team didn't lose its intensity and competed the entire game.
"I think that our team is in a pretty good spot," Katz said. "We know that if we don't bring it for 40 minutes in this conference, you will lose."
Sac State (9-14, 6-6 Big Sky) was led in scoring by junior guard Marcus Graves with 21 points, while senior center Eric Stuteville added 18 points to the scoreboard. The Hornets executed as a team offensively and it led to easy buckets against the Bengals.
Offensive and defensive rebounding were key factors in Sac State's victory as the Hornets finished the game with a total of 19 offensive rebounds along with 19 defensive rebounds. Stuteville ended his night with a career-high 16 rebounds.
"Rebounding was one thing that we prepped for big time this week," Stuteville said. "Our game plan was for everyone to crash the boards on offense and defense. If you can outrebound your opponent, it helps your chances of winning tremendously."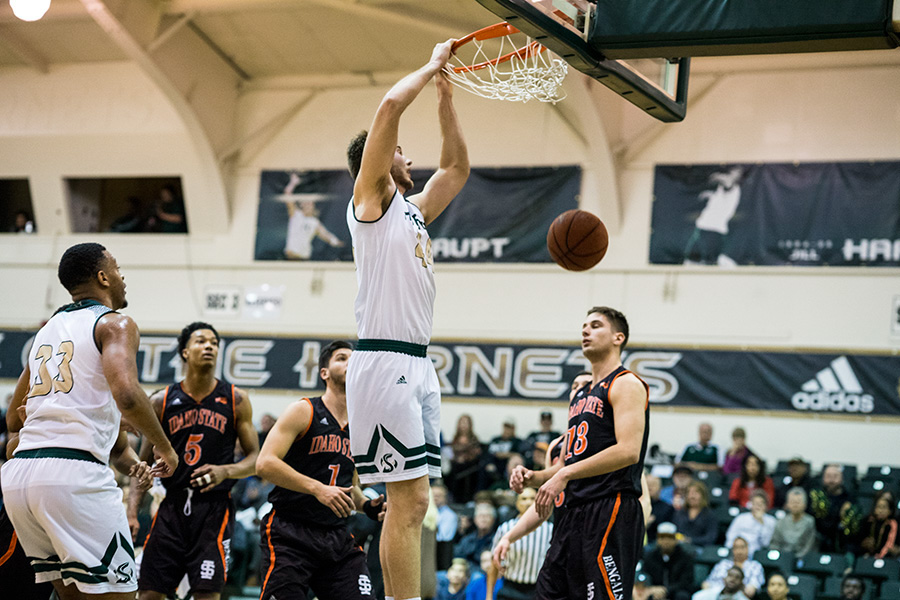 Defense was also an important factor in the Hornets' win against Idaho State (6-19, 3-9 Big Sky) and their ability to score in transition. In the first half alone, Sac State forced 10 turnovers and scored 14 points off those turnovers.
Coming into the game, Idaho State's leading scorer — senior guard Ethan Telfair — averaged 17.4 points per game on 34.5 percent shooting. However, the Hornets' defense contested every one of Telfair's shots, holding him to just three points on 1-of-9 shooting from the field.
In the second half, the Bengals were led by junior forward Robert Jones, sophomore center Novak Topalovic and freshman Brandon Boyd as the trio helped Idaho State go on a 11-2 run and cut the Sac State lead to 47-45 with 14:16 left in the game.
With Graves scoring and distributing the ball to the open man and Stuteville and senior forward Nick Hornsby getting key rebounds, Sac State was able to make a 14-5 run and with 1:49 left had a 71-59 lead, their largest of the game. Hornsby credits this to his team's ability to keep their composure.
"Mental toughness is something that coach (Katz) talks about all the time," Hornsby said. "It's something that we work on every day, just competing and being ready for those types of situations."
Sac State will next travel to Missoula, Montana, on Thursday for a 7 p.m. tip off against the Grizzlies in an effort to earn the their third-straight victory of the season.