Defense earns men's basketball team upset over No. 1 Weber State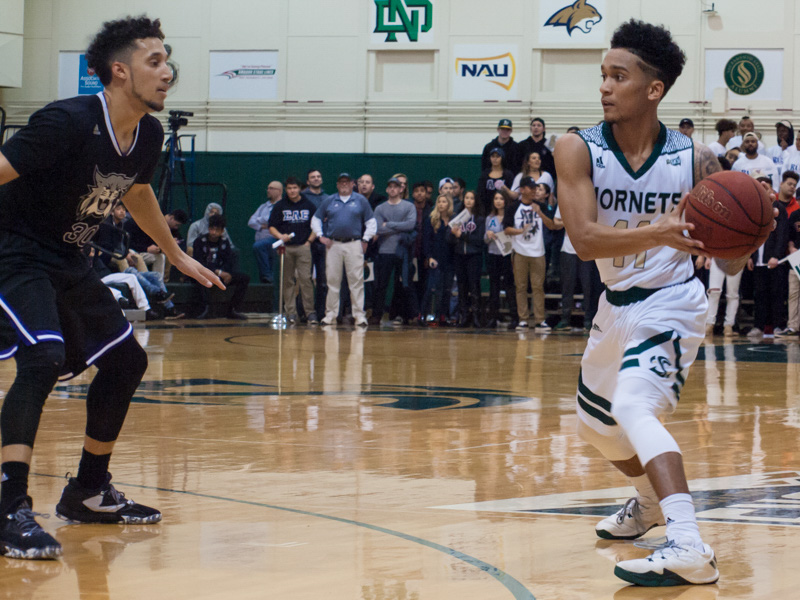 The Sacramento State men's basketball team showed an impressive defensive effort against the No. 1 team in the Big Sky Conference, Weber State, in a 77-74 victory Thursday night.
Sac State (8-14, 5-6 Big Sky) was led in scoring by senior center Eric Stuteville with 22 points. Junior forward Justin Strings had 20 points and junior guard Graves finished with 16 — but it was the Hornets' defensive effort that really set the tone during the game.
Weber State (14-8, 9-2 Big Sky) led the league in 3-point field goal percentage coming into Thursday's game, shooting 43.1 percent. Sac State's defensive game plan was simple — don't give up 3-pointers. In the first half, Sac State nearly executed that game plan to perfection, only allowing the Wildcats to put up six 3-point field goal attempts.
One of Sac State's primary roles on defense was to focus on Wildcats' leading scorer and the nation's leader in 3-point field goals made per game, Jeremy Senglin. Before Thursday's game, Senglin averaged 4.4 3-point field goals per game. Sac State held Senglin to 11 points and only allowed him to make one 3-pointer the entire game and he shot 1-of-8 from the 3-point line.
Sac State seemed to be clicking offensively as well in the first half as Stuteville had 18 of his 22 points in the first half; battling down low and getting clear shots underneath the hoop.
"It was a battle down there — down low," Stuteville said. "I think my first couple of post moves I didn't get to the spot I wanted to because I thought I could move the defense easier, but I adjusted and once you get a couple of shots to go down, you get more confidence in your shot."
Sac State coach Brian Katz was proud of how well his team played on both ends throughout the game.
"Weber State is the gold standard of this conference," Katz said. "In order to beat them, you have to play really well and I thought that we played a very hard-fought game."
The game had 16 lead changes before Sac State went on an 11-2 run with 7:58 left to go in the second half. Graves set the tone offensively after he scored 14 or his 16 total points in the second half.
"In the first half I was trying to be aggressive but I was penetrating too deep and turning the ball over," Graves said. "In the second half, coach (Katz) told me attack the basket and make it hard on the defense, and that's what I did and fortunately I was able to make some shots."
Sac State will now look for its second straight win Saturday at the Nest against Idaho State at 7:05 p.m.
"We better come out with the same intensity we did tonight," Katz said. "Idaho State is as good any other team we've faced. This is Division I basketball — it's going to take a strong effort every game and we can't look past anybody."