Baseball team prepares to turn the lights on the 2017 season
A young Sacramento State baseball team looks to take another step in the right direction in 2017 — the first full season with lights at John Smith Field.
The Hornets finished the 2016 season 30-28 with a 16-11 record in the Western Athletic Conference and finished in fourth place at the conference tournament.
The team brings back 15 players this season, including seven positional starters, three starting pitchers and five bullpen pitchers.
"We did lose some valuable arms on the mound from last years team," said Sac State head coach Reggie Christiansen. "That just gives an opportunity for some guys to take the next step and fill those shoes."
Sac State lost a total of six players (three to the MLB Draft, three to graduation), which included closer Tyler Beardsley (team-high 11 saves, 1.71 ERA), starting pitcher Sam Long (3.99 ERA, team-high 68 strikeouts) and left fielder Chris Lewis (team-high .309 batting average and seven home runs). Despite the loss of key players, Christiansen used the phrase "next man up" to describe the mentality of the program.
"There's no difference," Christiansen said on filling the voids this season. "Beardsley stepped up right after McLoughlin left. That's just the natural progression of our teams the past couple years with this program."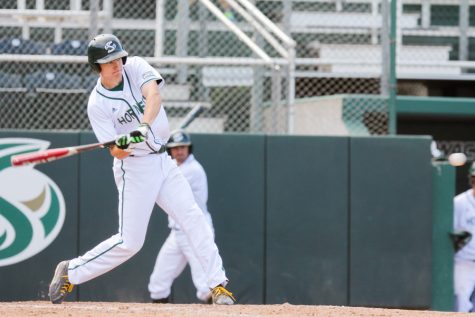 The players themselves have high expectations of the coaching staff to bring in quality guys year after year.
"I believe recruiting is a strong suit for our coaches," junior outfielder Andrew McWilliam said. "We trust them and they consistently bring in the best guys that fit the system and that are the best teammates."
The Hornets also will look to fight off the injury bug that affected the team down the stretch last season, including McWilliam who played through some minor injuries.
"I'm excited to get back into full play," McWilliam said after batting .286 with six home runs and 36 RBIs last year. "We have guys like Justin Dillon and others back from injury that will be a huge boost for our pitching staff and offense."
Added senior pitcher Max Karnos: "We worked a lot harder in the weight room this offseason. We are going into this season a lot more prepared physically and mentally. It will show."
Last year, Karnos went 7-3 with a 3.38 ERA to earn All-WAC first team honors.
Sac State begins its season in mid-February with a tough preseason schedule that includes 14 games against Power Five schools. The Hornets will host teams such as Washington State (Feb. 17-20), Penn State (March 9-11) and Minnesota (March 17-19).
"We've always historically tried to play as tough as a nonconference schedule as possible to get us ready for conference play," Christiansen said. "It will prepare us for an improved WAC schedule this year."
The 2017 season will feature 21 home games played under the lights. The school added lighting structures to John Smith Field near the end of last season.
"I'm really looking forward to it because it's every kid's dream to play under the lights on a big stage," McWilliam said. "We believe it will bring more fans out and will only make our fan base even bigger."
The Hornets will begin their season on Feb. 16 at 1 p.m. in an exhibition game against British Columbia at John Smith Field.