Men's basketball team comes back to win overtime thriller 80-77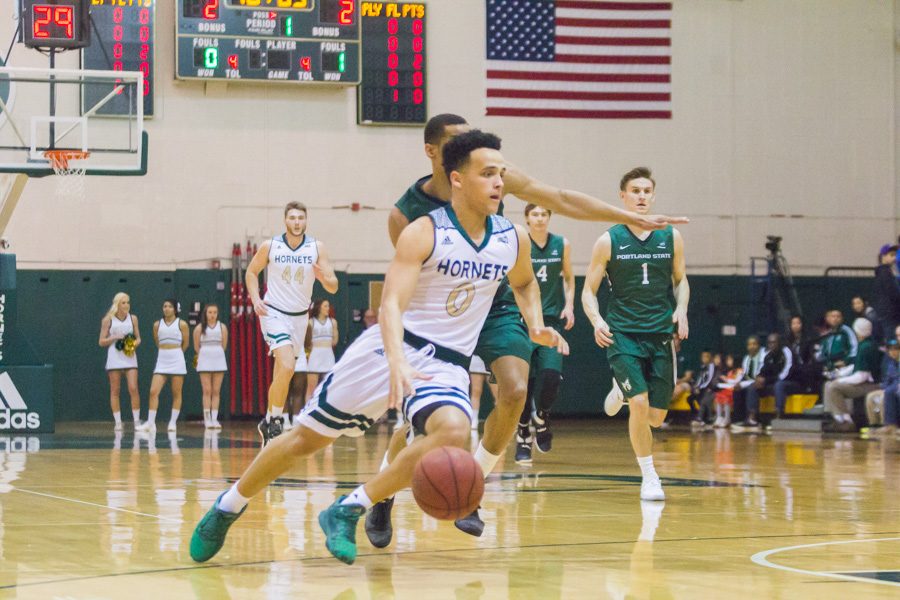 The Sacramento State men's basketball team got its revenge against the Portland State Vikings 80-77 in an overtime thriller Saturday night to improve to 4-4 in Big Sky Conference play.
The Hornets were led in scoring by senior center Eric Stuteville who finished with 17 points on 5-of-8 shooting from the field and 7-for-11 at the free-throw line. Junior shooting guard Marcus Graves added 12 points, junior forward Justin Strings had 11 and senior guard Trevis Jackson added 10 points off the bench.
Sac State is now tied with Portland Sate for seventh place in the Big Sky after getting their second consecutive win to improve their overall record to 7-12.
It was a roller coaster of a game for the Hornets as they got off to a great start in the first half of the game. Sac State led the Vikings 37-28 with 50-percent shooting from the field (12-24), 55.6 percent from 3-point range (5-9) and 72.7 percent from the free-throw line.
However, in the second half, Portland State played with more intensity which resulted in the Vikings taking a 62-52 lead with 6:01 left in the second half.
Vikings senior guard Calaen Robinson was a problem for the Hornets all night as he led all scorers with 23 points. Sac State caught a huge break after Robinson picked up his fifth and final foul with two minutes left in the game and the Vikings clinging onto a 67-60 lead.
With 50 seconds remaining, Strings knocked down a 3-pointer to cut the Vikings lead down to three points. Sac State proceeded to get a stop on the defensive end and the ball was in their possession with 19 seconds left in the game.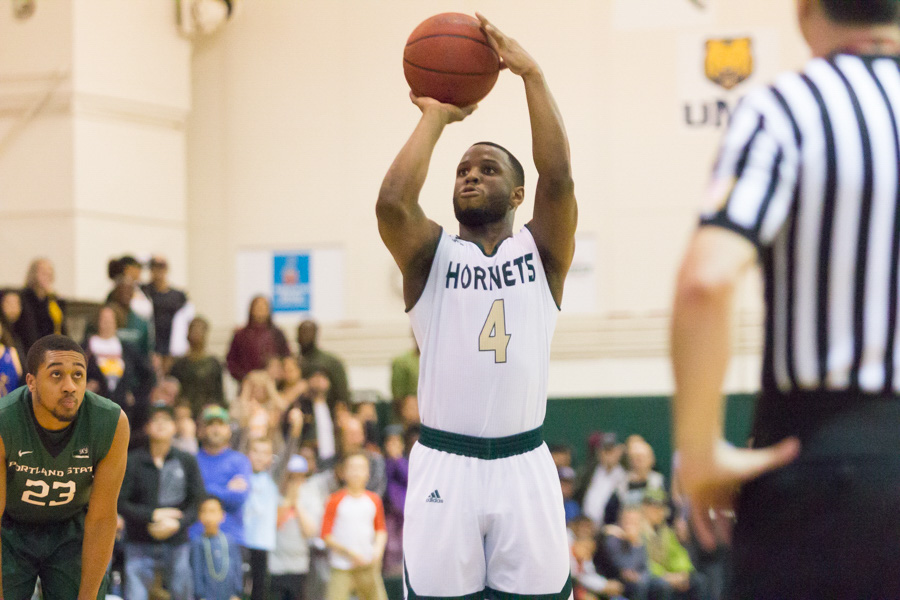 After missing their first two 3-point attempts, the Hornets were able to secure a rebound. With 0.6 seconds left, junior guard Jiday Ugbaja was fouled on a 3-point attempt, where he sank all three free throws to send the game into overtime tied at 67.
"The only thing that was going through my head was that I needed to make these free throws," Ugbaja said. "I didn't want to let my teammates down. Everyone was looking at me but I didn't pay attention to that I just knew I had to make those."
Ugbaja ended up with nine points and one rebound and provided a huge spark off the bench for the Hornets in the second half.
In overtime, both teams traded baskets back and forth, but the Hornets were able to secure the three-point victory at the end.
Though Sac State coach Brian Katz admitted that this game was an ugly win, he said he was stilled pleased with the team's overall performance.
"We just didn't give up," Katz said, "I told our guys that we haven't 'won ugly' all year, and we have to be able to win ugly. Things aren't always going to go our way and when they don't, we still have to figure out a way to win and be happy to get the win.
Senior forward Nick Hornsby, who added nine points and nine rebounds along with six assists, said that the team is confident going forward.
"We've won a couple of games in a row now and I feel like we are going to be ready to go … and get a top seed in the Big Sky Tournament." Hornsby said.
The Hornets will look to move up in the Big Sky standings in the last 10 games of the season starting next week against Eastern Washington at Cheney, Washington. The game is scheduled to tip off Feb. 2 at 6:05 p.m.