Women's basketball team hangs tough in 111-95 loss to USC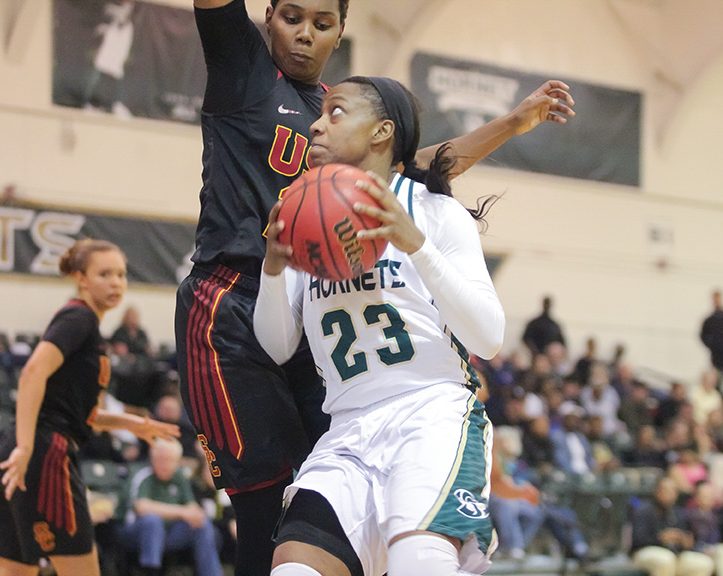 For the Sacramento State women's basketball team, Saturday night's game against the University of Southern California Trojans was truly a battle of David vs. Goliath.
With three players in the USC starting lineup that were taller than 6'0", the Trojans used their size advantage to their benefit, scoring 66 points in the paint en route to a 111-95 defeat of Sac State at the Nest.
Sac State, which went into the game riding a two-game winning streak, had the advantage of having a big crowd on its side (a record attendance of 954 filled the Nest; almost full capacity), but ultimately it wasn't enough to pull off the upset victory over USC. Despite the loss, Sac State head coach Bunky Harkleroad was thankful for the turnout against a Trojan team which beat the 19th-ranked team in the nation, Texas A&M, on Wednesday.
"Any help from the crowd is encouraging," Harkleroad said. "It was a great environment and that helps. It's an experience of a lifetime to represent this school against a Pac-12 Conference team in front of a great home crowd."
Going into the game, Sac State had shot more 3-pointers than both USC and its opponents combined (281 attempts; USC had attempted 99). However, USC came into the game only allowing 61 points a game; a major key in showing how strong its defense was.
The first quarter started off as a back-and-forth affair, with Sac State climbing to an early lead with 5:44 left in the frame (15-11) after Maranne Johnson made her first 3-pointer of the game. However, early mental mistakes by the Hornets led to 10 free-throw attempts by USC, making all 10 of them. In the course of the game, USC went 24-of-28 (85.7 percent) from the charity stripe.
Johnson, who finished the game with 15 points, made the assessment after the game that the fouls were what kept Sac State out of reach.
"They got 24 points from the free-throw line," Johnson said. "And if you deduct that from our silly mistakes, it's a five-point game. We definitely could've hung in there if it hadn't been for that."
Going into the second quarter, it looked like Sac State had USC on its heels, as they were only down 30-28. A 12-0 run by USC to start the quarter, however, squashed any hopes of that happening, and led to the Trojans taking the driver's seat the remainder of the game.
At halftime, USC was up 60-47, the single-most points they've scored in a half since 1987. The Hornets, which give up an average of about 93 points a game, already had allowed five USC players to score in double-digits.
The second half, for the most part, was all USC as they maintained a double-digit lead throughout the third quarter and going into the fourth. With 6:44 left in the game, USC led by 22 points. Sac State, not wanting to let its home crowd down, chipped away and fought back, at one point cutting the deficit down to 12 with a minute to go.
Ultimately, USC outscored Sac State 10-6 in that final minute to seal the deal.
USC, led by sophomore guard Aliyah Mazyck with 24 points, had three players score more than 20, and five overall scoring in double-digits. Sac State had three, with senior Emily Easom leading the way with 21. Johnson, who had a career-high 37 the previous game, only scored 15 points, but led the team with three assists. Senior Ashlyn Crenshaw also scored 14 points, and Margaret Huntington turned in a solid performance on the glass with 10 rebounds, her fourth straight game with 10 or more.
Sac State will be going on the road next to face California, where the Hornets set an NCAA record last season with 80 3-point attempts in a 117-99 loss. Easom, who didn't play in last year's game due to redshirting (transfer from Portland State; NCAA rules require she sit out a season), feels that even though the USC loss was tough, that Sac State can hang with the bigger conference teams.
"Clearly we found out tonight, and we knew going in, that we can hang with a Pac-12 team," Easom said. "Pac-12, it's just a title. So, we know we can hang with them, and we're excited for Thursday."