Women's basketball team holds on to win home opener 97-96
After squandering a six-point lead and falling behind late in the fourth quarter, Sacramento State women's basketball team defeated Cal Poly 97-96 on a three-pointer from senior guard Emily Easom.
Following Sac State's lopsided loss against the University of San Francisco, the Hornets' home opener featured a close game with 14 lead changes, and neither team ever led by more than nine points.
"You want to protect your house," Sac State head coach Bunky Harkleroad said. "When you can have a nice crowd like that on a Sunday afternoon and an exciting game I think it's a great thing and (we) just want to build on it."
Cal Poly (0-2) dominated in the paint throughout the game, shooting 62.3 percent from the floor and making two more baskets than Sac State (1-1). The Mustangs also out-rebounded the Hornets 55-28.
Senior forward Hannah Gilbert of Cal Poly shot 14-for-20, scoring 29 points and securing 17 total rebounds. Junior guard Lynn Leaupepe led the team in scoring and was responsible for 14 of the Mustangs' 28 fourth-quarter points.
Sac State kept up with a barrage of three-pointers, banking 19 shots from beyond the arc. Junior guard Maranne Johnson, who led the team in scoring (19), shot 5-of-9 from three-point range and was just one of eight Hornets to score at least one triple.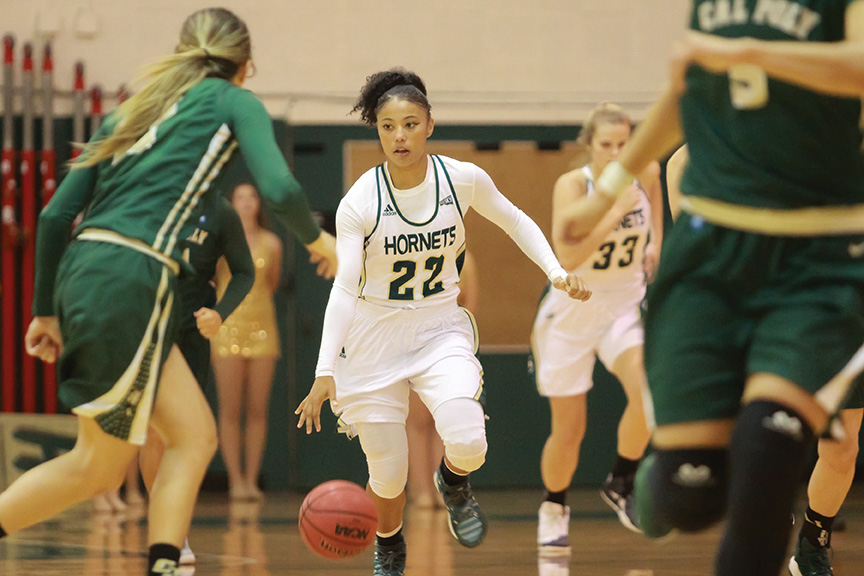 The Hornets opened the game on a 5-0 run and led for the entire first quarter, until Leaupepe stole an inbound pass at the five-second mark and was fouled en route to the rim to convert a three-point play — giving Cal Poly a 27-26 lead entering the second quarter.
"Honestly we started off kind of slow which we've been doing, but at halftime we pulled together," Johnson said. "We were telling each other to stay positive and make the extra passes and stand in front of our man — working together helped us a lot, and even though we were getting beat down court we kept our composure."
Sac State's defense forced 34 turnovers and had 22 steals, 15 of which came in the first half. Overall, the Hornets outscored Cal Poly 40-18 in points off turnovers.
Competition heated up in the second half, with numerous lead changes and hustle from both teams. Midway through the third quarter, Johnson kept a loose ball in bounds by diving over the scorers' table, only to bounce back up, field a pass from senior guard Ashlyn Crenshaw and sink a three-pointer.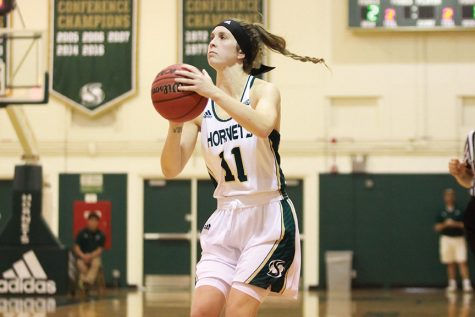 Cal Poly nearly ran away with the game as the Mustangs led by two after a free throw from Leaupepe, but Easom, who was 5 for 10 from three point range for the Hornets, scored the go-ahead triple with 12 seconds remaining in regulation.
"I couldn't have gotten it off without the 'one-more' pass that we've been working on all season," Easom said. "Maranne hit me with that and I knew I had to shoot it — there was no other option."
Sac State will host its next game Wednesday, Nov. 16 when Nevada comes to the Hornets Nest at 7:05 p.m.