Sac State regains focus in 97-85 win over Hofstra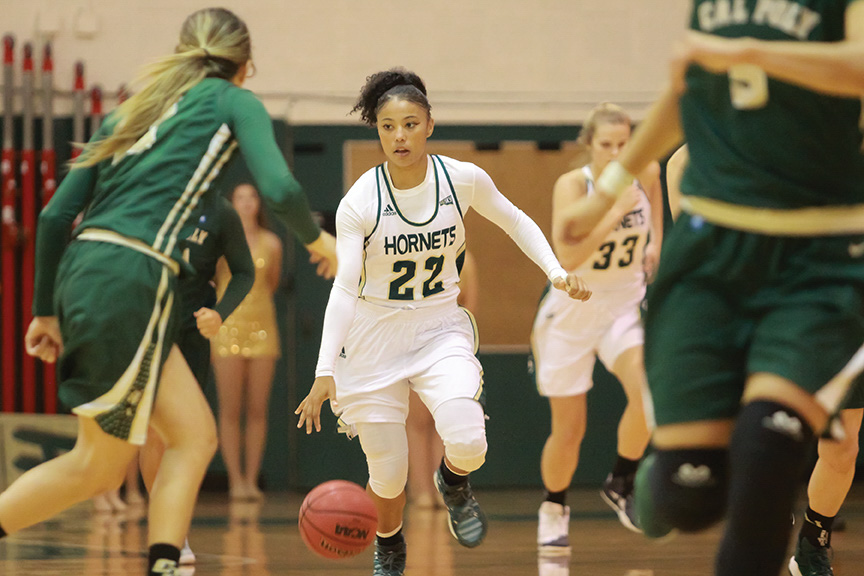 Thanksgiving came at just the right time for the Sacramento State women's basketball team, as they rode an early 14-0 run to a 97-85 victory over the Hofstra Pride Friday afternoon at the Nest.
Junior guard Maranne Johnson led Sac State with 22 points, one of five Hornet players to score in double figures. Senior forward Margaret Huntington also was on a tear, tying her season-high with 17 rebounds, bringing her Big-Sky leading total to 64 so far this season. Sac State also shot a season-best 16-of-33 (48.5 percent) from the 3-point line; an amazing statistic considering that the Hornets only suited up nine healthy players on Friday.
Head coach Bunky Harkleroad was ecstatic and proud of the team's overall effort in the face of adversity.
"I thought the players that played today did a great job of playing a little bit smarter, a bit harder, and did what they had to do today," Harkleroad said. "We also shot well, which helps."
Fresh off a three-game losing streak, the Hornets (2-4) were looking to reset and return to form at its home confines, which was more than welcoming. A crowd of over 300 people came to the Nest to cheer on their home team as they started their three-game homestand, the longest they will have all season.
Going into Friday's game, neither Sac State nor Hofstra (3-2) knew what they would be facing, as it was the first time the teams have faced each other in both program's history. Sac State did know, however, that they were playing a battle-tested team, as Hofstra made it all the way to the Elite Eight of the Women's NIT last season.
Sac State didn't cower, however. The beginning of the game was all Hornets, as they raced to a quick 21-7 lead in the first three and a half minutes. Hofstra, led by junior forward Ashunae Durant, fought back and closed the deficit to six to end the first quarter. Sac State led 24-18 going into the second quarter.
Hofstra took advantage of the short-handed Hornets in the second quarter, drawing them into foul trouble early. The Pride made nine out of its 10 free throws in the quarter, briefly putting them up 48-43. However, freshman guard Tiara Scott hoisted up a 27-foot 3-pointer with 0.4 seconds left in the half to give Sac State a 50-48 lead going into halftime.
After coming back from the locker room, Sac State took the court like an angry shark ready to devour its prey. The Hornets drained five 3-pointers in the quarter, with Johnson making three in a row. Sac State outscored Hofstra 26-12 in the third, and Johnson credited it to improved communication, something that had been missing the last few games.
"Honestly, I just felt like it was a great environment to be in," Johnson said. "My teammates were sharing the ball, and we all worked for each other. If I had a hustle play, I was making sure I was there to back them up."
Sac State took a 78-60 lead going into the fourth quarter, and it looked like the Hornets were going to dominate the rest of the game. However, Durant, junior guard Aleana Leon and senior guard Krystal Luciano took on the bulk of the scoring load for Hofstra, as they managed to close the gap from 20 down to 12. Even after outscoring Sac State 25-21 in the final frame, it wouldn't be enough to take the lead back.
Senior guard Ashlyn Crenshaw, who finished the game with 18 points on 8-of-12 shooting, said that the major key was the team bringing their heads together and rebuilding their confidence.
"Part of it was we knew we were better than what we had been showing," Crenshaw said. "We lost a couple of games, and part of our talks was what we could build on, and I think we played a lot smarter that we did the past few games."
Sac State, with the win, ended its three-game losing streak. The Hornets had 22 offensive rebounds and outscored Hofstra in the paint 42-38.
Sac State plays the second game of its homestand on Tuesday against another first-time opponent, Stanislaus State. The game starts at 7:05 p.m., with live coverage via State Hornet Sports on Twitter.